Blog week ending 21st January
Posted on: 21/01/2022
Our Year 9 attended an Options Assembly this week, where they received a copy of our new Options Booklet with information about the courses on offer and a guide to the process and key dates for discussions and final decisions. A digital version of our booklet with additional online content is available on our website by clicking here. Parents and carers of Year 9 will have also received a letter inviting you to make online appointments for our forthcoming Parents' Evenings. Two dates have been scheduled to enable you to see as many of your child's subject teachers as possible – for more information, please click here to view a copy of the letter
On Tuesday 1st February: English, Geography, Computer Science, French, Spanish, D+T & RS.
On Thursday 3rd February: Maths, Science (Biology), History, Business, Art, Physical Education & Music
I would like to take this opportunity to introduce a new member of our Pastoral team, Mrs Wheatley who joins as WG6 Pastoral & SEN Administrator.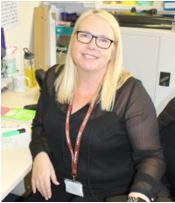 Mrs Wheatley has a wealth of experience working as the SENDco at a boys' school as well as a role at Kent County Council where she was responsible for developing educational healthcare plans for schools across the borough.
"I am particularly aware of the potentially heightened levels of anxiety around examinations and am keen to build relationships with our students, making sure we are on hand to provide wellbeing 'toolkit' sessions as well as one-to-one support"
During form times, students have been exploring Morphology and Etymology in a literacy project led by Miss Price that is designed to support their studies across all departments. Morphology is the study of words, how they're formed (root words, prefixes and suffixes) and their relationship with other words. Etymology is the study of words and how they got their meanings and how that meaning developed throughout history. Understanding morphology and etymology can help students with vocabulary acquisition as they form connections between words such as knowing that 'medicine', 'medical' and 'paramedic' all share a common root. It also aids spelling.
Our Librarian, Ms Fisk will be staging a 'Shelfie' library competition which challenges students to match the bookshelf to the member of staff! The competition will be on display in the library from Monday – come along and see if you can identify whose bookshelves are featured. Prizes for the most correct answers!
Read for Good. Thank you to all students who took part in this sponsored read and have already handed in their completed forms. Please can all forms be handed in to Ms Fisk in the library by the end of January
As well as working hard at their language learning at home, Miss Price's Year 9 Spanish classes have been delving into Spanish culture and putting themselves (and others!) to the test. Some have cooked Hispanic dishes from scratch, others have taught and tested family members key Spanish vocabulary, some have researched elements of Hispanic history and famous people and others have turned their phones into Spanish for a few days. Well done Year 9!
Beau & Yaw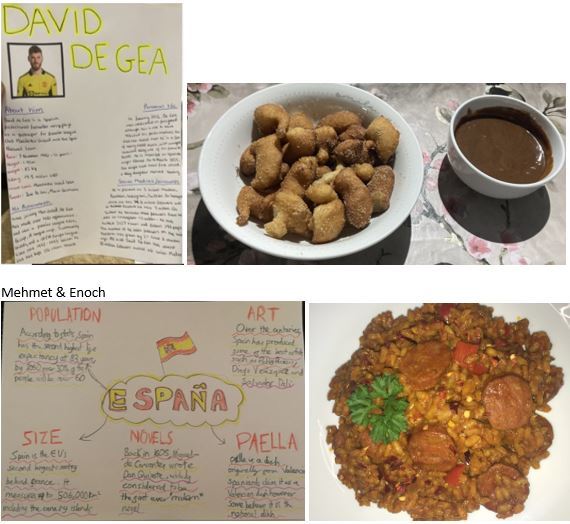 WG6 Biologists have been investigating the effect of temperature on enzyme action. Students took part in a practical lesson to test their hypothesis that optimum enzyme activity occurs before it denatures by testing pH levels on samples at different temperatures.
Our GCSE Year 10 Food Preparation and Nutrition students have been making Millionaire's Shortbread. This recipe requires a combination of techniques in order to make their own caramel, bake a shortbread biscuit and then create and decorate a chocolate topping. Should you want to make your own Millionaires Shortbread please click here for a recipe. Our easy to follow Key Stage 3 recipe cards are available online via your child's 'one note' log-in should you want to practice the recipes at home with your son!
Lost Property. The school office is in possession of a large number of football boots and trainers that we would love to reunite with their owners! Please can you ask your son/daughter to check their kit – and if anything is missing to visit the school office at lunchtime to look through our lost property.
Back in the autumn, Dr Harris visited Cardiff to record for BBC 1's 'Antiques Road Trip'. Dr Harris was on the programme to give his expertise about one of Britain's greatest ever Olympians Paulo Radmilovic, who won 4 gold medals between 1908 and 1928, a figure who featured prominently in Dr Harris's book ''Britain and the Olympic Games, 1908-1920: Perspectives on participation and identity'. Along with presenter Raj Bisram, Dr Harris visited St Fagans National Museum of History, where he saw an exhibition about Welsh Olympians and some of Radmilovic's Olympic medals and the Cardiff International Swimming Pool, where Raj learned some Water Polo with the Welsh Wanderers Water Polo team.'
The programme will be broadcast on Tuesday 1st February at 4.30pm on BBC1.
PTA Update. Help us get 2022 off to a great start for Wilmington Grammar School for Boys - Dartford by signing up to support us for FREE on Easyfundraising . You can raise donations whenever you shop online with over 6,000 retailers including John Lewis & Partners, eBay, Argos, ASOS, M&S and more. Plus, we will get a bonus £5 donation when you do! Sign up today - this will make a BIG difference to us this year:
Next PTA meeting - Virtual - Mon 28 Feb 2022
Meeting details will be shared nearer meeting time. Please save the date and/or email pta@wgsb.co.uk for further information on how you can support your PTA.
We hope to see many of you at the next meeting!
Best wishes,
Stuart Harrington
Head Teacher