Blog week ending 14th January
Posted on: 14/01/2022
This week I have had the pleasure of meeting a number of our Year 11 students as part of the 'Next Steps' interviews conducted by the Senior Leadership Team. The aim is to provide individually tailored guidance to students as they consider their future education and career aspirations, whether that be A levels, apprenticeships or employment. This one-to-one time allows students the opportunity to discuss their plans as they make decisions for their next step based on their strengths, attributes and long-term career goals. Our Careers Lead, Mrs Walker has a wealth of supporting literature and website recommendations to help inform and simplify the process for our students to ensure they are making choices that enhance their potential in their chosen field.
As part of the preparation ahead of making their GCSE subject options, Year 9 took part in a dedicated assembly led by Miss Alonge, Head of Year 9. The assembly introduced the options process, encouraging students to consider future study goals and potential careers pathways when considering their GCSE options. Mrs Walker our Careers lead has provided guidance and support for students via recent Life programme careers sessions and can provide one-to-one student guidance should they require any further information. Next week Year 9's will receive a copy of the Options Booklet outlining all GCSE courses available at WGSB as well as supporting subject videos and advice during an Options Assembly on Thursday.
Year 10 GCSE Design & Technology Students design and make their own products to solve unique problems. Students develop their problem-solving skills and creativity within conceptualisation of ideas. Along with this they will learn specific engineering principles that link to numerous careers and opportunities.
Another DT Department GCSE option available to students is Construction and the Built Environment. Our current Y10 students are working on architectural drawings with construction details including creating a plan, elevation and cross-sections developed from a client brief. This particular module builds on a sports clubhouse design project which all DT students undertook during Year 9
Our Year 8 artists have been studying sculpture with Mrs Wisdom using the Swiss artist Alberto Giacometti as inspiration and stimuli. Students created their own stylised sculptures using wire and foil!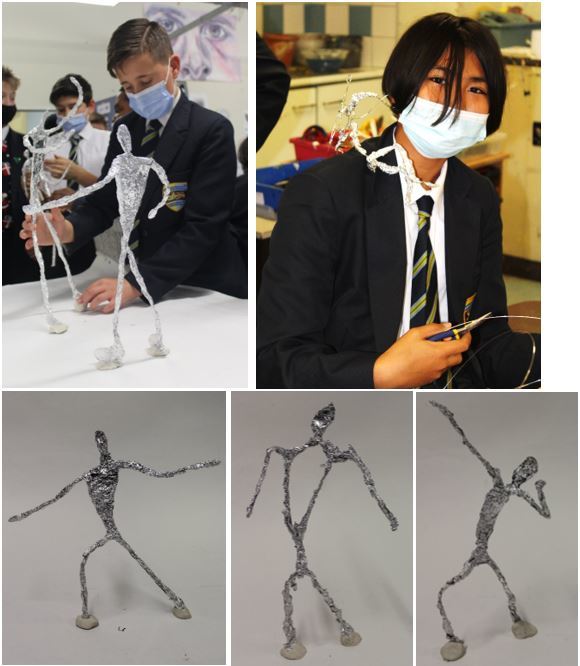 The Inter-House competitions scheduled for next week are rowing, dodgeball and board games – plenty of opportunity for students to get involved and earn House Points! Points earned during the Inter-House competitions have Stevenson House in 1st Position – overall, (includes all House Points earned in lessons etc) places Telford in 1st place and Stevenson in 2nd!
Mr Silo's Year 8 Mathematicians have been mastering stratified sampling, a type of probability sampling which is used by researchers to understand the relationship between groups in a population. Mr Silo and his students made use of white boards to give instant feed-back on their work and conclusions.
During Form Time discussions in support of National Poetry Day a student in Mrs Deicher's Form read a poem of his own composition which I would like to share with you all. He told us about his interest in poetry and how his grandfather has encouraged this interest. Mrs Deicher was impressed with both the beauty of the poem and of his bravery in reading it aloud to the form group.
Judge me kindly
Girls, judge me kindly,
Make me feel humble,
Teach me gentle ways and not to grumble.
Boys, judge me kindly,
Exposes me to speak crude,
Lecture me on "love" and to be shrewd.
World, judge me fairly,
Watch me make vice,
Observe me fail once before failing twice.
Universe, judge me honestly,
Take my worse.
Listen to my jokes, hear me curse.
Beyond, place me kindly,
Know I am just who I am trying not to be.
Watch me struggle to love and be loved you see.
PTA Update. Happy new year to you and hopefully you had a wonderful and relaxing break! A quick reminder that your PTA needs you! Yes . . . You!!
Would you be able to help the PTA raise funds to support the school and students? Do you have some expertise you can share with the PTA? For instance, are you creative? Do you have a flair for organising events? We also have some vacant positions on the PTA committee. Please email pta@wgsb.co.uk to find out how you can volunteer as PTA committee member.
Easyfundraising and Amazon smile: Don't forget that you have opportunities to raise more money for school projects as you do your shopping. It's easy, just click - Easyfundraising and don't forget Smile Amazon ! Please do consider joining our PTA easyfundraising page when doing your online shopping! Whenever you make an online purchase from any of the over 4,000 participating shops and businesses … they donate to Wilmington Grammar School for Boys at no extra cost to you!
Next PTA meeting - Virtual - Mon 28 Feb 2022
Meeting details will be shared nearer meeting time. Please save the date and/or email pta@wgsb.co.uk for further information. Hope to see many of you there!
Forthcoming;
Year 11 students have been provided with a Term 3 Assessment Timetable and Revision Guide and a letter detailing our plans and expectations has been sent out to parents and carers. To view the plan and letter please see our Correspondence page by clicking here
Year 7 Parents' Evenings are scheduled for next week – please check your emails for further information
Year 9 Parents' Evenings are scheduled on Tuesday 1st February and Thursday 3rd February.
Best wishes.
Stuart Harrington