Blog week ending 26th November
Posted on: 26/11/2021
Students have been out litter-picking in an effort to improve our local environment. Every Friday during form time a group of students spend time clearing litter from our local streets and green spaces. What was particularly heartening was the large number of local residents who stopped to thank and congratulate the students on their efforts. Cars bibbing their horns and giving the students the 'thumbs-up' and people waving as they passed really did spur the boys on as they could see how appreciative our neighbours and local community were.
Pictured below, Darwin .. armed with litter-pickers and ready to go!
Year 8 students were very excited to be in the Art department and painting this year after having their Art lessons in their year group bubble form rooms last year. They have been learning about the Pointillism art movement, colour theory and optical colour mixing. Having studied the works of Georges Seurat and Paul Signac, they are working on their own Pointillist style paintings of local scenes ranging from London, Thamesmead, the Dartford Bridge, Maidstone and the Kent Coast. For some, it was their first-time painting since primary school, and we have been really impressed with how well they have mastered the art of mixing wide ranges of tertiary colours and using excellent brush control.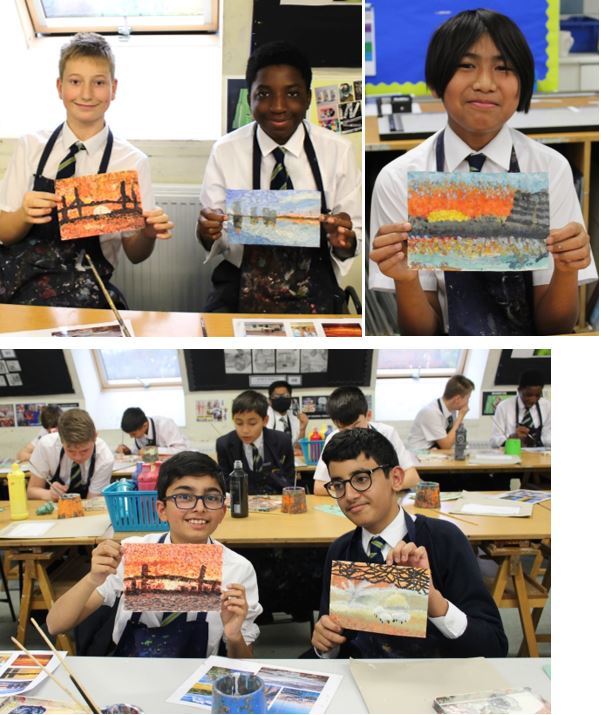 Our Art Club is on Thursday lunchtimes and is open to all students providing a creative space for students to paint, draw, sculpt and model! Mrs Dennis provides themed projects or provides support to students wishing to complete classwork. Our next project is a festive one, Christmas bird decorations.
Calling all big thinkers! Mrs Lasoye has launched a new Philosophy Club on Thursday lunchtimes where students can develop their critical thinking and evaluation skills. During Philosophy Club students will be tackling some big questions and exploring subjects such as ethics, thought and meaning.
Philosophy is a way of thinking, and the hope is that by taking part we all learn to think better and act more wisely and by doing so, improve the quality of our lives!
Our Scientists evaluation of Scott's expedition continues! Year 8 students conducted a series of investigations to determine the most effective material to use to build a fire. Students evaluated their findings based on amount of energy provided, most flammable, efficiency and cleanest!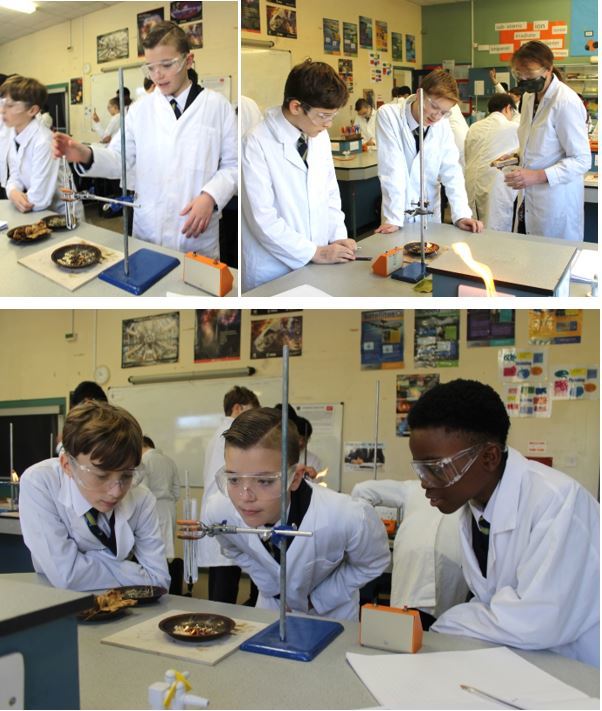 Year 8 Scientist continued with their Scott of the Antarctic investigation with an experiment to determine what mass of fuel is required to melt snow to body temperature in order to provide drinking water.
It's great to see so many students taking part in the inter-house activities across the school. This week the Year 7 students took part in a hand-ball tournament supported by a huge and rather enthusiastic audience!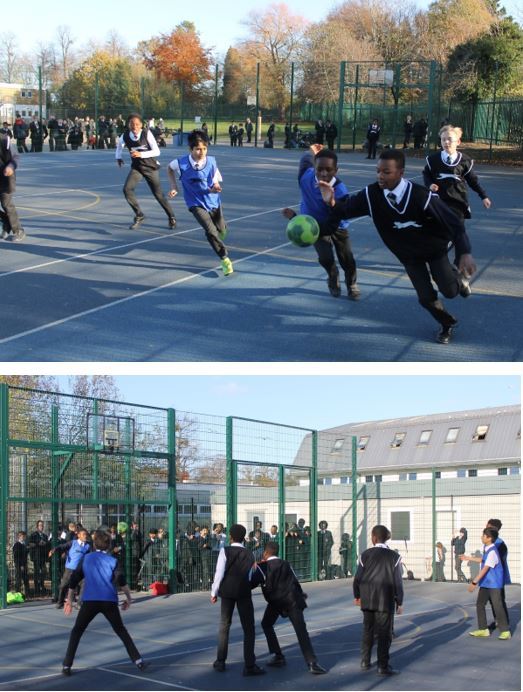 In our music department, guitar lessons are offered on Thursday lunchtime by a highly talented musician in WG6, lessons are free of charge, please see Mr Palmer for more details. Additionally, the practice rooms are available for student use during lunchtimes and after school, please see the music department notice board for more details.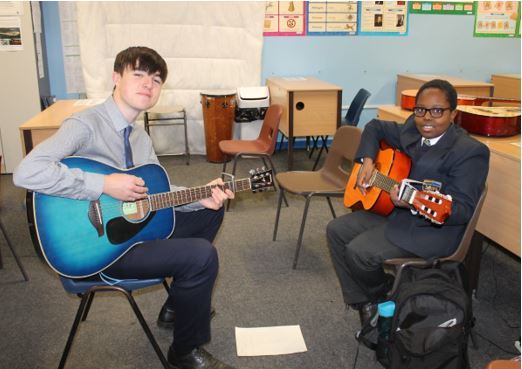 Pictured below, a newly formed band from Darwin House!
PTA Update. Our Christmas Fayre is on Saturday 11th December! Please join us from 10:00am - 2:00pm at our Christmas Fayre in the school hall, with lots and lots of activities to enjoy, opportunity to sit down, have breakfast and chat with friends (especially for those of you bringing your children in for the Rugby Tournament), lots of fabulous gift ideas and a huge range of handmade gifts; nearly new uniform stall, delicious treats and lots of opportunities to win prizes in either our tombola or Christmas raffle!
We hope you are planning to attend this wonderful event. Please contact pta@wgsb.co.uk for more information and/or if you are able to help the PTA with this event.
Our Christmas raffle tickets are now available on ParentPay, remember, every £1 helps, no matter how big or small, we are incredibly grateful for your support!
Easyfundraising and Amazon smile: Please do consider joining our PTA easyfundraising page when doing your online shopping! Whenever you make an online purchase from any of the over 4,000 participating shops and businesses … they donate to Wilmington Grammar School for Boys at no extra cost to you!
With Black Friday, Cyber Monday, Christmas shopping, coming up there are even more opportunities to raise more for school projects. It's easy just click - Easyfundraising and don't forget Smile Amazon
PTA Christmas tree Scheme: Thank you to all who have placed their orders for real Christmas trees through our Christmas Trees scheme! Please collect your tree from the school on Friday 3rd December between 4 and 7pm.
Next PTA meeting - Face to face - Mon 6 Dec Hope to see many of you there!
Stone Lodge School, part of Endeavour MAT is scheduled to move into its new permanent buildings this Easter. This week, Engineering Subject Ambassadors together with the Head Girl and Head Boy represented the student body on a tour of the new site. Stone Lodge is a co-ed community school and like our Grammar Schools, is heavily over-subscribed. Students will move into the new £35 million building in April 2022 and Stone lodge School will launch it's sixth form, SL6, in September 2022 with two bespoke BTEC Level 3 Extended Diploma (equivalent to three A levels). For more details on our new SL6 and its courses please click here
Pictured, students at the new building and Head Teacher, Mr Gavin Barnett
Please can I urge all parents and carers to remind their sons about the importance of road safety. It is vital that students use the zebra crossings that are positioned near the school on the dark mornings and evenings in winter. Similarly, please can all parents and carers who are driving in and around the school site take particular care at this time of year. Thank you.
Best wishes,
Stuart Harrington
Head Teacher