Blog week ending 18th June
Posted on: 18/06/2021
Our WG6 Team have delivered a programme of taster lessons, visiting speakers and interactive session for our Year 12 Futures Week.
Coaching sessions were provided to help support students make their next step decisions including an interview skills workshop as well as support in drafting personal statements for university applications and understanding apprenticeships.
Miss Agyemang delivered a Studying Sociology and Criminology at University session with a group of keen year 12 students. It was a highly interactive session that saw students track the life course of individuals from different backgrounds and discuss the extent to which our pathways are predetermined. The session also gave a valuable insight into post-18 options at a variety of universities and conversations on the career prospects available to Sociology and Criminology graduates. It was a thoroughly enjoyable and informative afternoon!
A Landscape Architecture talk was delivered by Tom La Dell, from Landscape Architecture & Ecology at Stocks.
A speaker from City University London delivered a talk on 'studying in London' providing an insight into university life and highlighting factors for students to consider when making their university choices.
Dr Sweeney (based at WGSB) delivered an instructive and interactive session to students who are planning to pursue a career in Medicine. Dr Sweeney spoke frankly and from first-hand experience about the enrolment process and university requirements, providing a clear insight into what is required and support to follow their chosen pathway.
Mrs Tiddy along with Ms Wakeling and Miss Smith delivered workshops on interview skills and techniques and how to make the best of yourself whether it is for university, apprenticeship or employment. They all provided tips and guidance to ensure students make the most of every opportunity along the whole application process as well as how to be reflective and learn from any mistakes.
Across our school exceptional lessons are being delivered both in the classrooms or where necessary, via Teams ensuring student learning continuity. All of our online lessons are live and fully interactive encouraging input and interaction from all students.
8B have embraced online learning and were highly engaged with the introductory lesson to their new unit 'Romeo & Juliet'. They were able to share key contextual facts via the chat and were fascinated by a clip of the Act 1 Prologue from the 1996 film adaptation, which will be used to support their learning of the play. Even though they weren't in the classroom they were still focused and working together! - Miss Sweeney, English Teacher
Our Year 9 Art students have just completed their Art Examination on the topic of Pop Art inspired by celebrated artist Rob Lichtenstein. Students have produced some amazing pieces using DC Marvel characters as their subject. Our Art department have really enjoyed marking these striking, accomplished images (a small selection can be seen below). Well done everyone!
Currently our Year 9 Art students have moved onto looking at structure and geometric forms using the portrait artist Josh Bryan as stimulus. Josh uses a black pen to create his 'triangulation' portraits (including the one of Marilyn Monroe below). Students are working on creating their own portraits using photographs of well-known personalities including Boris Johnson and England player, Raheem Sterling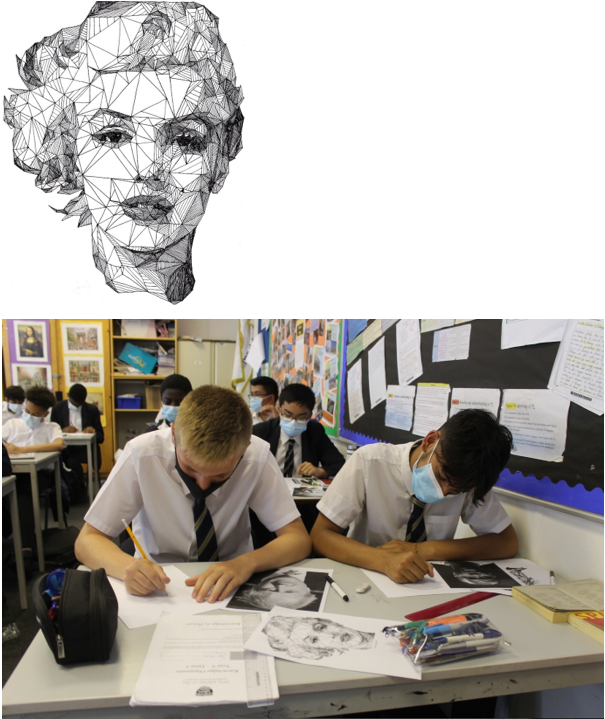 Y10 Chemistry Students are developing their understanding of reactions. They carried out a range of temperature change reactions to be able to identify between exothermic (give out energy) and endothermic (take in energy)
Everyday uses of exothermic reactions include self-heating cans and hand warmers and endothermic reaction uses include instant ice packs which can be used to treat sports injuries.
Year 10 students completed a practical lesson to explore 'the rate of reaction' – which is a measure of how quickly a reactant is used or a product is formed. In one experiment, students measured turbidity (the effect of changing the temperature on the rate of a reaction) and in a second experiment measured the volume of a gas produced.
In the workplace, organisations use 'rate of reaction' to enable them to produce the highest yield of their product in the most efficient manner to maximise profitability.
Forthcoming
The STEM Hub will be hosting a special virtual event to celebrate International Women in Engineering Day. Hear from Jo and Michelle, two inspirational Engineering Heroes for a Live Talk on International Women in Engineering Day. These STEM Ambassadors will explain why they chose to pursue careers in Engineering, what challenges they may have faced and why they have a passion for the industry.
At the end of the talk there will be an opportunity to ask Jo and Michelle questions during a live Q&A.
To book your place please visit: International Women in Engineering Day Talk Tickets, Wed 23 Jun 2021 at 13:15 | Eventbrite
Best wishes,
Charlie Guthrie
Head Teacher