Blog week ending 9th October
Posted on: 09/10/2020
Virtual Open Day. Like so many things at the moment, our annual Open Day Event is going to be a little bit different this year. Unfortunately, we will not be able to invite families to visit our school and meet our students and staff in person, instead, we will create a special virtual tour that prospective families can view online. Thank you to all students and staff for your brilliant contributions, I am confident that the film will capture the essence of our community and showcase the learning experience at our school. The film will be available to view via the Admissions page on our website from Monday 19th October.
Introduction to the Business & Economics Department. Mr Colledge, Head of Department. Over the past 5 years we have seen exponential growth within the Business and Economics Department. We have a very large WG6 presence offering Business A level, Economics A level and the Level 3 Diploma in Finance. We have also in the last year introduced GCSE business which has seen significant numbers taking the subject. We have an extremely dedicated team of Mrs Smith, Mr Ramic, and myself. We are proving to be so popular that we even have the pleasure of Mrs Lodge helping from time to time!
I came into teaching straight off the back of finishing a joint honours degree in sports science and Business. I initially began my teaching career as a teacher of sports science in a sixth form college. Over the years my passion for business and economic grew and gradually I began teaching increasingly more economics before making the switch full time when I joined Wilmington Grammar School for Boys in 2014. In 2020, I began a role working at both sites within the Business and Economics Department. Outside of school I enjoy spending time with my family and avidly following Yorkshire's finest football team...........Rotherham United!
Pictured, Mr Colledge with an A Level Economics class.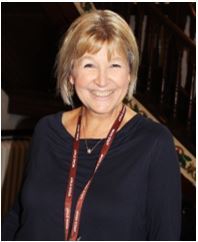 Mrs Smith, Teacher of Business, Financial Studies and Economics at WGSG. I worked in the Dealing Room for an Australian Bank in London, as an interest rate trader, pricing and selling short to medium term interest rate products from Australian companies, swapping them from Australian dollars to US Dollars and Sterling/Francs. When my children were very young I re-trained as a Teacher, combining my studies with the running of a small limited company!
I have now been teaching for 14 years, and have always had a real interest in Financial Education, bringing the LIBF Finance qualifications at A Level into the school. I believe students should all have a grounding in how to handle money, and fully agree with Martin Lewis that this should be taught in all schools, to stop people getting into debt in later life. I love teaching Business and Economics, and particularly like the in-depth discussions we have on issues in my classes. Outside of school I am a keen tennis player, and am the captain of a team at Meopham Tennis Club, playing in the North Kent Premier Division. I also like to go on long walks in the countryside with my dog Sadie.
Mr Ramic, Teacher of Business and Finance. Before moving to the UK, I worked as the Head of the Human Resources Department in the Public Employment Services as well as a part-time teaching post in a vocational school in Bosnia and Herzegovina.
In 2017, following a move to the UK, I started a role as a cover teacher in Maidstone Grammar School for Boys which has provided me with a thorough understanding of the UK education system as well as valuable preparation and insight during my teacher training. After achieving qualified teacher status, I joined Wilmington Grammar School for Girls in the role of Teacher of Business and Finance.
Subject synopses
Economics is a dynamic subject, as it's constantly evolving within societies. It's a unique social science that allows students not only a chance to improve their understanding of current affairs, but also develops quantitative and analytical skills. In simple terms, Economics is the study of the ways in which people, businesses and industries use resources. It covers a variety of topics, for example production, efficiency, macroeconomic policy, international economy, and market failure; each of these teach students about the society we live in today.
Finance is taught as part of our Life Programme to years 7-9, culminating in The Certificate in Financial Education which is Level 2 qualification that introduces the student to the impact of finance on the economy and encourages them to consider how this can affect business and the individual. This course gives students an insight into how the Financial Services industry works, as well as giving them invaluable information on how to manage their own personal finances. The Level 3 Diploma in Finance is offered at A Level.
Business Studies. At some point everyone will work for a business or run a business themselves. Studying business will give you an insight into the core activities that a business undertakes, both on a small scale like family business to a large Multinational Corporation like Apple. Business Studies gives students an opportunity to see how all the differing theoretical concepts apply to the business world, giving them an insight as to why business operate in the way that they do.
Follow our Head of Economics and Business Studies, Mr Colledge on twitter at @JColledgeWGSB for curated recommended news articles and valuable study support tips.
Our Life Programme (incorporates PSHE) is continuing across the school with a current focus of identity, discrimination and equality. Students will continue to explore different cultures as well as address and examine contemporary issues. Also included is a comprehensive approach to careers advice which students follow as they move through the school, ensuring that they are able to make choices that align with their career aspirations when the time comes.
Our GCSE Food Technology students are refining their preparation, evaluation and flavour combination techniques. During this practical lesson students made batches of miniature Victoria sponges (including making the jam!) paying particular attention to the skills used.
WG6 update. In spite of the challenged that are facing our ex-students as they embark upon their chosen career path, we are receiving news of positive experiences and opportunities from our alumni, including;
Laura R. I am going to Southampton for Medicine and Surgery but for September 2021 because I was deferred (I'm still over the moon). I'm working at a GP surgery in my year out and am shadowing the phlebotomy and Physiotherapy clinics in my lunch breaks for work experience.
Malek, Rebecca and Louis have started their Sociology & Criminology courses at University of Kent. They sent us this pic and a message "With the new guidelines it definitely is a lot harder to meet new people this year, but we're making it work, And the fun is still occurring "
We wish all our students the best of luck and look forward to hearing from them as they progress in their studies.
PTA Update. Please do consider joining our PTFA easyfundraising page. Whenever you make an online purchase from any of the 4,000 participating shops and businesses … they donate to Wilmington Grammar School for Boys at no extra cost to you!
Thank you to all the parents and carers who have joined the WGSB lottery. It's not too late to join, for more details please see our website page here. All proceeds go to the school to help support our boys, and give you a chance to win as well!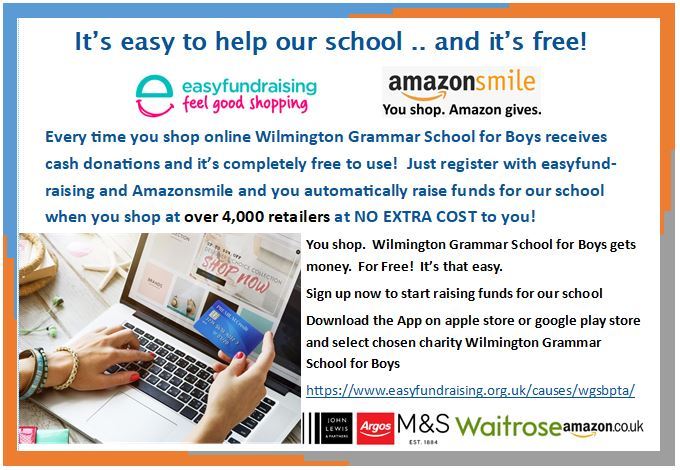 Best wishes,
Charlie Guthrie
Head Teacher