Blog week ending 25th September
Posted on: 25/09/2020
Our Science Department is a dynamic hub of scientific explorations and discovery. Our teaching staff and technicians have worked hard to review and adapt the practical element of lessons in line with our COVID policy to ensure that all students benefit from immersive lessons. Teaching staff are providing demonstrations using state of the art equipment to test students' hypothesis and deepen student understanding of topics.
The below photos of Science Department teaching staff was taken on Bow Tie Friday, and is (to the students' delight!) exactly that, each Friday teachers take their lessons sporting a variety of rather wonderful bow ties!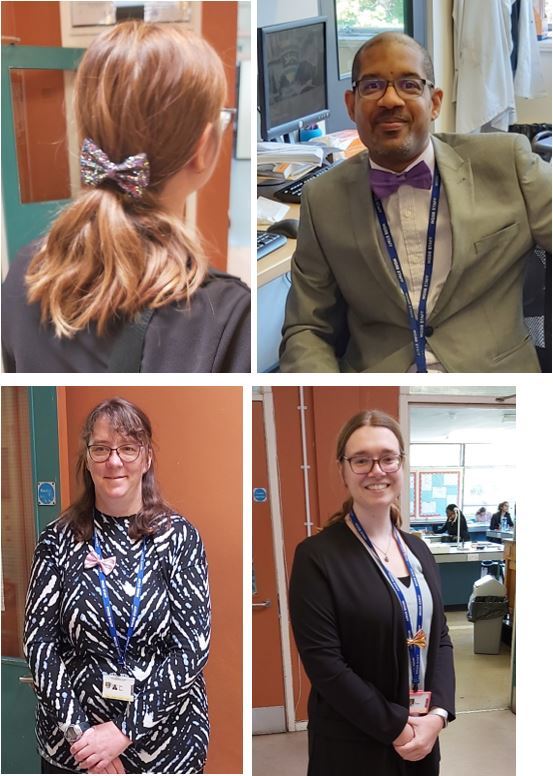 Dr Musami is making use of the new visualizer to demonstrate to Year 13 WG6 students how to carry out a kidney dissection. He is using the camera to demonstrate the external and internal features of the kidney prior to the students carrying out their own dissections.
The biology team are thrilled with the new department purchase of a digital microscope.
Dr Musami is using the new digital microscope to view the histology of the kidney tissues (above, top right image).
Below, students dissecting kidneys during the practical element of their studies.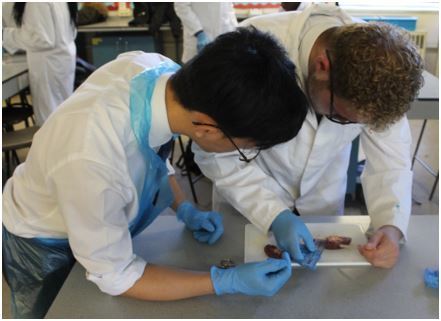 Physics A level students are currently studying capacitators. A capacitor is a device that stores electrical energy in an electric field. In this practical lesson Students made a capacitator to demonstrate their understanding of the topic.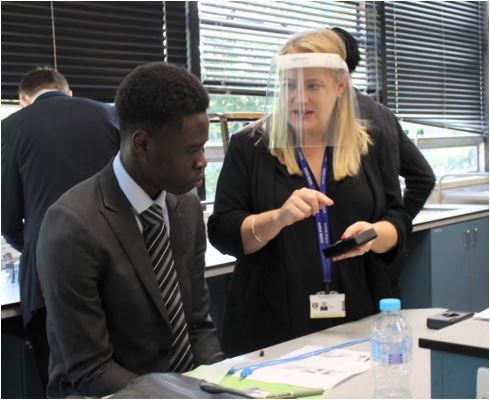 The Life Programme at Wilmington Grammar School for Boys has been designed to enhance and develop our students' life skills, preparing them for their next steps. By integrating the key skills involved with careers, PSHE (Personal, Social, Health education) and RSE (Relationships and Sex education) and implementing them through the curriculum, the Life Programme prepares students for their adult life. Our role in this journey will be to provide the highest quality advice, guidance and education through school and beyond.
The Programme aims to;
Create a holistic Personal, Social, Health and Economic education platform that inspires students and staff.
Develop the careers advice and guidance so that every Student has a destination driven focus and understands their next steps. Careers plans are robust and well considered, ensuring that every student has received the support and guidance required to inform their professional aspirations.
To inform and guide students through the more intimate and sensitive elements of life, including keeping them safe in society and online, educating them on intimate and sexual relationships, their sexual health and how to have respectful relationships, friendships and the dynamic of family life.
The Life Programme will be continuously evolving, in order to meet the changing needs of our students and school curriculum. It is designed to meet our community and social aspirations and ultimately develop young people into socially conscious young adults.
Our extra-curriculum offering is being reviewed and refined to ensure compliance with our COVID policy. However, we are currently able to offer Acting and Musical Theatre classes via an external specialist practitioner. For further information and to book, please see the below.

The person you are is a thousand times more interesting than the best actor you could ever hope to be….. -Stanislavski
​Which is true, but that doesn't mean we won't keep trying our hardest to disprove it! Our students work closely with us to understand the process of inhabiting a role. Asking questions of themselves about the characters they are creating, the physical demonstration of emotions, learning about the major practitioners, stagecraft, theatrical convention, vocal modulation, physicality, subtext, and how to convince an audience to suspend their disbelief.
We are incredibly proud of the consistently excellent results achieved by our students from Grade 1 to Grade 8, with the vast majority achieving Merits and Distinctions. Students passing grades 6, 7 & 8 are awarded UCAS points which are of tremendous benefit to anyone pursuing further study.
In addition to the recognised qualifications achieved with LAMDA exams, the lessons are of tremendous benefit to students studying GCSE and A level Drama as they offer a deeper insight into the subject. We are offering lessons to students from year 7 to year 13, via ZOOM for now and we are opening our books for new students starting at school this September. A 1 hour, online small group lesson in Acting, Musical Theatre or Mime, years 7 to 11, costs £10 a week and can be arranged by emailing kellywoods500@outlook.com
Unfortunately, Wilmington Grammar School for Girls have had a confirmed case of Covid-19 within their school community. Having followed Public Health England (PHE) guidance, 147 pupils in the Year 11 bubble and four members of WGSG staff are now self-isolated at home until October 2nd. Remote learning began immediately through Microsoft TEAMs and students are following their usual timetable and having their normal lessons with their teachers remotely. The rest of the school remains open with staff and students continuing to follow PHE guidance in terms of social distancing, handwashing and cleaning to minimise the spread of the virus and ensure pupils and staff can continue to learn and work in a safe environment.
Best wishes,
Charlie Guthrie
Head Teacher