Week ending 6th December
Posted on: 06/12/2019
Year 9 Art students have been studying the pop artist Roy Lichtenstein for stimulus to create their own piece of art. Lichtenstein produced high-impact iconic images and was a leading figure in the pop art movement. Students have selected images to create their own art work blending aspects of mechanical reproduction (in this case, tracing and scanning their previous drawings) with drawing and painting by hand.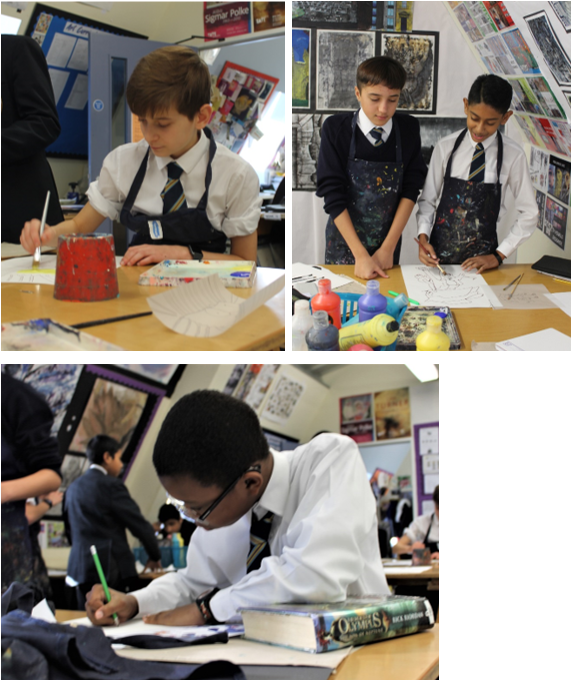 Head Student Jonathan Bateman together with Josh Rydell delivered an assembly to Year 13 students compelling them to participate in the forthcoming election. Jonathan and Josh presented an overview of each party manifesto with a brief outline of the implication of the proposed policies. Their message was clear, take part, get involved, and if you are not yet old enough to vote, influence those around you to ensure they take advantage of their right to vote.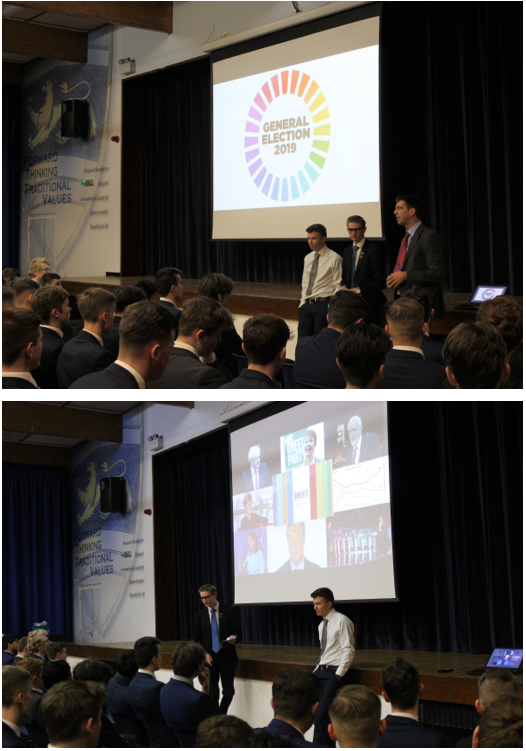 Y7 Science students have been studying insulators. During this physics practical experiment students investigated a range of materials to discover which are insulators and which are conductors. Students monitored the changes in temperature when using each material and tabled their results in order to make their conclusion.
Our Year 11 Chemists have been exploring temperature changes. In this practical lesson students investigated reactions to determine whether they were endothermic (take in energy from the surroundings) or exothermic (give out energy to the surroundings)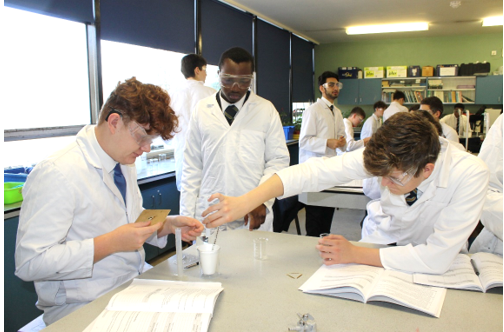 Our PTA and PE department would like to say a heart-felt 'thank you' to all the parents and carers who supported the boys on a very cold and misty morning for the inter house rugby tournament! Over 120 boys represented their Houses to put on an excellent display of rugby with a series of thrilling matches. We are incredibly grateful to Mr Harris (WGSB Science Technician) and WG6 students James G, Will D and Jack D for their hard work refereeing the matches and supporting the boys.
Congratulations to all who took part – and special congratulations go to the winning teams!
Year 7 Rugby
1st – Stevenson
2nd – Brunel
=3rd – Newton/Telford
5th – Darwin
Year 8 Rugby
1st – Brunel
2nd – Newton
3rd – Darwin
4th - Stevenson
Absent – Telford
Message from Mrs Sam Garvey, Chair of the PTA
Thank you to all those parents/carers, staff and students who helped make our Fair such a great success. So far, the Fair and Christmas Draw have generated a massive £3,500 towards school projects – I will be discussing plans with the Student Council and Mr Guthrie to maximise our funds for the benefit of our students.
Our Christmas Raffle Draw will take place on Monday 9th December so there is still time to buy those tickets....every £1 counts to help the school
Our Christmas Lottery Draw will also take place on 9th December, with the chance to win £100.
Don't forget to register with easyfundraising as you're buying your Christmas gifts! For more details see our PTA page on the website here
I would also like to thank our massively hardworking PTA committee who do so much behind the scenes and for the many volunteers that helped on the day of the fair. I also really appreciate the generous donations that have been given to make this event such a success.
Wishing you all a very Merry Christmas
Congratulations to WG6 student Luke Jackson who has qualified for the British Schools Judo Championships in March 2020. This follows medal successes at both the London and Southern Area Qualifiers. Luke has had a busy six months of competitions, which included the London Youth Games, Kent International and various other open competitions since June. Luke has been fighting since he was six and is a member of three different judo clubs.
Luke is pictured on the far left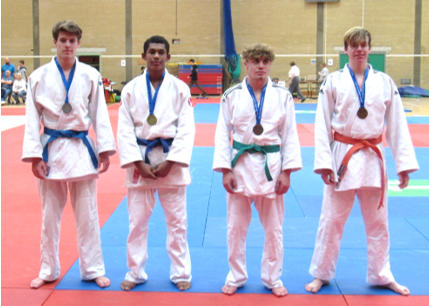 Best wishes,
Charlie Guthrie