Blog week ending 20th July
Posted on: 20/07/2022
What an amazing last few weeks of term! A veritable feast of stimulating, exciting and and downright fun activities and opportunities to immerse ourselves in creation and exploration! Thank you to all staff and students who embraced (and embodied!) the ambition of the enrichment week. The aim was to involve all students in a series of projects that allowed them to see the links and connections between subjects in the curriculum and to give students a sense of 'place' through the exploration of WGSB (and wider) history so we can all see our place within it and have a sense of how we might shape our own futures.
Our week of STEAM Enrichment activities culminated in grand WGSG exhibition inspired by the 1951 Festival of Britain, which took place a year after the school moved to its current site in Wilmington. Each activity linked to the over-arching theme 'Past, Present & Future' and collectively builds an ambitious plan for the future of our cross-curriculum offering and beyond!
The exhibition included stands and demonstrations from each of the activities;
Demo coding
Sci fi inspired sculptures
Future fashion
Architectural models of a canteen of the future
F1 in schools
Drama
Creative writing
Plinko board game design
Dr Who film production
WGSB past, present & future
Celebration cake toppers
Wildlife garden design
Below, I am pictured speaking with students with an old school cane and a book recording behavioural issues and the number of lashes meted out to those boys! .. our boys' were fascinated and astonished!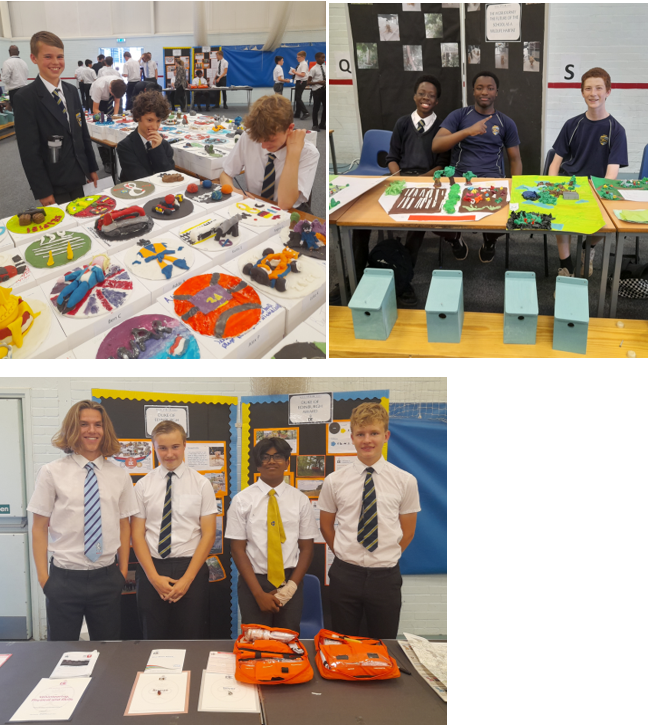 Our budding thespians wrote and performed a short piece to their fellow students and staff!
The Shakespeare Globe theatre. Thank you to Akshay for his trip report. "This year, Year 7 took part in the national Poetry by Heart competition. Whilst they all did a fab job, 8 came Highly Commended and were offered the opportunity to go to the Globe Theatre on Monday 20th June and watch the finals as well as hear from some key names in the poetry world. I was one of them …
We met Miss Price and all our other friends who took part in the poetry by heart competition sitting calmly around our table in the cafeteria. Suddenly, Mr. Colledge popped out of the reception area holding the keys to the school minibus. We drove for about 15 minutes and then we came to the lovely central London and we were lucky to see the Tower of London right behind the Shard. I took so many photos that my phone was on the brink of death. Then suddenly the minibus came to a halt in some underground parking spot where there were lots of tour buses and coaches. Quickly we all scampered up to the top and we arrived right next to a train station. On our way to the Globe theatre, we saw the HMS Belfast. Then we had to wind our way through the narrow footpath of Tower Bridge. When we went down closer right next to the Thames, I noticed there were little specs of fish scurrying in the water. Finally, we reached the colossal Globe Theatre. I was amazed by the thatched roof. We were given bands to wear around our wrist. In a flash we were walking up the stairs into the Globe itself we watched some of the poems until it was break and we had to do a chicken dance to stretch our legs. And then it was lunch and we sat on a wall and all had our lunch together and I got the idea of taking a photo so we took a group photo and then we listen to some more poems. We even heard from the poet Laureate, Simon Armitage.
Miss Sweeney's English students have been studying poetry from William Blake, specifically 'The Tyger' and 'The Lamb'. Students were asked to produce their own poem and consider the presentation (as Blake printed his poems). A thoroughly creative and interesting poems with great presentation. Well done!
Knowledge Quiz results! Period 1 of the last Friday of Term 5 saw WGSB's first ever in-school Knowledge Quiz. Till then, they had been after school and voluntary but this one had all students in Years 7-10 testing their knowledge acquisition and memory en-masse. These are our top scorers. Each has received certificates and house points – A very big well done to them!
Careers Update. Year 10 Students have been on work experience undertaking a variety of roles at local primary schools, pharmacies, GP Surgeries, engineering companies, law companies, and within the Metropolitan Police as some examples.
Those not on work experience completed a two-day workshop at Ravensbourne University in Architecture, Graphic Design, Games Design and on a one-day Film & TV workshop where they will produce their own TV show. They also completed online industry and employability modules online with Springpod.
In addition, two students have been selected for a three-day full university experience at Southampton University which involves staying in the hall of residence for 2 nights.
Saturday 2nd July saw London's first Pride parade since Covid with over 1 million in attendance, and WGSB's KS4 + 5 Pride group was lucky enough to be invited to march in it. This year WGSB has been consulting and working with the company Educate & Celebrate who support schools in LGBTQ+ education and provision. It was with them and other school groups from around the country that Miss Price, Mr Sage and a group of students spent 3 adrenalin-filled hours in the glorious sunshine, marching in a sea of colours; waving flags, blowing whistles and waving at the crowds. An amazing time was had by all!
Since that Saturday, we have also got to know that we have achieved Educate & Celebrate's Pride in Equity, Diversity and Inclusion Bronze award, which looks at 5 areas; Training, Policy, Curriculum, Environment and Community. We couldn't be happier and look forward to continuing on our journey to learn and provide as best we can for those in our school community that are also members of the LGBTQ+ community.
After a two-year absence the WG6 Year 13 Leavers Prom was held at the Marriott Hotel Bexleyheath on the 7th of July. The event was well attended by staff and students and it was lovely to the celebrate the highs (and lows) of the past two years, as well as the end of exams. Students danced the night away and were treated to Billy W performing as Michael Jackson to rapturous applause. Special thanks must go to Mrs Wheatley for organising the event.
Please join me in wishing Lewis F of 10N the very best of luck as he travels to Nantes in France to represent Great Britain in the World BMX Championships 25th-30th July! - a huge achievement being part of the Great Britain Team! We look forward to hearing all about it upon our return to school! You can live stream the event from their website by following the instructions here How to Watch 2022 UCI BMX World Championships live stream Cycling (bmxworldslive.com)
Frankie C is an accomplished ballroom dancer, regularly taking part in (and lifting trophies in!) high profile competitions. Frankie recently competed in the NATD Ballroom and Latin grand finals at the Empress ballroom, Winter Gardens in Blackpool where he placed 2nd in the Latin solos and 1st in the Ballroom solos making him the pre bronze NATD ballroom Champion of the Year 2022! Frankie also made the couples semi-finals in three dances (rumba, tango and quickstep) with his dance partner (both pictured below) Congratulations Frankie!
Thank you to everyone who supported or attended our Summer Fair at the weekend, after such a long 'break' it was wonderful to be able to invite our wider local community into the school for an event! Fun was had, prizes were won and treats and gifts were purchased! As always, we are grateful to our amazing PTA for their unstinting work on behalf of our students.
Mrs Cross together with a group of Year 8 students baked a dizzying amount of perfect (and delicious) cupcakes for the event. Additionally, Mrs Cross baked a special Celebration cake for the raffle - the winner was Mrs Cutts (Parent of Y7 student) who very generously donated the cake to our staff to enjoy!
Free Parent and Carer webinars on Kooth - these sessions are designed to let parents and carers know how Kooth can support their children with their mental health and wellbeing. If parents or carers have any questions, they can email parentsandcarers@kooth.com.
Don't forget! First day of Term Monday 5th September – for new Year 7 and Year 12s ONLY. All other year groups return to school on Tuesday 6th September.
Best wishes,
Stuart Harrington
Head Teacher