Blog week ending 10th June
Posted on: 10/06/2022
Students enjoyed a thrilling introduction to the Formula 1 in schools STEM Challenge. Mr Winter, who leads the F1 challenge delivered a thoroughly exciting and immersive session by means of an introduction to the F1 Challenge, culminating in the World Finals which in previous years have taken place in Singapore and Texas (where WGSB won!)
To help introduce students to the F1 Challenge student alumni from our previous winning teams joined us to help run the session. The alumni guests really gave students a sense of the amazing opportunities that the competition can provide and how it helped inform and enhance their future study and career plans.
Next academic year all of Year 8 will be completing the F1 in schools' competition in lessons. A group of 16 Year 9 students completed the F1 in schools' competition in the WGSB STEAM week 2022.
The F1 After School Club starts on Wednesday 8th June from 2.20 to 4.30pm, and will run every week. Open to students in Years 7, 8, 9 & 10. We are aiming to enter up to five teams in the Entry Class at the regional finals which should be taking place in January/February 2023.
Pictured below the student winner from his Y8 heats – wearing his F1 cap prize!
Special thanks to our WG6 alumni; Alex Lines-Headman, Matthew Watkins, Edward Honey, Joshua Schofield and Hayley Keating-Moody, all pictured below with Mr Winter
WG6 PCP students attended an examination preparation workshop at ISG in Aldgate, London using a local construction site as the focus. The professional team at ISG delivered focused presentations on each section of the exam content as well as providing exercises to complete. Students then presented their answers to the room.
Students enjoyed drinks and lunch before heading off to the Barbican area to the COLPAI site.
Here students received a safety briefing and put on PPE before riding the 'tower of terror' lift to the 11th floor of the residential part of the site. The students were shown one of the apartments and were able to look down on the school built as part of the development.
At the end of the day students made their own way home, with a little help from the Boris Bikes! A great day was had by all.
Nicholas Prodger a current Year 13 PCP student will be joining ISG in September on their degree apprentice scheme.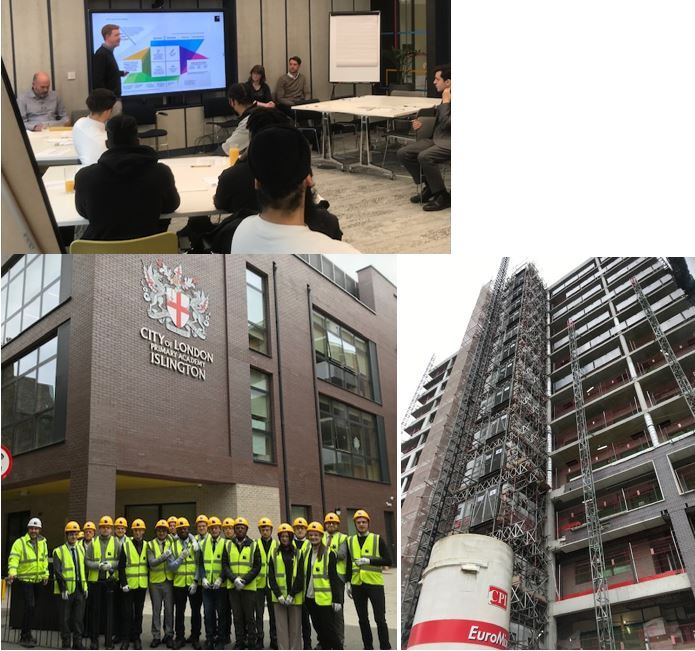 Our Year 7 students enjoyed a session delivered by Kent music entitled "Bach to the Future", the roadshow aims to inspire students to learn a musical instrument and encourage an understanding of the value of music to our world and everyday lives. The musicians played excerpts from well-known TV, film and musical theatre as well as demonstrating how music is used to create and build drama, suspense or 'feel good' feelings – bringing to life the power of music to set a scene or conjure emotion!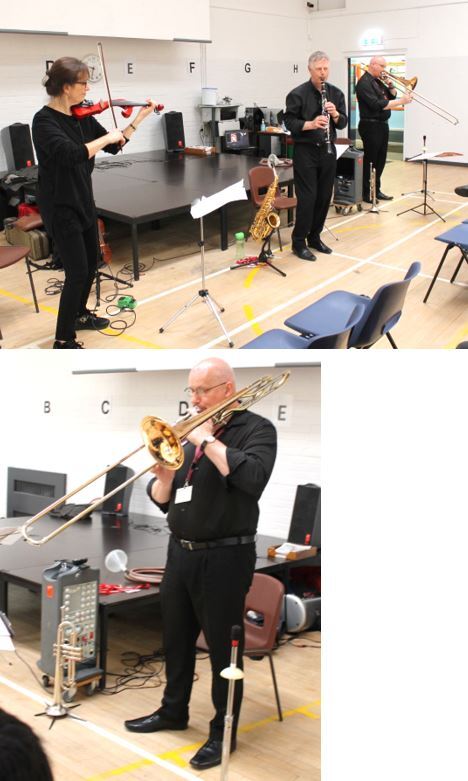 Mr Pope has run a week of inter-House sessions with student teams taking part in a series of STEAM 'mastermind' questions on behalf of their Houses, with plenty of House Points up for grabs! Mr Pope does set a fiendishly tricky quiz, well done to all student entrants! It's all to play for in the Inter-House competitions, current leaders Brunel at 1168 points have a slender lead on current second place Stevenson at 1058 points. One more Term to go!
The below gives you a flavour of the questions students faced (answers at the bottom of the blog);
Who was the first woman in space (June 16th 1963)

Jacqueline Cochran
Nicole Aunapu Mann
Valentina Tereshkova
Roberta Bondar
All of these women are astronauts!
Who was the inventor of CAD (originally for Boeing Air systems) which stands for "Computer Aided Design" and born in Jamaica in 1945?

Walter Braithwaite
Howard P. Grant
George Kelley
Elijah McCoy
All are black engineers of the 20th Century.
Who designed the Queen Elizabeth II Bridge in Dartford?

Isambard Kingdom Brunel
Hellmut Homburg
Robert Stevenson
Thomas Telford
Year 10 Core PE Students have been concentrating on their softball, football and rounders skill-sets this term with all students taking part in a range of training and match-play sessions. Core PE allows students to develop outside of the classroom, providing opportunities to work with peers in a practical setting and offering the freedom to explore existing and hidden talents. The core PE curriculum allows students to focus on physical, social, cognitive and fitness development through participation in a broad and challenging range of sports and physical activities.
Our GCSE & A Level Art & Photography exhibition included such incredibly accomplished and striking pieces, rivalling any exhibition you might see in a smart London gallery! Year 9 students who have selected art as one of their options received a tour and no doubt found the work inspiring. Below a selection of pieces demonstrating the variety of styles and mediums on show.
WGSG Governor, Bridget Ampofo was recently interviewed by Inspiring Governance regarding her role at WGSG, which can be read below;
Educator on Board: meet Bridget Ampofo, teacher and school governor
Educators: have you considered volunteering as a school governor?
There are so many benefits to the role, both professional and personal: joining the governing board of a different school or trust offers a fantastic development opportunity where you can use your expertise in a different context and setting, and the chance to help children and young people in your local community.
We spoke to Bridget Ampofo, a primary school teacher based in Kent, who told us why she got involved in volunteering as a governor, the skills she has taken back to her own school- and her highlights in the role so far.
"My name is Bridget and I am a teacher and middle leader in a Catholic school in Kent. I am a governor at Wilmington grammar school, a girls school with a mixed sixth form, and I've been in the post for about a year. The school has a fantastic ethos that respects the individual and celebrates the rich diversity of students' backgrounds and the heritage of the students and staff. Their mission really resonated with me and that drove me to become a governor in the school.
What made you initially decide to volunteer as a school governor?
I felt motivated to give back to my community, but wasn't sure how best to do it. While researching for a CPD session that I was running, I came across the Inspiring Governance website and thought – actually, this could be the perfect opportunity for me! I had always wanted to become a governor and reading through the information on the site inspired me to sign up. I also wanted to further develop my professional skills and to gain more knowledge about the learning opportunities that are being offered to the students who live in my community.
What skills and insight have you brought to the governing board from your professional background?
I teach in a primary school and volunteer in a secondary, and being able to share some of the experiences that younger children face, and offer strategic insight into what to look out for when they transition into secondary school. It has also been an opportunity to further develop my leadership skills and to network with others from different professions and different walks of life – it's great to learn from others who have a common interest in education to share different perspectives.
What have been the benefits to you from a personal perspective?
It's so rewarding. Being informed about how other schools work and being able to influence what happens in a school other than my own – I have found it really enriching and fulfilling.
If you could bust one myth about volunteering as a governor, what would it be?
I couldn't stop at one, I have three! One, that you need to have children attending the school where you want to volunteer as a governor – not true! Two, that you have to be a teacher to be a governor – you can bring your own experiences, knowledge and skills from any profession to the table. Three, that it is overly time consuming – of course, you need to give some of your time but once you have understood the requirements of the role and are able to prioritise, it is absolutely manageable.
If you could pick one highlight of your time as a school governor so far, what would it be?
My highlight so far has been attending an event at the school to showcase all the great things that they are doing. The staff speak so passionately and share evidence to show the measures they are putting in place for the children – considering what schools have been through over the last two years, it gives me a real sense of pride that we are helping to make a difference to the local community.
I have also been able to attend training opportunities offered by The Education People which has further supported my skills and deepened my knowledge as a teacher and governor. The training enhances and inspires personal and professional growth and development.
Would you recommend the role of school governor to teachers and other professionals with a background in education?
I would highly recommend it. Being a school governor has enabled me to be involved in the strategic development of a school, and therefore make a positive impact on the community. Teachers know how much support students need when going through the education system, and by volunteering as a governor, sharing our knowledge and skills, we are able to make that impact and help the next generation get a great start. It's another way to make a difference."
Huge thanks to Bridget for helping to make a difference through volunteering as a school governor! To find out more about the role of school governor and to apply, please click here Become a school governor - Inspiring Governance
Forthcoming;
Careers & Employer Life Programme Event – Years 7, 8, 9, 10 & 12 on the 21st June. We will be welcoming a range of employer speakers and alumni to inspire, inform and engage with our students regarding future education and career opportunities. Over 30 speakers will be discussing their roles, and their career paths giving students a unique insight into a wide range of industries and courses. Speakers include; Director of Technology at ITV Studios, Principal Economist at Digital Catapult, Managing Director of Whitecode Consulting and the Project Manager at BAE Systems Submarines.
WGSB PTA Update & forthcoming events. We Hope you all had an enjoyable half term break and Jubilee celebration.
Virtual Quiz Night: Have you paid for your entry screen yet? A gentle reminder that the much talked about WGSB Quiz Night with the theme - Let's Get Quizzical comes up next Friday 17 June, from 7 - 8pm. Please plan to join from 6.50pm. Priced at just £7 per screen and £1 per raffle ticket which can be paid via ParentPay You can buy as many tickets as you like. Our Quiz Nights are usually big fun times for all family members, so do help spread the news and invite others. See flyer for more information. Please contact pta@wgsb.co.uk if you have any questions or if you don't get your joining link by 10am on Friday, 17 June. All monies raised will go towards funding the school's Outside Dining Room project.
The Summer Fayre: Hopefully you are planning to attend this great event! The Summer Fayre is a really fun event for the whole family so put the date in your diary, i.e., if you have not done that already! We are always looking for any help and support before, during and after the event. Do you have a flair for organising events? Would you like to spare some time to help our school raise some funds? Or maybe you will like to run a stall at the summer fayre? Or even be a sponsor? Or donate prizes for the summer fayre raffle draw? If you will like to get involved or help prepare for the Summer Fayre in anyway, please contact pta@wgsb.co.uk or the school office. Thank You!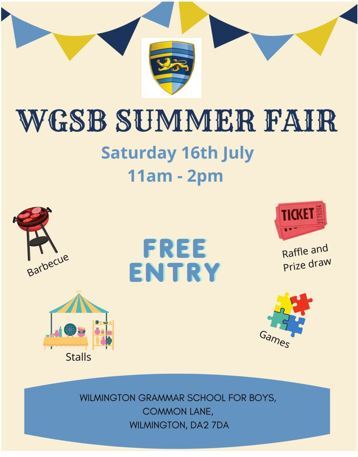 Pre-Loved Uniform: Please do remember that you can donate your unwanted / outgrown good quality clean school uniform (blazers, jumpers, PE kit) to the PTA nearly new uniform shop. Just put them in a bag and drop off at the school office. A BIG thank you to all those who have kindly donated to our uniform shop. If you would like to know what we have in stock, replace a lost piece of uniform or even pick up a spare, please contact pta@wgsb.co.uk and a member of the PTA will be in touch.
Next PTA Meeting - Monday 13 June 7.30 - 8.30pm
Zoom Meeting Details:
Meeting Link: https://us02web.zoom.us/j/87118683918
Meeting ID: 871 1868 3918
Passcode: pta
We look forward to seeing many of you on the call on Monday.
And finally, a massive thank you to everyone who supported the PTA's Krispy Kreme doughnuts fundraising initiative on the last day of the school term, (27 May). This was a huge success! The students enjoyed their delicious Krispy Kreme doughnuts and the PTA raised over £600 towards the Outdoor Canopy sale. We also raised £341 in the raffle tickets sale. The raffle will be drawn next week and winners contacted. As this was a really popular fundraising initiative, the doughnuts were all sold out very quickly and some students missed out from enjoying their delicious doughnuts, the PTA may run a mini-sale of Krispy Kreme doughnuts sale during the sports week, w/c 27/06, so watch this space for more information.
Thank you for supporting the Outdoor Canopy project and for supporting WGSB PTA.
Best wishes,
Stuart Harrington
Head Teacher
Answers to Mr Pope's STEAM Quiz
Valentina Tereshkova
Walter Braithwaite
Hellmut Homburg