Blog week ending 6th May
Posted on: 06/05/2022
Please join me in welcoming our Head Students to their new roles. Each has demonstrated attributes, insight and skills that will see them making excellent ambassadors and role models for our students and as speakers at events and school open days with the wider community. I, and the rest of the Senior Leadership Team look forward to working with them.
Head Boy. Hi, I'm James Pilling and it's a privilege to be the Head Boy of WGSB. Over my time at Wilmington Grammar I have seen the school grow and witnessed its incredible potential. Throughout the next year I hope to build on this and help take the school further. In particular, I will be working closely with the Student Council to provide students with a voice and enhance the whole community. Also, I intend to grow our extra-curricular activities to enable everyone to take part in an activity at school that they are passionate about and truly enjoy. I am excited about this opportunity and can't wait to get started!
Head Girl. My name is Louisa-Rose Gifford and I'm honoured to be your Head Girl here at Wilmington Grammar School for Boys. After moving here for sixth form having previously attended Welling School I am so grateful to be given this position where I can voice what is important to the students. If there is one thing that I'd like to achieve as Head Girl, it would be to ensure that all students are represented, that all have their voice heard. I would like to introduce more charitable events for the whole school community and most importantly to increase student unity. I cannot wait to work with you all!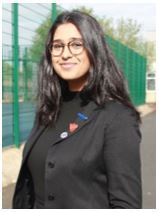 Deputy Head Girl. I'm Leyah and I am delighted to be a part of the Student Leadership group here at WGSB. I see my role as being someone who is on-hand to support and mentor students, for them to feel they can speak with me and I will listen, offer advice and provide practical help – student wellbeing is key to me. During my time at WGSG I have worked with, and been inspired by other Student Leaders and feel strongly that all students should see themselves represented by their student leaders. My initial focus is to help set-up and run new clubs and societies to allow students to express themselves and discover new interests.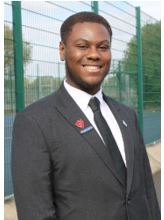 Deputy Head Boy. Hello, my name is Reginald Bampoe-Addo. I feel honoured to have this opportunity to use my skillset to improve the school. Throughout my years at Wilmington Grammar, I have seen the importance of having a strong school community which is why I am hoping to be the voice that students need in order to further enhance such an environment. My main goal is to make the school community a better place for staff and students alike via targeting wellbeing and introducing a wider range of peer-support activities.
Mr Baker, Deputy Head Teacher and Mrs Lomas, Examinations Officer took a Year 11 assembly dedicated to familiarising students with the procedures and providing reassurance ahead of the GCSE examinations. Each student was issued with their timetable and visited the examination hall to acquaint themselves with the necessary requirements.
Every department is providing bespoke revision sessions and support for all students taking their A Levels and GCSEs which will work in conjunction with revision undertaken at home. In addition to lunchtime study groups and in-class mentoring, Head of Computer Science, Mr Barwell has created a suite of online resources for his students to use to support their revision and test their knowledge;
The following are links to videos that go through the recent programming paper 02 mock:
Other resources include things like Gotchas which highlight common mistakes identified during marking our student's mock exam papers. These resources are accessible through the Computer Science Teams page.
Pictured below, students revising in groups with Mr Barwell or individually, using a drawing tablet to complete online practice exam papers.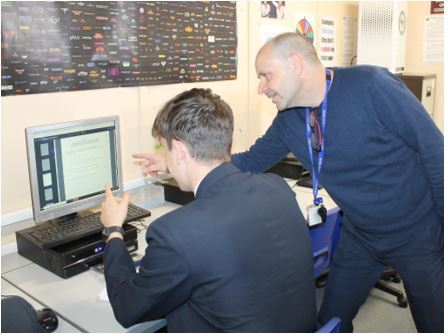 Our Duke of Edinburgh Award programme epitomises our school values – respect and friendship being key to the ethos of this rewarding and fulfilling scheme. Last Saturday 30th April and Sunday 1st May, led by Mr Sage and fellow teaching staff as part of the Duke of Edinburgh team, 93 of our students descended on Hope Hill Campsite, Meopham, to take part in their Bronze Practice Expedition, and put their training from the 13th March into full effect.
Students successfully navigated around the local area, with the support of KCC DofE specialist staff on the Saturday, then completed their Assessed Expedition route planning, cooked their evening meal and completed campcraft. The students walked their routes on the Sunday unsupervised, carrying all their equipment, then returned to the campsite to conclude their expedition. Mr Sage would like to thank all the other members of staff who have offered to support the students during the expedition. The students' aptitude and and overall performance across the weekend was exemplary - a member of the Duke of Edinburgh team commented "the students are an absolute credit to the school". Well done to all participating students on a very successful expedition. We are eagerly looking forward to the assessed expedition on Tuesday 12th and Wednesday 13th July.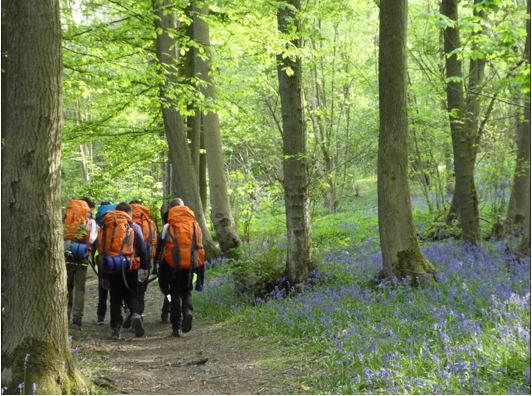 Ms Fisk, our Librarian is encouraging Year 7-10 students to join our group and read the shortlisted books from the Carnegie Medal Award! Students will share their reviews … and vote for their favourites ahead of the winners being announced on the 16th June … so that's six weeks to read six books! There are copies of the books available in the library.
October, October by Katya Balen
Guard Your Heart by Sue Divin
When the Sky Falls by Phil Earle
Everyone Dies Famous in a Small Town by Bonnie-Sue Hitchcock
The Crossing by Manjeet Mann
Tsunami Girl by Julian Sedgwick
Cane Warriors by Alex Wheatle
Punching the Air by Ibi Zoboi and Yusef Salaam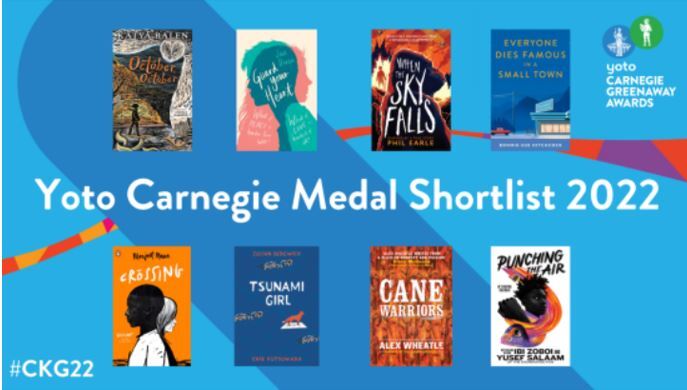 Wanted! – Student Librarians. Ms Fisk our Librarian is looking for students who are interested in helping her with the running of our school library. Student Librarians will provide support to their peers in the selection of reading books as well as help keep the shelves fully stocked and create library displays and school posters. For more information, or to sign up please see Ms Fisk.
Our Year 10 Chemists have been deepening their knowledge of endothermic and exothermic reactions – energy transfer to or from the surroundings.. During this practical investigation students monitored the change in temperature – energy transference of magnesium and zinc.
Your PTA needs You! Together we can make a difference.
Upcoming Events - Please save the date! Quiz Night: Friday 17 June 7-8pm. Pre-Loved Uniform Sale and Summer Fair: Saturday 16 July 11am - 2pm. The Summer Fair is a really fun event for the whole family so put the date in your diary! We are always looking for any help and support before, during and after the event. Do you have a flair for organising events? Would you like to spare some time to help our school raise some funds? Or maybe you will like to run a stall at the summer fair? If you will like to get involved or help prepare for the Summer Fair in anyway, please contact pta@wgsb.co.uk or the school office. Thank You!
Monthly Lottery Draw. Congratulations to Zac P (11B) and Fin C (10N), who are the winners for March and April monthly draws!
Support Wilmington Grammar School for Boys - Dartford by signing up to support us for FREE on Smile Amazon and Easyfundraising . You can raise donations whenever you shop online with over 6,000 retailers including John Lewis & Partners, eBay, Argos, ASOS, M&S and more. Plus, we will get a bonus £5 donation when you do! Sign up today - this will make a BIG difference to us this year: Easyfundraising

Pre-Loved Uniform: Please do remember that you can donate your unwanted / outgrown good quality clean school uniform (blazers, jumpers, PE kit) to the PTA nearly new uniform shop. Just put them in a bag and drop off at the school office. A BIG thank you to all those who have kindly donated to our uniform shop. If you would like to know what we have in stock, replace a lost piece of uniform or even pick up a spare please contact pta@wgsb.co.uk. and a member of the PTA will be in touch.
Careers Department request from Mrs Walker. We are currently looking for employers to be able to facilitate, Year 10 or Year 12 students for one week of work experience during W/C 11th July. Please email twalker@wgsb.co.uk if you or your contacts are able to help with this by Friday 27th May 2022.
We are also planning to run a live Careers Event in school the morning of Tuesday 21st June 2022 and would like to invite you to take part in inspiring our students to their future careers. We are looking for volunteers to speak to our Year 7, 8, 9 and 10 students face to face or by video call. Our students will prepare a list of questions that will be sent beforehand – and we expect each session to last around 20 minutes.
We are looking for volunteers from all industries and sectors and would like you to share your career journey and experiences with our students. If you would not like to do this personally but know someone that would be willing to help, please let us know.
The timings of the morning are from 8.45am to 11.15am and you can pick which time suits you best.
If you are interested please reply by Friday 27th May 2022 by completing this form https://forms.office.com/r/p6kaCyYBwc or emailing twalker@wgsb.co.uk.
Please note, our school blog is moving to a fortnightly frequency and our next blog will be sent on Friday 20th May. We welcome items from students with news of their clubs or activities outside of school so that we can celebrate all successes, both in, and out of school.
Best wishes,
Stuart Harrington
Head Teacher