Blog week ending 1st April
Posted on: 01/04/2022
We were privileged to receive a very special guest last week, Rory Steyn, who was Nelson Mandela's personal bodyguard and head of security. Rory quickly to grew to respect and admire Mandela and considers him the most important figure in South Africa's history. Rory shared his personal experience of living and working with Nelson Mandela and really captured, for us, the essence of the great man and exemplary politician and leader he was. Mandela embodied a clear vision for a united nation with equal opportunities for all of its citizens – regardless of race, religion or gender. Rory witnessed Mandela working tirelessly, leading by example; championing the rights of children, appointing female politicians, expanding and developing scientific education and research and fighting for peace and justice around the world. Rory's insight and continued loyalty to the memory of Nelson Mandela are an inspiration to us all.
Mrs Price our Endeavour MAT Director of Data and Information, attended the event and commented "The clear message for me was that the man we all saw on our TV screens whether shaking hands with presidents, celebrating with the National rugby team or spending time with his family was as exactly as portrayed. Nelson Mandela was the advocate for reconciliation not only for his work to bring about an end to apartheid in South Africa but as a much loved and respected global leader who treated every person he came into contact with kindness and dignity and as an absolute equal"
"Education is the most powerful weapon which you can use to change the world." Nelson Mandela
Below, our Equality & Diversity student leaders and prefects from both WGSG and WGSB met with Mr Steyn ahead of his talk.
End of Term Assembly. Years 7-11 attended a Celebration Assembly that marked achievement and endeavour across departments and Year groups. We enjoyed a programme of entertainment which included our Y7 band playing as we entered the hall as well as Y7 Drama students delivering a poetry recital. Y9 gave an Art presentation and a musical number by a group of Y12 and one Y7 performers (photo of them practising below) got everyone on their feet!
I am endlessly proud of each and every one of our successes, in whatever form they may take; the quiet individual determination to complete a tricky task, the outstanding collective performance of our sporting teams and the fearlessness of our performers and I look forward to sharing in many more remarkable moments over the coming new term.
Student Leader announcement. Our Student Leader campaign and election process has been completed .. and the votes have been counted! I would like to congratulate all of our new Student Leaders who will take responsibility for their new roles from next term. The campaign process included them all delivering a whole school introduction to state their plans and vision for the role in a bid for student and staff support and votes! I would also like to sincerely thank all of our current School Leaders for their hard work and for the valuable contributions they have made to school life via the extra-curriculum clubs they have run and for the support they have provided to our students.
We will feature introductions from each of our new Head Students in the blog after the Easter break.
Our new student leaders and their areas of responsibility have been confirmed as;
Head Boy – James P
Head Girl – Louisa G
Deputy Head Boy – Reginald B-A
Deputy Head Girl – Leyah N
Communication - David R, Faith A, Mia K
Careers - Maria A, Matthew N
Events - Louisa G, Reginald B-A, Alicia A, Kaden A, Lauren C, Chibuike N, Lucy R, Serena Z
House - Leyah N, Nia-Mai O, Cameron T, Thomas G
Wellbeing - Rosie C, Raeesah M, Reginald B-A
Equality & Diversity - Osa A,Tosin A, Finn L, Teni O
Environment - Zara R, Freddie C, Naomi O, Matthew N, William N
Student council - James P, Ethan P, Micha G
Teaching & Learning - Will S-S, Gabriel P
Scholars - Joshua A, Michael L
House Point Update from Mr Pope. Well done to all competitors in the inter-house events who have taken part in activities securing points for your House! This week students took part in a fitness challenge, speed chess and trivial pursuit! Currently, in pole position for the Inter-House Activities is Brunel House. Overall, Newton House currently holds the top position with an amazing 13,465 House Points. With two more Terms to go till the end of the academic year, it's all to play for!
Our Year 7 Rugby teams have had a great season, playing with heart and skill at a consistently high standard – both our A and B teams came second in their respective groups. Mr Powell and Mr Harris are incredibly proud of the teams' success and positive representation of the school.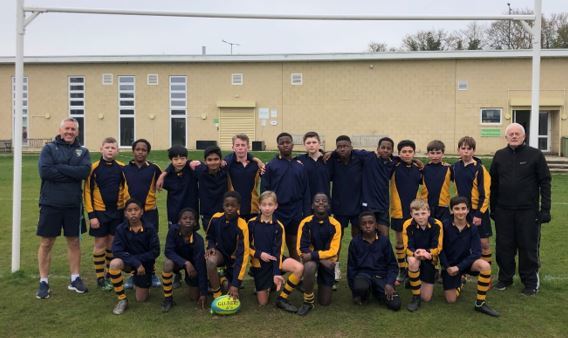 Our Year 9 Art students were entered into a national competition called 'Artbytes'. We selected 30 paintings from our Year 9 'Mountains' project to submit for short-listing. A judging panel of respected arts professionals will shortlist three of the thirty paintings that we have submitted. When they have been selected, there will be a public vote for the best of the three. Watch this space for information on how to vote after the short-listing has taken place and further information about our students' progress within the competition.
In the meantime, well done to all thirty Year 9 students whose work was selected. All 30 paintings can be viewed by clicking this link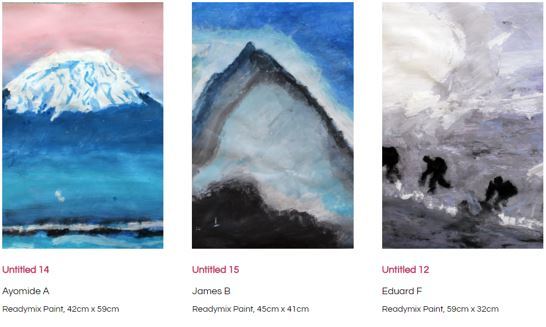 WG6 Cultural Day report by Year 12 student Meenatchi T
On Wednesday, we had the opportunity to celebrate the range of different cultures that we have in our school community. Our year group, Year 12, decided to take part in the WGSG celebrations and we all went for the most exquisite representation of our cultures that we could. We have a range of cultural backgrounds in our year group, spreading from Europe to Asia to Africa. It was a showcase of colours, a place for unity and a time for us all to establish and strengthen our bonds with our peers in our year group. The event was a key day in our WG6 experience and we all really enjoyed it!
For this event, I wore a shalwar kameez, which is a classical Indian outfit. It consists of a long top and very baggy pyjama like trousers as well as a long piece of fabric that is put over which is called a chunni. These can come in different colours, ranging in all the colours of the rainbow, and patterns which was also seen on the day. Many of the girls wore these as well as some girls wore with half-sarees, which is a small top and a giant skirt which is handmade back home in our countries of origin and then covered over with a big piece of fabric which is folded neatly into pleats and swung over the shoulder. This half-saree look is traditionally something originating from Sri Lanka so it was wonderful to see our peers and friends wear these amazing clothes. We had some representation from Africa as well, with traditional Ghanaian and Nigerian Clothing. The jewellery from all cultures was also incredible to see, which most of our peers in our year group wore.
We took some pictures together, which you can see below. These photos meant a lot to us as we all could see the physical unity of our cultures and the diversity that we have at our school as a whole. This day reminded me and the rest of the peers of our year group of the inclusivity we have at our school and how broad and accepting the school environment is. It was a great opportunity to connect with teachers and those in your year group that have similar cultures while also having a fun day at school. I hope the school continues to celebrate these cultures because it is what shapes us as the young adults that we are today and it makes the day and our time at school definitely more enjoyable.
As Year 12, we all definitely had loads of fun during our time in cultural day. It was a day to express and embrace the colours of the world while also appreciating your own roots and your culture. It was a blast!
Our Year 12 Politics students visited the Houses of Parliament at Westminster. The day began with a tour of the Palace of Westminster which began in Westminster Hall, the scene of many notable moments in British history, before visiting both the Houses of Commons and the Houses of Lords, where the students learned more about the voting process, how MP's and Lords conduct themselves within the Houses and the role of the Monarch in proceeding. After the tour, the students met with Dartford's MP; Gareth Johnson for a question and answer session. This was a really interesting discussion and Mr Johnson was extremely open with the students and gave them an insight into the life of an MP and his role as a whip within the Conservative party.
In the afternoon, students attended a session in the House of Commons. This was 'defence questions', which saw members of both sides of the House asking the Defence ministers questions on defence, primarily focusing on events in Ukraine and the UK's response to them.
Many thanks to all of Mr Johnson's team for organising our visit. A special thanks to Gareth himself for giving up his valuable time to speak to us, also Sarah a member of his team who gave us some real insight into the role of those who work for an MP.
Dr Harris
Mrs Cai leads a WG6 Elective Group where staff and students share recipes and make dishes from around the world. In this session Mrs Cai and the students made Chinese 'potsticker' dumplings. By all accounts they were absolutely delicious!
Congratulations to Hadley G of 12J who has recently had one of his poems published in the Sunflower poetry review. His poem can be read in full below;
Stage of an actress
Slowly, the people crawl from the dark foggy corners of the pane,
My breath, cloudy in the air, is deep and laborious.
My eyes blink fast, disguised in a bleached stain
that makes the view lonesome but it's fables vagarious.
A simple white bonnet holds back my hair
that would otherwise crash like waves across my back.
A formless blue gown strung on me with care.
The colour, gentle, like a candle from the black.
As the hours turn to minutes, I anticipate my call to my stage,
and so I make myself busy with chores I would otherwise call mundane.
To concerned to conclude upon upset, intrigued or rage,
yet wondering, when bloodless.., if it should remain.
To my fate, like a steer I am led,
tho I am more certain of what it is to be.
They are to weave my sorrow, but with red or golden thread
to make a showpiece with my tenuous plea.
Upon my stage, satans serpent coils my throat and steals my remorse.
A singular icy tear slivers to my cheek.
Eyes fixated on my blood as tho a ruby, not sad, happy or fearful for the source.
They know better, know to save their pity for the weak.
Managing Director Alex Hill of Whitecode Consulting, a local Building Services Engineering company, came in to speak to Year 12 Professional Construction Practice students.
Alex explained the work of the company and how it fits in to the whole of the Built Environment sector.
The students learned about the different aspect of this work including:
Lighting design
Heating systems
Communication systems
Electrical wiring
Sustainability
Whitecode have offered three of our Year 13 students degree apprenticeships starting in September 2022.
PTA Update. Support Wilmington Grammar School for Boys - Dartford by signing up to support us for FREE on Smile Amazon and Easyfundraising . You can raise donations whenever you shop online with over 6,000 retailers including John Lewis & Partners, eBay, Argos, ASOS, M&S and more. Plus, we will get a bonus £5 donation when you do! Sign up today - this will make a BIG difference to us this year: Easyfundraising

Pre-Loved Uniform: Over the holidays, when you declutter your son's wardrobe, can please donate your unwanted / outgrown good quality clean school uniform (blazers, jumpers, PE kit) to the PTA nearly new uniform shop. Just put them in a bag and drop off at the school office. Thank you. If you would like to know what we have in stock, replace a lost piece of uniform or even pick up a spare please contact pta@wgsb.co.uk. and a member of the PTA will be in touch. Happening Soon - Pre-Loved Uniform Sale and Summer Fair. Watch this space!
Next PTA meeting - Virtual - Mon 25 Apr 2022 @ 7.30pm. Meeting Details will be shared nearer meeting date. Please email pta@wgsb.co.uk for further information. Hope to see many of you virtually at the next meeting! Your PTA needs You! Together we can make a difference. Please contact pta@wgsb.co.uk if you are able to support the PTA in any way. Thank You!
We would like to wish all of our families a wonderful and enjoyable time with friends and family, and to those of faith, who will be marking Easter Holy week, Ramadan and Passover we wish you a blessed and joyous time.
We will welcome all students back to school after the Bank Holiday Monday on Tuesday the 19th April.
Best wishes,
Stuart Harrington
Head Teacher