Blog week ending 25th March
Posted on: 25/03/2022
Mr Watson, Assistant Head Teacher and Head of WG6 at WGSB delivered a whole school assembly this week, the latest in a programme of 'school values' assemblies lead by our Senior Leadership Team. Mr Watson highlighted the values of Respect & Friendship and how they form the foundation of the cheerful and secure culture that exists here at our school helping us to make connections and forge meaningful social and academic groups.
As well as respect for others, self-respect is a vital too – the ability to admire yourself and treat yourself kindly during life's ups and downs. Friendships are equally important to our overall wellbeing and self-confidence, making reciprocal connections and bonding over shared interests or experiences can deepen our sense of belonging. At WGSB we provide endless opportunities for students to meet and socialise with those with common interests via clubs, societies and sporting events. We work hard to ensure all of our students feel able to join with like-minded individuals … trying new and exciting activities, learning new skills and forging new friendships.
Our Duke of Edinburgh Award programme epitomises our school values – respect and friendship being key to the ethos of this rewarding and fulfilling scheme. Lead by Mr Sage, 100 of our students were joined by specialist training staff from KCC last Saturday for a training day ahead of an expedition weekend on Saturday 30th April. In groups, students enjoyed sessions on navigation, first aid, team-building and campcraft in preparation for their forthcoming expedition. I am delighted that so many of our students are taking part in this truly life-enriching scheme. Thank you to Mr Sage and all the other members of staff who have offered to support the students during the expedition.
Sporting after-school clubs. Our Year 7 Rugby squad are pictured below in one of their after-school training sessions ahead of their last match of the season. Mr Powell and Mr Harris took the students through a series of drills and game play to ready them for the big match - It made a world of difference being out on our fields in the sunshine! Our after school and lunchtime sports club focus is seguing into new sports for the spring/summer terms. Our Year 9 and 10 cricketers were in action after school practising bowling and batting techniques with Mr Hook.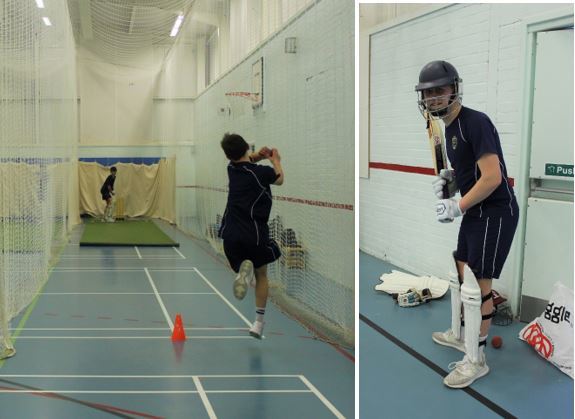 Library Update. The Carnegie Medal Shortlist has been announced! This year's books have been selected to celebrate the power of friendship to create empathy, connection and hope.
Ms Fisk, our librarian has bought a number of copies of each of the titles and is inviting students to join a Carnegie shadowing group who will meet to read and discuss the shortlisted books before voting for their favourite. Any students who would like to take part should see Ms Fisk who will add you to the Teams Carnegie Awards group – the group will meet in person in the library every Friday.
October, October by Katya Balen, illustrated by Angela Harding (Bloomsbury)
Guard Your Heart by Sue Divin (Macmillan Children's Books)
When the Sky Falls by Phil Earle (Andersen Press)
Everyone Dies Famous in a Small Town by Bonnie-Sue Hitchcock (Faber)
The Crossing by Manjeet Mann (Penguin Children's Books)
Tsunami Girl by Julian Sedgwick, illustrated by Chie Kutsuwada (Guppy Books)
Cane Warriors by Alex Wheatle (Andersen Press)
Punching the Air by Ibi Zoboi and Yusef Salaam (HarperCollins Children's Books)
WG6 Biologists were undertaking an investigation as part of their OCR Endorsement practical activity. The principles of the practical were based on the concepts they are currently studying on" USING BIOTECHNOLOGY TO MAKE FOOD". Where they studied how fermentation of lactose in milk by the lactobacillus bacteria transforms milk to yoghurt. The students will monitor the changes in pH as milk is turned to yoghurt by bacterial action. They downloaded an app called Easy sense, onto their phones, which will allow them to collect and process the data charting the progress of the reaction over a 24-hour period.
Cambridge University Roadshow. Students from Cambridge University visited our Year 11 and 12 students to introduce Cambridge as a potential destination as they consider their further education options. The students talked about the different Cambridge colleges and their own study experiences to give a sense of what it is like to study at Cambridge and how to apporach the application process. The Cambridge students were very keen to make Cambridge feel accessible and to reach out to potential students answering any questions and providing practical and relatable advice.
Year 10 GCSE Food Technology students have been developing one of their high skills this week - portioning and preparing a whole chicken. This can be daunting, but the students completed the task very well. They have learned how cost-effective it can be to purchase a whole chicken rather than individual fillets or pre-prepared items and how to cook the chicken four ways: marinated chicken wings and drum sticks, chicken goujons and chicken and vegetable kebabs using the chicken breasts and their absolute favourite, fried chicken using the chicken thighs!
Pictured below, students working during lessons and, images of some of their finished dishes at home.
Thank you for the many donations that we have collected on behalf of the Ukrainian civilians caught up in the conflict in their country. Your generosity has rather overwhelmed us all and only with very careful 'Jenga' style loading did we manage to fit all of your donations into the van and our minibuses! I can confirm that the lorries are on their way, and as the lorries and are being driven by Ukrainian nationals and have Ukrainian number plates they will be allowed into Ukraine and delivered to those who are literally at the front line of the conflict and in critical need of our help.
Thank you to Mr Powell from WGSB and Mr Rana (our WGSG Admissions Manager's husband!) for driving the donations from our schools to the loading depot in Folkestone and to the many students who sorted and loaded the donations.
Congratulations to Jaedon Lynch of WG6 who has been selected to represent Jamaica at the Carifta Swimming Championships, to be held in Barbados in April. Jaedon was selected based on his swim rankings in the UK and is one of 34 talented young athletes to represent the country at the international meet.
Jamaica's national head coach Wendy Lee says "I think the team selected is very impressive. It's fantastic that the selection committee and council of the ASAJ were able to identify 34 talented young athletes with the strength of character and determination to represent our country in a manner that will make all Jamaicans proud."
Well done Jaedon!
Support Wilmington Grammar School for Boys - Dartford by signing up to support us for FREE on Smile Amazon and Easyfundraising . You can raise donations whenever you shop online with over 6,000 retailers including John Lewis & Partners, eBay, Argos, ASOS, M&S and more. Plus, we will get a bonus £5 donation when you do! Sign up today - this will make a BIG difference to us this year: Easyfundraising

Pre-Loved Uniform: Please do remember that you can donate your unwanted / outgrown good quality clean school uniform (blazers, jumpers, PE kit) to the PTA nearly new uniform shop. Just put them in a bag and drop off at the school office. A BIG thank you to all those who have kindly donated to our uniform shop.
If you would like to know what we have in stock, replace a lost piece of uniform or even pick up a spare please contact pta@wgsb.co.uk. and a member of the PTA will be in touch.
Watch this space for more information about our next pre-loved uniform sale and Summer Fair!
Next PTA meeting - Virtual - Mon 25 Apr 2022 @ 7.30pm. Meeting Details will be shared nearer meeting date. Please email pta@wgsb.co.uk for further information. Hope to see many of you virtually at the next meeting!
And finally, Your PTA needs You! Together we can make a difference. Please contact pta@wgsb.co.uk if you are able to support the PTA in any way. Thank You!
Forthcoming; We will break for the Easter break on Friday 1st April and will be returning on Tuesday 19th April.
Best wishes,
Stuart Harrington
Head Teacher