Blog week ending 11th March
Posted on: 11/03/2022
This week I delivered a whole-school assembly to share the political and geographical background that contributed to the Russian invasion of Ukraine; and to hopefully provide students with reassurance that history suggests that the threat of weapons serves as more of a deterrent to war than starting one. We are all aware of the desperate humanitarian crisis that this conflict has caused and understand the dire and dangerous situation so many Ukrainian civilians now face. At Wilmington Grammar School for Boys, and indeed across our Trust, we would very much like to help those affected in any way we can. Our school is part of the Kent Association of Head Teachers who, together with many other schools across the country are working together to collect essential resources and supplies to send to the Ukrainian refuges who have fled to Poland. If you are able to donate any items listed below, please send them into school on Friday 18th March. A Go Fund Me page has been set up to raise money for fuel for the HGVs that will take these donations to Poland, https://bit.ly/3pPs3ow
For more information, please click here
Items for donation
baby formula (especially hypoallergenic one - huge shortage)
baby feeding bottles, sterilising equipment (nothing electric - different sockets)
baby food
nappies - any sizes
painkiller medication, especially children's
charging banks for mobile phones
warm socks/gloves/warm hats
camping mats
sleeping bags
protein/energy bars
anti-flu medication (Lemsip etc)
wound dressings
first aid kits
warm blankets
thermal/base layers
hot water bottles
insulated flasks
female sanitary products
any clean soft toys/teddy bears
a letter/ card of hope and support from children and families.
Year 8 History students have been developing their presentation and public speaking skills via the recent assessment; 'Who was the greatest Inventor of the Victorian Period'. In groups of 3, students were asked to give a three-minute presentation on an assigned Victorian inventor, such as Isambard Kingdom Brunel, using a PowerPoint presentation, script, model and poster demonstrating the qualities of their given inventor. There were many fantastic presentations across the six groups and some brilliant models and posters produced, the photos are from members of 8B.
Pictured in first photo; Rahil and Sefunmi, who spoke about George Stephenson, with their poster and model of his steam locomotive 'Rocket'. Second photo; Harry, Bailey and Daniel whose focus was on Isambard Kingdom Brunel, featuring an excellent mode of a Broad-Gauge Engine. Third photo; Maleesha and Jenushan, with a large pack of Cadbury's chocolate, used as part of their presentation on social reformer and chocolatier George Cadbury. (sadly, they didn't share the chocolate with the whole class! Fourth photo; Zain, Tommy and Ben with a model of Ada Lovelace's computer
Well done to all of Year 8 for their fantastic presentations!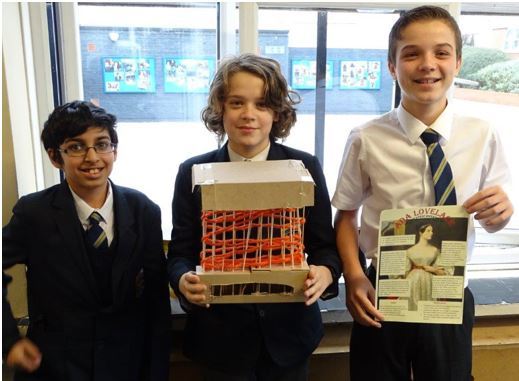 Our Year 8 students have taken part in a live Royal Shakespeare Company enrichment session featuring Much Ado About Nothing. Actors and directors from the production worked with students (virtually!) to give them an immersive insight into how actors unlock meaning in a play and share tools that can support students' critical reading of a Shakespeare play. This was a brilliant and interactive lesson that gave the students a meaningful connection with Shakespeare's work.
Mrs Cross, Head of Year 7 ran a special Shrove Tuesday pancake making session. There were a few rather creative (and acquired taste!) toppings and fillings as well as some magnificent pancake flipping. Shrove Tuesday marks the start of Lent in the Christian calendar, traditionally a time of fasting or 'giving something up'. Instead of giving up chocolate, fizzy drinks or chips, many others take part in the Lenten Positive Acts Challenge as another way to show praise for God. Participants perform one positive act for each of the days between Ash Wednesday and Easter Sunday. These acts can include calling up someone who is alone, donating to a worthy cause, clearing up after dinner and letting someone go ahead of you in a supermarket queue.
Duke of Edinburgh Bronze Award Training Day Saturday 19th March. Please can parents/carers of Year 9 & 10 students who have already signed up to the scheme complete the online form to confirm your son's place on the training day and subsequent expeditions. Microsoft Form Link
We firmly believe that this Award is one of the best ways that students can continue to recover from the lost opportunities of the pandemic. The chance to develop resilience, self-esteem and confidence in an expedition environment is something that we believe all students should experience.
There are many personal benefits to be gained from participating in the Award. These include:
Self-belief;
A sense of identity;
A sense of responsibility;
The ability to plan and use time effectively;
Improving skills including problem solving, presentation and communication
Self-confidence
An understanding of strengths and weaknesses;
An awareness of their potential;
New friendships;
The ability to lead and work as part of a team;
The ability to learn from and give to others in the community;
Independence
Training and expedition dates for this year are set in the school calendar as follows. To read the recent letter sent home regarding our DofE scheme, please click here.
| | | |
| --- | --- | --- |
| Event/Expedition | Date | Venue |
| Bronze Training Day | Saturday 19th March | WGSB |
| Bronze Practice Expedition | Saturday 30th April – Sunday 1st May | Hope Hill, Meopham |
| Bronze Qualifying Expedition | Tuesday 12th and Wednesday 13th July (two days of STEM week) | Hope Hill, Meopham |
Our Young Reporters Group are currently working on a piece on the subject of 'dining' in school. Students have brainstormed their ideas and have highlighted areas for research and identified potential contributors to interview. Students are exploring a variety of 'angles' for their report including; food trends, student feed-back on our new dining hall arrangements and multi-cultural cuisine. If any students would like to contribute to this or any future articles please cone along to our Young Reporters Club, Tuesday lunchtimes in EN2.
Our Year 9 students are studying household electricity and energy stores. In this practical lesson, students re-wired a plug including calculating the correct fuse size required and correctly identified potential electrical hazards in the home.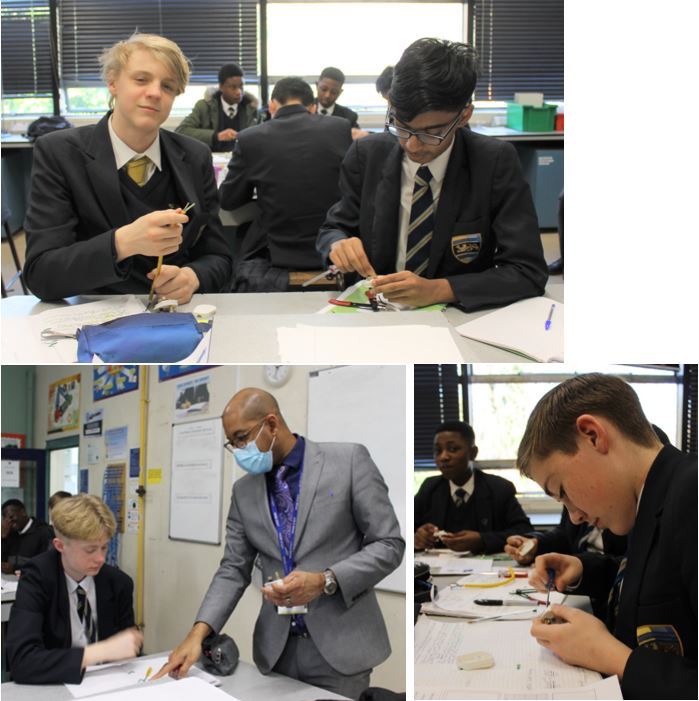 Year 8 Science students are studying electricity. In this practical lesson students practised building circuits as part of their investigation into the difference between series and parallel circuits.
The results of the Art House competition are in! Mrs Dennis was inundated with creative and inventive sculptures. Students who would like to get involved with future projects or for coursework support can come along to our Art Clubs – All are welcome to Art Club on Thursday and Friday lunchtimes - Tuesday after school is The Art GCSE groups and Art Support is open to Years 10-13 after school on Wednesday.
Congratulations to all of our winners. Darwin House scooped an amazing 43 House Points!
Darwin- 43 points
Telford- 26 points
Brunel- 7 points
Hawking- 2 points
Your PTA needs You! Together we can make a difference. Our PTA members are an integral part of our school culture and provide a variety of opportunities for involvement in our school community. The PTA brings together parents and teachers to enhance the work of the school by running events and raising funds which directly benefit the students and enrich their school experience. Additionally, the PTA support and help at school functions and events. Everyone is welcome, regardless of how little spare time you may have - you can still make a BIG difference. Contact pta@wgsb.co.uk for more information.
The PTA currently need help with signage/poster design for the Summer/Winter Fair banners. Additionally, we have two vacant PTA committee roles; Secretary and Vice Treasurer. Please contact pta@wgsb.co.uk if you are able to help.
Pre-Loved Uniform: Please do remember that you can donate your unwanted / outgrown good quality clean school uniform (blazers, jumpers, PE kit) to the PTA nearly new uniform shop. Just put them in a bag and drop off at the school office. A BIG thank you to all those who have kindly donated to our uniform shop. If you would like to know what we have in stock, replace a lost piece of uniform or even pick up a spare, please contact pta@wgsb.co.uk. and a member of the PTA will be in touch.
Next PTA meeting - Virtual - Mon 25 Apr 2022 @ 7pm. Meeting Details will be shared nearer meeting date. Please email pta@wgsb.co.uk for further information. Hope to see many of you virtually at the next meeting!
And finally, Support Wilmington Grammar School for Boys - Dartford by signing up to support us for FREE on Smile Amazon and Easyfundraising . You can raise donations whenever you shop online with over 6,000 retailers including John Lewis & Partners, eBay, Argos, ASOS, M&S and more. Plus, we will get a bonus £5 donation when you do! Sign up today - this will make a BIG difference to us this year: Easyfundraising

The Wilmington Big Clean is taking place tomorrow, 12th March. We are all invited to join the community spring clean which is focussing on areas surrounding the school, in particular open spaces and wooded areas. Please see the below poster for more information.
Best wishes,
Stuart Harrington
Head Teachers