Blog week ending 25th February
Posted on: 25/02/2022
The focus for many of our students during this term will be preparation for their first ever set of external examinations. As you may already know, exam boards have released information about the examinations that will enable our staff and students to prepare highly-focused revision programmes that will pave the way for success in the summer. Our teachers will carefully explain the information that has been released and it is important that students do not become complacent in their preparation; the vast majority of examinations are covering a wide range of topics.
The Department for Education and Ofqual have released guidance which can be viewed by clicking here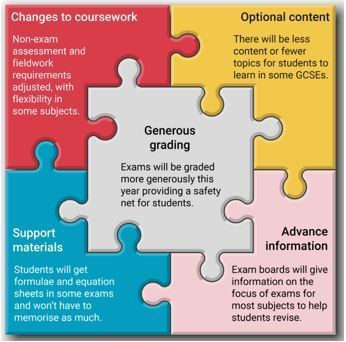 For the students who do not have externally assessed examinations this year, we continue to use strategies to overcome the impact of the last two academic years. For the students who do not have externally assessed examinations this year, we continue to use a variety of strategies to overcome the impact of the last two academic years. Our curriculum is constantly adapted and improved to ensure that gaps are filled and our nurturing pastoral care will continue to promote positive physical and mental health and wellbeing. We are excited by the re-launch of the Duke of Edinburgh Award Scheme this term, as an integral part of our Life Programme that strengthens resilience, self-esteem and confidence.
Our Student Voice group works with our Senior Leadership Team representing the student body with teams in five different areas of school life. The groups are currently finalising their 'manifesto' videos to present their current projects and ambitions to their fellow students during form times. WG6 students and Mr Powell help coordinate the projects and facilitate current projects.. An overview of each group is as below;
Wellbeing. We aim to improve mental health and physical wellbeing across the school. We also aspire to improve overall atmosphere and image of the school. As a group we pledge to listen to students' views on how they hope to enjoy their time in school.
Environment. In our role we hope to protect our school environment and make sure it's clean, welcoming and where possible, sustainable for the use of our community. We must all take an active role in caring for our school and will encourage students and staff to share the responsibility of caring for our environment.
Fund raising and Charity. We aim to aid the improvement of the school through raising money to invest in our and our school's future. One example, is the cultural shift the school is undertaking regards to a communal dining hall and designated outside picnic benches. The student body, via fund raising initiatives, contributed towards the cost of new dining tables.
Teaching & Learning. We would like to introduce more variation in form time, new clubs in more subjects to allow for more interaction between students and to increase the level of interactive learning within lessons. We would like to invite students to submit their ideas for discussion!
Behaviour. We are focusing on clarifying the behaviour system starting with a new warning system poster being placed in every classroom which will make sure both teachers and students are perfectly clear on how the behaviour system is to be administered and will create a more positive learning environment.
Our Year 7 students have been learning about fitness for health and have enjoyed a series of active sessions including; running, gym, table tennis and orienteering. Each activity is tailored to a specific component of fitness including; agility, flexibility, speed, co-ordination and cardiovascular. Mr Pope, who oversees our Inter-House competitions is currently running a Year 7 Fitness Challenge, perfect timing for students to put their knowledge to work and earn House Points!
Pictured, students working in pairs and coached by Mr Powell.
Whitecode Consulting and WGSB/WG6 celebrate their long-term partnership. Mr Brooker, Head of DT at WGSB visited Whitecode Consulting, a local Building Services Engineering company, at their new premises in Northfleet. The DT department have been collaborating with Whitecode for the past 25 years. The company currently have a staff of 47, with 12 staff being former students from WGSB. Alex Hill, their Managing Director was a sixth form student in 1993 when Mr Brooker was completing his teacher training at WGSB. The company has regularly employed Degree apprentices from the school. This year the company employed four students, Shaun, Mikolaj, Tilly and Ben, who are working four days a week for the company and completing a degree in building Services Engineering one day a week at London South Bank University. All the students' fees are covered by the company as well as receiving a salary. This is a unique opportunity for students and the company is looking to take on further apprentices this academic year.
Alex Hill, commented; "David Brooker was my engineering teacher in 1993, (pictured, far right)!" adding, "The latest intake of students from Wilmington already knew so much about construction and understood how buildings went together. It's like they had already been here for two years the day they started!"
WG6 Alumni who commenced degree apprenticeships with Whitecode in September said;
"When you make a mistake, you have to fix it within the same time frame. Being Alex's right-hand man is full on!" Mikolaj
"For me, it was the right move to start a degree apprenticeship rather than going to university full time as I can apply the theory I learn and put it straight into practice" Shaun
"Learning about utilities at WGSB in the Professional Construction Practice course was very useful and it is exciting designing for real using this knowledge" Tilly
"Using Revit CAD (Computer Aided Design) software when completing work in the PCP course allowed me to get off to a flying start at Whitecode." Ben
Design and Technology - (Designing the Built Environment) Curriculum offer:
KS3 students design a kitchen, breakout room and a Sports Clubhouse using Revit professional CAD software. This leads to Designing the Built Environment at Level 2 and professional Construction Practice at Level 3.
Our Year 12 A Level Physics students are studying waves and in this practical lesson have been investigating the factors that affect the speed at which a water wave travels in a container.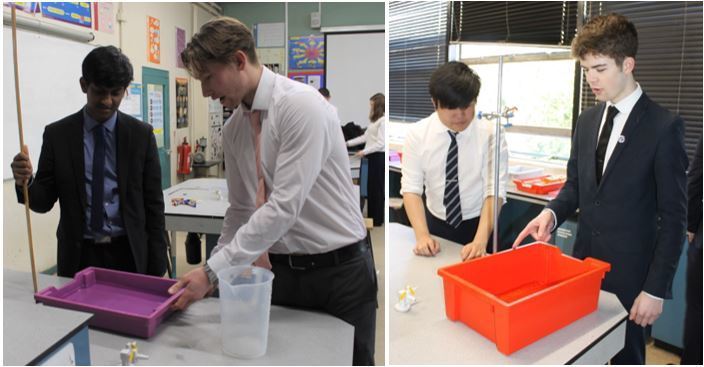 Our Librarian Ms Fisk, has put together a Library 'Shelfie' Day competition as part of the activities to mark World Book Day. Twenty members of staff have submitted photographs of their book shelves, students have to match the shelf to staff member. Students should come down to the library to take part – there are prizes on offer for the most correct answers!
Next week students will be given their £1.00 World Book Day token which can be exchange for one of 12 specially selected titles. Ms Fisk in the Library also has a range of books which students can exchange for their voucher (including the below titles)
The Carnegie Medal Long List of titles has been announced. We have a range of the selected books for students to borrow (and review!) please visit the Library for more information.
Students have all been given the latest Scholastic Book Club magazine with great discounts across a huge range of books. Every order placed over £10 earns 20% of the order value back to our school in FREE BOOKS! The deadline for placing orders is Friday 4th March.
Mr Sage would like to thank you to everyone who attended out Year 8 Parents' Evenings – it was good to see so many of you, albeit virtually! If you have any further questions please send an email to my attention to enquiries@wgsb.co.uk
Parking reminder. Please do not park near the gates of Wilmington Primary School as it causes congestion for parents dropping off their children in the morning and also blocks access to the site.
WGSB PTA Update. Welcome back from half term break! We hope you and your family had a restful and an enjoyable one.
Join the PTA: Together we can make a difference! Our PTA members are an integral part of our school culture and provide a variety of opportunities for involvement in our school community. The PTA brings together parents and teachers to enhance the work of the school by running events and raising funds which directly benefit the students and enrich their school experience. Additionally, the PTA support and help at school functions and events. Everyone is welcome, regardless of how little spare time you may have - you can still make a BIG difference. Contact pta@wgsb.co.uk for more information on how you can support the PTA.
The PTA currently need help in the following areas:
Signage/Poster design - Help with the Summer / Winter Fair big banner
Vacant PTA committee roles – Secretary & Vice Treasurer
Please contact pta@wgsb.co.uk if you are able to support the PTA with above or simply attend our next PTA meeting on 28 Feb to discuss further. Thank you!
Pre-Loved Uniform: Please do remember that you can donate your unwanted / outgrown good quality clean school uniform (blazers, jumpers, PE kit) to the PTA nearly new uniform shop. Just put them in a bag and drop off at the school office. A BIG thank you to all those who have kindly donated to our uniform shop. If you would like to know what we have in stock, replace a lost piece of uniform or even pick up a spare please contact pta@wgsb.co.uk. and a member of the PTA will be in touch. Watch this space for more information about our next pre-loved uniform sale!
Next PTA meeting - Virtual - Mon 28 Feb 2022
Zoom Meeting Details:https://us02web.zoom.us/j/84107833184
Meeting ID: 841 0783 3184 - Passcode: pta
Please email pta@wgsb.co.uk for further information. Hope to see many of you virtually at the next meeting!
And finally, Help us get 2022 off to a great start for Wilmington Grammar School for Boys by signing up to support us for FREE on Smile Amazon and Easyfundraising. You can raise donations whenever you shop online with over 6,000 retailers including John Lewis & Partners, eBay, Argos, ASOS, M&S and more. Plus, we will get a bonus £5 donation when you do! Sign up today - this will make a BIG difference to us this year: Easyfundraising

Best wishes,
Stuart Harrington
Head Teacher