Blog week ending 11th February
Posted on: 11/02/2022
Introduction from our CEO Mr Charlie Guthrie.
Dear parents and carers,
At Endeavour MAT I am delighted with what is happening in our schools. The challenges of the pandemic have been ably met and I would like to thank you most sincerely for the way you have supported us throughout. We have had to make many difficult decisions over the last couple of years, but this has been made all the easier by the response we have had from you and, of course, your children.
We were not prepared to stand still and I wanted to update you on a number of key successes that have taken place across the Trust over the last few months
A number of our senior leaders now regular provide training and support to colleagues from beyond the Trust. This includes the development of leaders, curriculum and teachers in the very early stages of their careers. This demonstrates the high regard in which our leaders are held in the wider educational community. They include Mr Barnett, Mrs Lawson and Mrs Dhaliwal.
We have now had approval for Wilmington Primary School to join our Trust and we look forward to welcoming them in the coming months. It is a demonstration of the commitment of Endeavour to work within our community to provide an excellent education for local children. The inclusion of a primary school will help us to gain a better holistic understanding of the learning that takes place from reception to Year 13 and the methods that are applied.
We are planning for the opening of Stone Lodge school in its permanent building. This is due to take place at Easter. When complete it will be one of the most exciting new schools in the country, having facilities to match the excellent quality of education that is provided
We are now working hard in all of our schools to embed a full programme of extra curricular and enrichment activities for our students. The pandemic has denied young people so many of the usual opportunities and we are working hard to ensure that they can return to leading normal lives and taking advantage of all of the activities that are available. If your child does not participate in any activities currently, I would urge you to look at what the school has to offer. There really is something for everyone
I am in the privileged position of visiting all of our schools regularly. They are calm, purposeful, happy places. teachers, support staff and leaders are absolutely determined to ensure that the education your child receives is as good as it can be. They work hard at their practice, so that maximum time in lessons is spent improving learning.
Following so much disruption, it is now vital that all students attend school regularly. Given the amount of time missed, all absence has an impact. Please support us in this regard.
Have a good half term holiday and we look forward to seeing all of our students back in school on February 21st.
Charlie Guthrie
CEO
Mr Harrington's Head Teacher Blog
Ms Kenny's Year 8 English students spent a highly energetic and interactive lesson contributing to class discussions on a section from Charles Dickens' 'A Christmas Carol' as part of their evaluation and planning ahead of a topic assessment. Students made well-observed and intuitive observations demonstrating a real understanding of the text.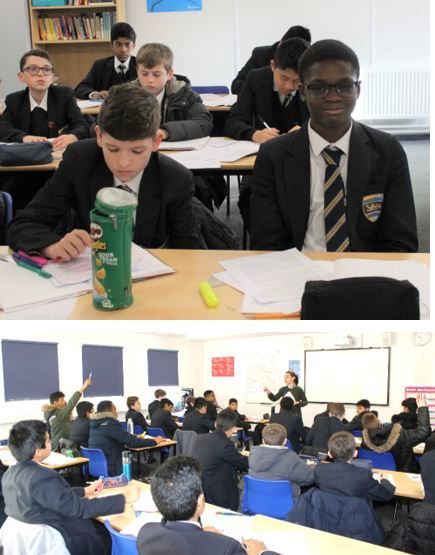 Year 7 English students have been studying the Kraken by Alfred Lord Tennyson and Medusa by Carol Ann Duffy as part of their Myths and Legends topic. In this lesson students were creating their own mythical beast together with descriptive text to bring the creature to life for the reader. So many inventive (and some slightly terrifying!) examples!
Our Year 11 Aspiring Scholars and Year 12 Scholars met this week to consider and debate the answer to a potential Oxford interview question "IF you could save either the rainforests or the coral reefs, which would you choose?". Students worked together in multi-disciplinary groups to discuss and agree their position before articulating and debating their views with other groups. These sessions support improved critical thinking skills, helping students structure their thoughts and make balanced arguments.
James P is both a member of the Student Voice and Scholars Group and was involved in delivering and taking part in today's session. "It really did make us think about our arguments and the points we used to explain our views as it is vital to protect both natural habitats and both ecosystems have an important role in our lives"
Pictured, students sharing their evidence and findings to support their views
Over 50 students from WG6 are currently engaged in completing the Extended Project Qualification A level. This is worth UCAS points and helps students develop research, investigation, analysis and writing skills that can be of benefit to both university and job applications. Students choose their own field of interest and this year's cohort include projects in areas such as sustainable fashion, American politics, classical literature and equality in the UK.
Currently students are developing and writing their arguments, ready for their draft hand in next month. One option is for students to conduct primary research, such as a survey. One student based at WGSB who is investigating issues around Cyber Security has created a survey with the desire to find out how safe our students and parents are in using the Internet. It will only take 2 minutes, please could you take the time to fill it in? https://bit.ly/34D3Kml
PE students are currently working to improve their table tennis skills and in this lesson took part in a series of past-paced competitive match play. Lots of impressive shots in play including forehand drive and backhand flick! Apparently, table tennis is one of highest participation sport in the world with around 300 million people playing competitively!
Year 10 Food Technology students turned 'Patissiers' for this practical lesson as they made perfect vanilla panna cottas and accompanying wafer thin tuiles and fruit coulis to finish their dish. Brilliant chef and presentation skills!
WG6 Physics students have been investigating the potential difference and current for each component in a circuit to substantiate Kirchoff's first and second laws (that the sum of the voltage differences around a closed loop in a circuit must be zero)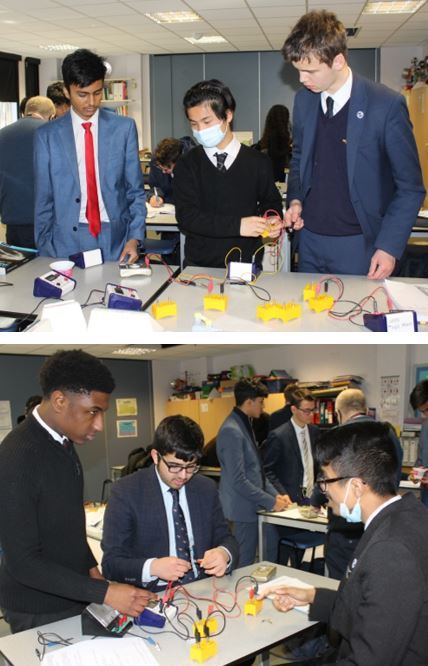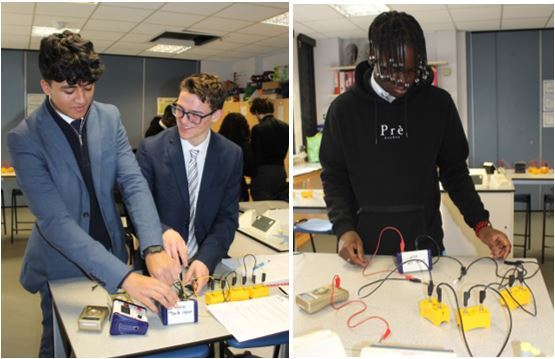 This week we marked Safer Internet Day to reinforce positive online habits. The Safer Internet Campaign aims to encourage families to have a conversation about the online world, and support students and their families to make the most of the opportunities offered by the internet in a safe and positive way. To read their 'advice for parents and carers' please click here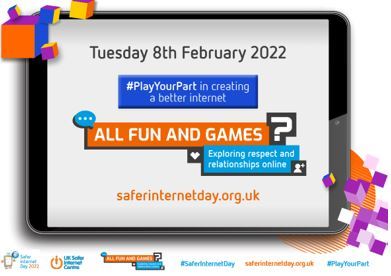 Thank you to all students, parents and carers who have already nominated members of our staff in the Kent Teacher of the Year Awards 2022. I am incredibly proud of the contribution each of us makes on behalf of our school but to have that contribution recognised and noted by our families is invaluable, every one of your nominations means so much to our staff!
If you would like to make a nomination for any member of our school staff - teaching staff, support staff, members of the PTA and senior leaders. Please click here to complete the form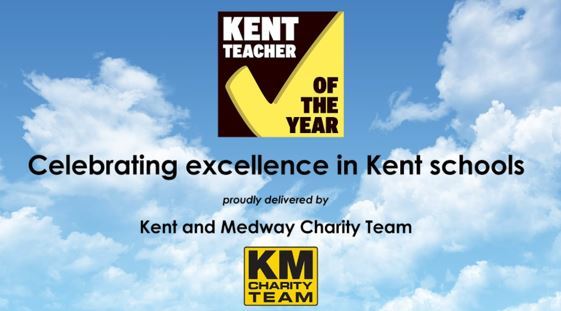 Forthcoming -Year 8 Parents' Evenings will take place the week we return from half term (full details have been sent home via email);
Tuesday 22nd February - Maths, Science, History, Physical Education, Art, Music
Thursday 24th February - English, Business, Computer Science, D+T, Geography, Spanish, French, Religious Studies
The Kent and Medway Immunisation Team is coming to school after half term to give COVID-19 vaccinations (Friday 25th and Monday 28th February) – don't forget to do the online consent form if you haven't already. Visit www.kentcht.nhs.uk/imms for more information. You can also phone the team 0300 123 5205, text 07401320923 or use their web chat if you have any questions about your child's immunisations."
PTA Update - Join the PTA: Together we can make a difference! Our PTA members are an integral part of our school culture and provide a variety of opportunities for involvement in our school community. The PTA brings together parents and teachers to enhance the work of the school by running events and raising funds which directly benefit the students and enrich their school experience. Additionally, the PTA support and help at school functions and events. Everyone is welcome, regardless of how little spare time you may have - you can still make a BIG difference. Contact pta@wgsb.co.uk for more information on how you can support the PTA.
Pre-Loved Uniform: Do you have unwanted / outgrown good quality clean school uniform (blazers, jumpers, PE kit) please? You can donate these to the PTA nearly new uniform shop. Just put them in a bag and drop off at the school office. Thank You!
Watch this space for more information about our next pre-loved uniform sale!
Next PTA meeting - Virtual - Mon 28 Feb 2022
Zoom Meeting Details: https://us02web.zoom.us/j/84107833184
Meeting ID: 841 0783 3184 Passcode: pta
Please save the date and/or email pta@wgsb.co.uk for further information. Hope to see many of you virtually at the next meeting!
And finally,
Help us get 2022 off to a great start for Wilmington Grammar School for Boys - Dartford by signing up to support us for FREE on Smile Amazon and Easyfundraising . You can raise donations whenever you shop online with over 6,000 retailers including John Lewis & Partners, eBay, Argos, ASOS, M&S and more. Plus, we will get a bonus £5 donation when you do! Sign up today - this will make a BIG difference to us this year: Easyfundraising
We wish you and your family an enjoyable and restful half term break!
Best wishes,
Stuart Harrington
Head Teacher