Blog week ending 17th December
Posted on: 17/12/2021
As many of you will be aware Our PE Department, together with a large number of teaching and support staff ran a Year 7 House Rugby Tournament last weekend. What an exhilarating tournament it was too! The teams played with gusto, passion and great skill for their Houses. Families and staff cheered from the side lines .. and Miss Barry arrived with a specially made banner to add to her support of her form and Darwin. Whilst we undoubtedly did have very deserving winning teams I think that we all felt like winners on Sunday, such a marvellous school event, one that players, supporters, staff and our families thoroughly enjoyed! Being able to provide additional activities and clubs for our students is incredibly important to us, we all value the positive impact of time shared with others learning new skills or as in this case, joining together to stage a sporting event. We will continue to, wherever possible, make opportunities to come together and celebrate the many achievements and 'wins' of our talented and courageous students.
Congratulations to our Year 7 winners Darwin!
Congratulations to our Year 8 winners Newton!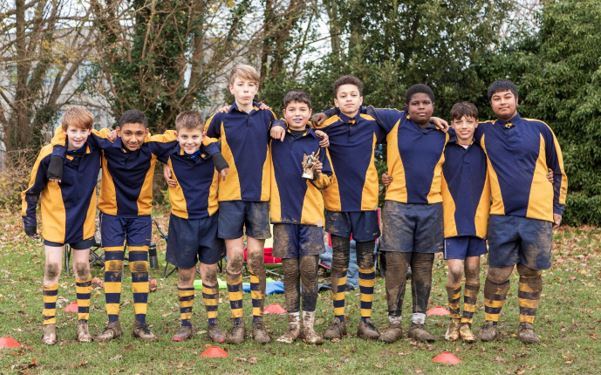 Receiving their Trophy
Mr Lynch added "As cheesy as this sounds, I do want to add that rugby was the real winner as all teams showed a great attitude and the whole event was really well attended by students and their families. Over 110 students participating and so many others attending to watch and support was amazing to see. With the news being quite gloomy at present, it was great to be able to stage such an uplifting event and to see so much joy on our students' faces."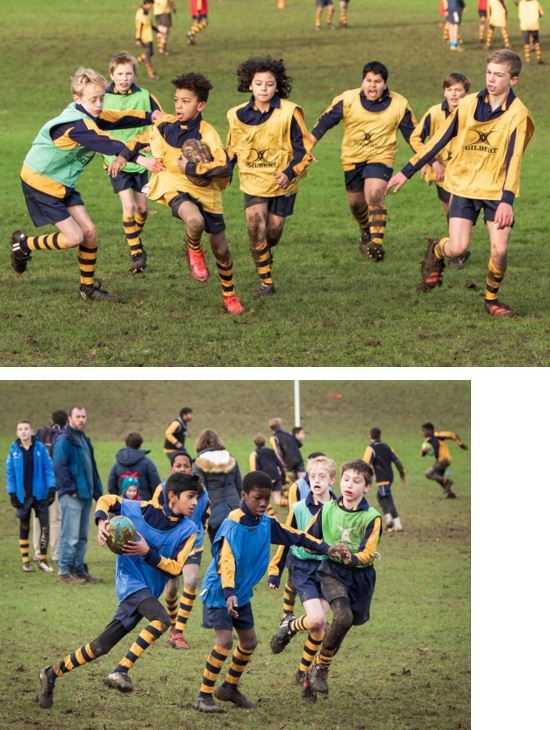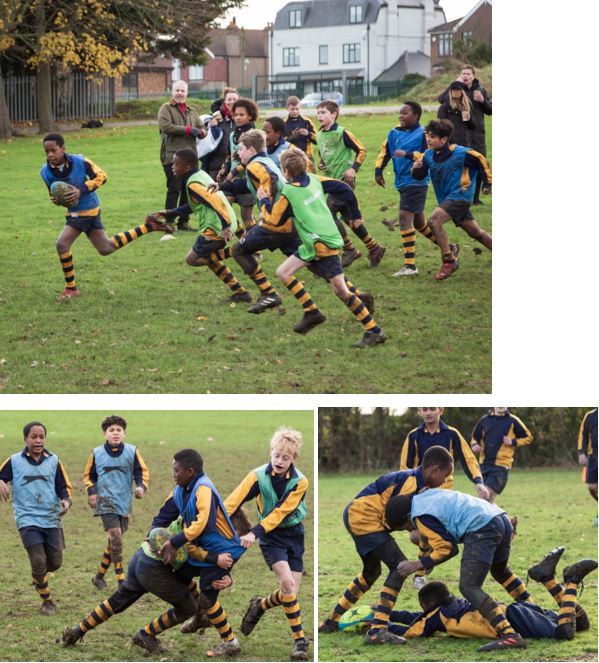 Walking around school and seeing so many of our students sporting their Christmassy jumpers, laughing and generally enjoying themselves made me reflect on this term; the great many causes for celebration, as well as the adaptations we have made to school life to ensure we maintain the safe and nurturing environment throughout this pandemic. The sense of charity and compassion in this school is one of its defining characteristics and it can be measured with the van-full of contributions that were sent to the Dartford Foodbank. Similarly, with the £898 that has been raised for Save the Children with our Christmas Jumper Days. I am proud to say that our grasp of important, traditional values is as strong as ever. We can look forward to a new year where the school will use every available platform to champion charity, compassion, equality and diversity.
Christmas lunch entertainment was provided by some of our talented musicians.
Thank you to our lovely school chefs and catering staff who prepared a delicious Christmas feast!
It wasn't just the students taking part in Christmas Jumper Day!
Our WG6 Amnesty International group held a bake-off competition on Friday 10th December to raise awareness of all the great work that the organisation does, particularly for families torn apart by and affected by conflict. Students were invited to bake and decorate cakes with a theme of family. We had some utterly amazing entries and the judging was therefore incredibly tough! In the end, after much tasting and deliberation, the following was decided:
In First Place;
Alex G of 7N - Feast with red table cloth
Alfie A of 8H - Feast with family
Jake L of 9S - Amnesty Int cake with family photo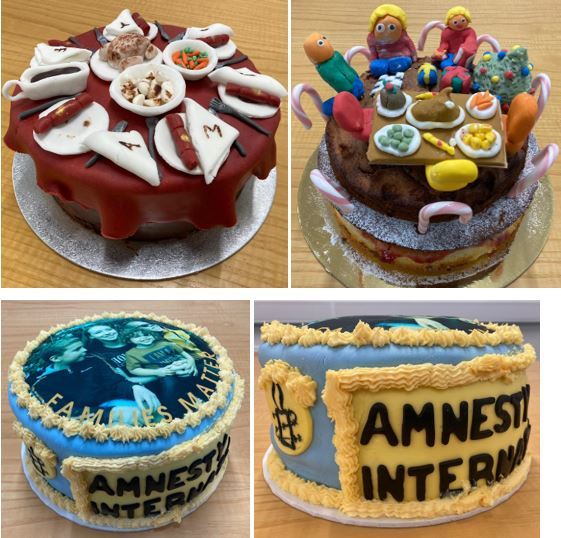 In Second Place;
Kofi B of 7N - Tree cake
Ayaan B of 8N - Penguins & William H-D of 8H - Love, Hate cake
Aadit S of 9N - Blue cake with family
Pictured below Alfie, Ayaan and William of Year 8
We also had two other categories. The first was 'Great Message'; three bakes came with great, heartfelt messages about family that we just loved and wanted to reward. These were the creations of Aryan N (8H), Ethan D (7N) and Amogh S (8T). These have all received four house points.
The second category was 'Just Great Tasting and Looking'. These were bakes by Kurtis SG (8N), Atanas D (8S), Mason C (7T) and Adam H (7N). Each have received three house points. We also wanted to give a special mention to Corey and Brandon S (7 + 8T) for their joint entry - three house points also go to them!
Minions – Mason C (7T)
Sloths – Atanas D (8S)
Dessert with cashews in and note – Amogh S (8T)
Heart with people around outside – Kurtis SG (8N)
As we say, we were so impressed by the entries and by how the students had considered how they could represent 'family' on or through their creations. Mrs Lasoye, the Sixth Formers, Faith, Thomas, Aksan and Jacob along with a number of other teachers and school staff and I very much enjoyed tasting and judging them. Thank you and well done!! Miss Price, Mrs Lasoye and the Amnesty International team
PTA Update. Christmas raffle tickets - The PTA are indeed grateful to all those who bought their Christmas raffle tickets and supported this fundraising initiative in one way or the other. And the winners are . . . .
| | | | |
| --- | --- | --- | --- |
| Raffle No | Name | Year | Prize |
| 575 | Jonas C | 12I | £150 Bluewater voucher |
| 521 | Charlie H | 9B | £100 Bluewater voucher |
| 467 | Finley C | 10N | £50 Bluewater voucher |
| 1045 | Atanas D | 8S | Hamper |
| 1021 | Alexander B | 12F | Hamper |
| 1091 | Euan M | 9B | Hamper |
| 891 | Thomas Y | 11N | Hamper |
| 357 | Joshua D | 13G | Hamper |
| 508 | Krystian M | 10D | Hamper |
| 440 | Finley C | 10N | Hamper |
| 516 | Charlie H | 9B | Hamper |
| 495 | Jacob H | 8D | Hamper |
| 592 | Franco M | 9S | Hamper |
| 394 | Joseph W | 10T | Hamper |
All winnings are with the school office, if you have not already collected yours.
Easyfundraising and Amazon smile: Don't forget that you have even more opportunities to raise more money for school projects as you do your Christmas shopping. It's easy just click - Easyfundraising and don't forget Smile Amazon. Please do consider joining our PTA easyfundraising page when doing your online shopping! Whenever you make an online purchase from any of the over 4,000 participating shops and businesses … they donate to Wilmington Grammar School for Boys at no extra cost to you!
Next PTA meeting - Virtual - Mon 10 Jan 2022 Meeting details will be shared nearer meeting time. Please email pta@wgsb.co.uk for further information. Hope to see many of you there!
And finally - Massive THANK YOU to all parents, carers, students and staff of WGSB who have supported the PTA in various ways during the year. Your kind donations, suggestions and contributions via Easyfundraising, Smile Amazon have gone a long way in helping the PTA raise funds which go back to helping our students. We couldn't have achieved this much without your support. If you would like to know how you can further support the PTA, please send an email to pta@wgsb.co.uk. We wish you a restful and Merry Christmas and a prosperous New Year 2022!
Return to school - testing information. When the students do return in January, we will be offering all students the opportunity to take a supervised Covid-19 test. The expectation from the Department of Education is for all students to be tested in school. In order to complete this quickly we will be offering the tests to students across Tuesday 4th and Wednesday 5th January at the times stated below. We would ask that students come to school to take their test and then return home immediately after testing. We will contact any students who test positive for Covid-19. Normal schooling will begin for all students who return a negative test result at 8.45am on Thursday 6th January, 2022. There will be limited parking available on the school site and please arrive promptly for your allocated time slot.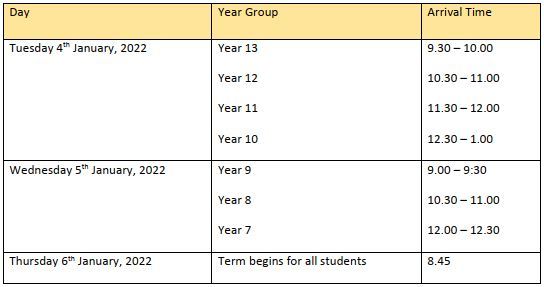 Our intrepid Young Reporters Group kindly drafted a special Christmas Newsletter for inclusion in this week's blog (below). The group are working with Miss Sweeney and Miss Selby together with the BBC Young Reporter Scheme to develop their investigative and feature writing skills!
---
Christmas Traditions across the world by Ben, Danis and Jesse (7N)
Christmas: a time of the year that everyone's heard of, even if they don't celebrate it. The festive season is primarily centred around Christianity, but what other special events are celebrated by different religions around the world? In this article, we will look at some other celebrations and traditions from around the world at this time of the year.
Hindus, for the most part, don't celebrate Christmas. Jesse interviewed Sanjay in 7D about what he does around this time. Sanjay has said that near the Christmas time, he usually gets something special and receives some presents. He also said that he does not speak for all Hindus but that is how he and his family choose to celebrate this festive season.
An interesting event is the Buddhist holiday of Bodhi Day, which marks fellowship and joy for many Buddhists. The day is normally celebrated around or on the 8th December. Bodhi day marks the day that Siddhartha Gautama became the Buddha. FUN FACT: Bodhi day often begins with a breakfast of milk and rice. This was because it was the first meal the Buddha took that day!
Finally, an interesting tradition for the winter season specifically is gingerbread houses and cookies. These are especially popular at Christmas and the tradition is said to have originated from Germany and is based on the Brothers Grimm fairy tale of 'Hansel and Gretel'.
Christmas Film and Book review by Talin W (8H)
The Nightmare Before Christmas – Best Christmas movie ever?

When it comes to Christmas movies, there are a lot of amazing ones such as 'Home Alone', 'Love Actually',' The Santa Clause'... But, in my view, 'The Nightmare Before Christmas' is possibly the best one yet. It is controversial when it comes to the "Christmas" genre as it has both aspects of Halloween and Christmas and I think that's so why many people love it! I will be shedding some light on this movie, to explain why I think it's so great.
The Era of Movies. We can all agree that for sure the 90s had some incredible movies, stringing from films such as 'The Matrix' and 'Batman Returns', to incredibly moving films such as 'Schindler's List' and 'Titanic'. The era of movies was mainly based on live action, and there were not many animation films at the time. So, in 1990, director Tim Burton and his wickedly dark mind had an idea that was so strange for the time most people laughed upon hearing it. An hour and sixteen-minute stop motion animation film that was also a musical. And after 3 years of making, this movie shone above all others as a masterpiece within cinema.
The story. Coming from the mind of Tim Burton and being directed by Henry Selick (who has made movies like 'Coraline'), the story had to be a dark and spooky story. We follow a skeletal, Jack Skellington, who is bored of Halloween and wants to do something different. So, he stumbled across a place where he gets sent to Christmas Town. With many spooks and spectacles taking over Christmas, you know that this movie will be almost nothing like you've ever seen before.
The Musical Numbers. I could not talk about this movie without touching upon the soundtrack. With hits such as 'This is Halloween' and 'What's This?' being written by the amazing Danny Elfman (who has created the soundtracks to films like 'Spiderman 2002') who also provided the singing voice for Jack. There is a lot of solo songs which stand out in this movie like 'Sally's Song' and 'Jack's Obsession'
The Controversy. 'Is it a Halloween movie or a Christmas movie?'. It really gives character to this movie and makes you think about it deeply. But what I think is, it's a movie that is most suitable to watch all the way from October to December so you can get both Halloween vibes and Christmas spirit from it.
Overall Review. I watched and loved this movie as a child so it will always have that special place in my heart. With the incredible directing skills from Selick to the amazing stop motion animation, this movie is just packed with amazing moments and greatness that I believe will go on for years to come as the best holiday film ever.
My Rating
How the Grinch Stole Christmas – An iconic text from Dr Seuss
Not only are films a big win for Christmas, but also there is a sheer number of good books that are based upon Christmas. From 'A Christmas Carol' to 'The Night Before Christmas', many authors really feel inspired by the holiday season. But in my opinion, nothing will ever be as good as 'The Grinch'.
The story. Written by Dr Seuss, this book follows the story of the Grinch, a green being who hates Christmas because he's never had a good one. So, he decides to take it away from everyone in the nearby town of Whoville. But he discovers a young girl called Cindy Lou who is a big believer in the holiday spirit and she helps open up his heart to Christmas.
Why it is loved. The book has a universal love from the readers as it moves away from the 'Jolly' Christmas trope and twists it into a story that almost turns sinister. It has been adapted into film twice and was made into a TV special in 1966. The book has a really good reception from all, with one reader saying: "His peculiar and original genius in line and word is always the same, yet, so rich are the variations he plays on his themes, always fresh and amusing".
Overall review. I personally think it is the best Christmas book ever as the story is so well-loved and iconic to all and the overall atmosphere of the book is so well done that I can barely find a flaw within it. From the amazing illustrations to the great character arcs, Seuss makes a remarkable tale of emotion, love and spooky-ness all in one book.
My Rating
Safe and sustainable Christmas by Jayden A (8B)
A Green Christmas So, as you know Christmas is not all that environmentally friendly: there are the countless trees cut down for the wrapping paper; trees for the Christmas trees; the plastic packaging of gifts; and the dinner left-overs. But here are some tips and tricks for limiting the environmental impact of your Christmas.
First some statistics - According to Wildlife and Countryside Link, around 114,000 tonnes of plastic and paper packaging are thrown away and not recycled in the UK at Christmas. 120 million trees are also cut down every Christmas across the world, leading to large scale deforestation and carbon-dioxide release. And 8 million trees in the UK alone were cut down last year!
To combat these numbers here two big things you can do to help:
Artificial Christmas trees: Even though this is quite an unconventional solution, it is a great one. Purchasing an artificial Christmas tree is good for the environment. Firstly, it helps reduce your carbon footprint by 16kg CO2e. Secondly, buying one can last –on average- up to 10 years, this reduces your carbon footprint by 160kg CO2e (that is as heavy as a reindeer!).
Recycling leftover wrapping paper: There are many ways that we can recycle wrapping paper. For example, you could use it to make paper mâché, you could make and hang decorative items or even homemade decorations. If you have one, you can even make paper confetti with a shredder!
Connecting this Christmas - With the new Omicron variant on the rise, we should all be warier of what we do this Christmas. With it looking harder again this year to spend time with loved ones, this is what you could do to share the same memories, even if you are apart:
Creating group-chats: Group-chats is an amazing way to sharing moments with family. You can share photos and talk quickly and instantly.
Video calls: These are great whether you just want to have a catch-up or are having a virtual Christmas dinner together. This gives you the chance to see family and friends, adding to that festive vibe.
Film & TV watch groups: Another way you can share your favourite Christmas moments are watch groups. You can watch a TV show or film with family or friends and share in their live reactions.
Have a happy and safe Christmas everyone!
---
Finally, may I take this opportunity to thank you all for your continued support, good humour and kind words across this term. At this time of year, it is important that we think of those who are less fortunate than us and my thoughts are with those families who have been impacted in any way by the turbulence of recent weeks. I will return with a renewed enthusiasm to meet as many of you as is possible in the coming months as we continue, together, to offer exceptional opportunities to exceptional young people into 2022 and beyond.
Best wishes,
Stuart Harrington
Head Teacher