Blog week ending 3rd December
Posted on: 03/12/2021
I was overwhelmed by the sheer volume of donations that students made responding to our School Council's appeal for items on behalf of our local food bank in Dartford. The generosity, kindness and support shown by our families is truly humbling. We are all only too aware of the increasing demand on food banks to alleviate food poverty, but as Christmas approaches, coupled with growing concerns surrounding the impact of the new Omicron Covid strain the need for donations has become critical.
Cameron of Year 12, who is the student leader responsible for mentoring the Charity Group, accompanied the group together with Mr Powell, who leads the Student Council to deliver our donations to our local Dartford food bank.
Alongside much-needed staples such as long-life milk and tinned food your donations included countless 'luxury items' such as tins of biscuits and boxes of chocolates as well as mince pies, cosmetics and other treats to provide families with a little festive cheer. Thank you, from the bottom of my heart.
Pictured below, Mr Powell and our WGSB representatives with volunteers at the Food bank (and six trollies of our WGSB donations!)
Students with the completely loaded mini bus!
This week, forming part of our WGSB Life Programme Year 10 and 11 students took part in a series of Careers talks and sessions.
The Year 10 and Year 11 students signed up to the Springpod Virtual Work Experience Platform which gives them access to free virtual work experience as well as online Sector Experiences and Employability Skills online modules. They then discussed with their Form Tutors about "how to make yourself stand out from the crowd" and some ideas about how to do this such as volunteering, taking part in the National Citizenship Service and completing online courses.
Year 10 also spent the session talking about the Year 10 Work Experience week planned for 11th July 2022 and checking that they had signed up to the Connect Placement Manager platform which will support them in this task. They also discussed with their Form Tutors how to find work experience and how to write a covering letter and CV.
Year 11 students discussed with their Form Tutor their Next Steps Post 16 and used their Morrisby Careers Platform to research their future career paths and linked this back to their A level choices. Some Year 13 students also visited the Year 11 forms and talked about WG6 and their experiences and answered any questions the students had, each student has been provided with a WG6 Curriculum Booklet to support their course research and help inform future decisions. In addition, students also completed a Next Steps form which will be used to help guide their 1:1 Careers meetings with Mrs Walker in December and January and the meeting booking link was made available to Year 11 students.
To read an online copy of the WG6 Curriculum Booklet click here
To read an online copy of the Electives Programme click here
Pictured below, Aspire sessions with WG6 students to encourage students to aim high with their university and career ambitions!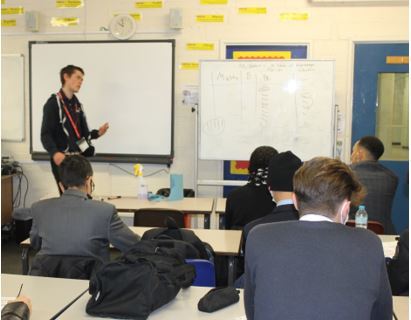 All students across the year groups are encouraged to make full use of our school library and its stock of more than 10,000 books, popular interest magazines such as FourFourTwo and National Geographic as well as numerous newspapers and GCSE and A Level research material for independent learning.
In this Year 8 Library lesson students spent time completing Accelerated Reader book quizzes, or selecting and reading new books. Ms Fisk regularly updates her Accelerated Reader 'Stars Board', awarding House points to high scoring students! For more information on the Accelerated Reader programme and other Library schemes please click here
Thank you to our school prefects who stayed behind after school to help prepare for our PTA funded Year 7 Bookbuzz programme.
Our Economics, Business Studies and Finance Departments have access to research and study materials via our school libraries including the Financial Times online Secondary Schools Programme which is used to support classroom lessons as well as independent study. Students are encouraged to 'think like an examiner' and in a recent A Level Economics lesson students used the financial press to select news items that could be used in an examination, then discuss the likely question and maximum point answer. In the below example students correctly identified the potential economic outcome of the news story and were able to draw a price theory diagram to illustrate their findings.
Pictured below, Mrs Smith with one of her A Level Economics classes.
During the November half term two of our Economics and Business WG6 students completed a work experience at Société General, an investment bank in Canary Wharf. They were given this opportunity through participation in the Young Women in Finance scholarship programme, a sponsored 5-year course that aims to open doors for women in the finance industry to increase the diversity of the workforce. Below is an account of their work experience written by the students;
"We spent the first day talking to members of the team and shadowing Allan Baker, the man who heads the renewables team at Soc Gen to get a basic understanding of what the team's responsibilities are. The team is built up of many smaller sections: upstream, midstream and downstream. We spoke to the downstream team who walked us through their daily responsibilities and invited us to hydrogen workshops where we got an understanding of green and blue hydrogen along with its possibilities for the future. After our first day we went home and did some research on blue and green hydrogen as it was very clear that we were a little bit in over our heads but the team was very supportive and took the time to explain anything we didn't understand so that in the coming meetings we were able to ask more questions and get involved. We quickly realised the important role of hydrogen in the future especially as the team prepared for COP26 the week after.
Most of our time was spent observing the team and asking question about how they got to their role, what their job involves, what they do on a daily basis and then their area of expertise in general. We also had the opportunity to ask more general questions like how to make our CV stand out and what the work-life balance is like in a big investment bank, they provided a great insight about what a career in the investment industry could look like. Throughout the next two days we spoke to the head of Mergers and Acquisitions, the head of Corporate Banking and lastly the head of Compliance. This helped me to understand that I was mostly interested in the corporate side of finance and that the client interaction, being able to mitigate problems, and work well under stress are my strong suits.
We were also introduced to non-finance-based roles as we met with the legal team, who first checked we didn't know anything we weren't supposed to! She then gave an overview of what her job entails which was mainly working to prevent conflict of issues among the team and their clients and also enforcing the rules on the Financial Conduct Authority (FCA) which is the authority that regulates and hold banks accountable for their ethical and unethical practices. This discussion highlighted the potential careers available to us in the future.
Overall, this experience was very interesting and has helped us to refine what aspects of finance we are interested in, has allowed us to put the knowledge gained from the course into practical use, and has opened our eyes to just how current and prominent the financial sector in the UK is."
The Global Head of Power Advisory & Project Finance at Societe Generale Mr Allan Baker said "I have hosted quite a few people for work experience over the past few years and Beatrice and Elizabeth have been amongst the best. Hopefully we will see them later in their university career on our internship program!"
A huge Well done to Beatrice and Elizabeth who have proven to be a credit to WG6 and the Economics, Business and Finance department.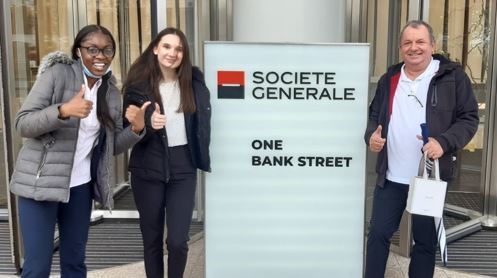 Our WG6 Forensics and Criminal Investigation course develops scientific analytical thinking skills through the use of biological, chemical and physical evidence. In this module students have been conducting detailed investigations to provide non-biased, scientific justification for a number of scenarios. In this practical lesson students were examining the causes and impact of a fire – specifically, a chip-pan fire. Mrs Munden, demonstrated the scientific factors that result in a fireball, the demonstration teaches about fire in general as well as risk assessments. As an extension to learning, students investigated the products of combustion (experiment also pictured below)
Rachel is studying Forensics, Psychology and English and is planning to study Law and Criminology at University. "I am planning to pursue a career within the Law and Criminology field, hence my subject choices at A Level. I found the Law and legislation modules of this course incredibly interesting and directly relevant to my career aspirations"
Harvey is studying Forensics, Psychology and Biology at WG6. He commented "I'm really getting a lot out of the course and particularly enjoyed the Forensic Anthropology module where we learned how to determine the gender and age of a body from their skeleton, in this case pelvis bone. I also like how our investigations take in recent real-life situations such as an investigation into the Grenfell Tower fire."
Over the course of the next week, you will receive the nomination list for our new Parent Governor. Many thanks to the parents who have volunteered for this prestigious role. Please read the information carefully and vote for the person who you think could make the greatest contribution to the governance of our School.
PTA Update. Update on our Christmas Fayre! Due to ongoing rise in covid infections and the discovery of the new omicron variant, the school have made the decision to cancel the Christmas Fayre for this year. We know this will be very disappointing for many, especially for many who have booked stalls to market their wares and those who have made a great effort in one way or another to prepare for the day. However, it is in the best interest of everyone that we have put the safety of the school community first. So, watch this space for more information on how you can support the PTA, including information on Mega Hampers Raffle and tombola extravaganza!!
Our Christmas raffle tickets are still available on ParentPay, remember, every £1 helps, no matter how big or small, we are incredibly grateful for your support, especially as the Christmas Fayre has now been cancelled! The PTA are indeed grateful to all those who have bought their raffle tickets already.
Easyfundraising and Amazon smile: Please do consider joining our PTA easyfundraising page when doing your online shopping! Whenever you make an online purchase from any of the over 4,000 participating shops and businesses … they donate to Wilmington Grammar School for Boys at no extra cost to you!
Don't forget that you even have even more opportunities to raise more money for school projects as you do your Christmas shopping. It's easy, just click - Easyfundraising and don't forget Smile Amazon!
PTA Christmas tree Scheme: Thank you once again to all who have placed their orders for real Christmas trees through our Christmas Trees scheme! Please remember to collect your tree from the school on Friday 3rd December between 4 and 7pm.
Next PTA meeting - Virtual - Mon 6 December. Meeting details will be shared nearer meeting time. Please email pta@wgsb.org.uk for further information. Hope to see many of you there!
Best wishes,
Stuart Harrington
Head Teacher