Blog week ending 19th November
Posted on: 19/11/2021
If the world-wide pandemic has taught us anything, it is the irreplaceable joy that comes with basic human connections: learning what it is to work as a team, develop a new skill, grow new friendships and test oneself in different environments. Across our school, there are a wealth of clubs, societies and activities for students to learn new skills, explore new ideas and socialise with like-minded students. Whether you would like to be a singer, a footballer or a gamer; a chess player or an ecologist, we've got a club for you!
Our English Department are currently running three groups for Key Stage 3 students: Young Reporters' Society, Film Club and the book club, Page Turners.
The Young Reporters' Society meet every Tuesday lunchtime and have been learning about journalism in conjunction with the BBC School Report scheme. Students, together with Miss Selby and Miss Sweeney, are already discussing potential topics to research and write about, and will certainly be contributing to our school blog in the coming months. All KS3 students are welcome!
Our Year 8 Food Technology students have been honing their practical skills as they mastered the perfect bechamel sauce as a key component of their pasta bake. A variety of meat and vegetarian dishes were prepared – all smelt equally delicious!
Year 8 Design Technology students have been using the software, Planner 5D to work on their plans for a 'break-out' space (which is a continuation of their home designs). Each break-out space must work in conjunction with the main dwelling making best use of the available space and have a defined function for use. Student designs include gaming room, gym and garden room.
Students completed a Knowledge Organiser quiz at the end of Term 1, students received their certificates this week for achieving first, second and third place in each form. These quizzes take place each term and test the students' knowledge of all their subjects.
Well done to everyone who took part and put their knowledge acquisition to the test, and especially to our top performers! The next Quiz is in Term 3 – More details to follow in due course.
Below are the 1st place certificates from each form in Year 7.
7B – Joint first Laz and Danny
7D – Phineas
7H – Willem
7N – Joel
7S – Marek
7T - Adaam
Pictured below our Year 10 1st place winners from Year 10;
10B – Noah C
10D - Harris C
10N - Vince M & Rohan J
10S - Finn P
10T - Jack J-S & Sukhraj T
Year 8 1st place certificates were awarded to;
8B – Rahil H
8D – Luke P
8H – Connor L
8N – Owen P
8S – Oliver Jones
8T – Michael W
Year 9 1st place certificates were awards to;
9B – Alfred K
9D – Benjamin H
9N – Bojie Z
9S – Niall S
9T – Rian P
Year 11 1st place certificates were awards to;
11B – Raif I
11D – Ife A
11N – Gabriel W
11S – Noah S
11T - Yogesh K
Odd Socks Day marks the start of Anti-Bullying Week. Odd Socks Day is designed to be fun! It's an opportunity to encourage people to express themselves and celebrate their individuality and what makes us all unique! Across school, students and staff have been sporting a range of fabulous socks to celebrate our own individuality and show support for the anti-bullying message "one kind word"
In a world that can sometimes feel like it's filled with negativity, one kind word can provide a moment of hope. It can be a turning point. It can change someone's perspective. It can change their day. It can change the course of a conversation and break the cycle of bullying.
Best of all, one kind word leads to another. Kindness fuels kindness. So, from the playground to Parliament, and from our phones to our homes, together, our actions can fire a chain reaction that powers positivity.
It starts with one kind word. It starts today!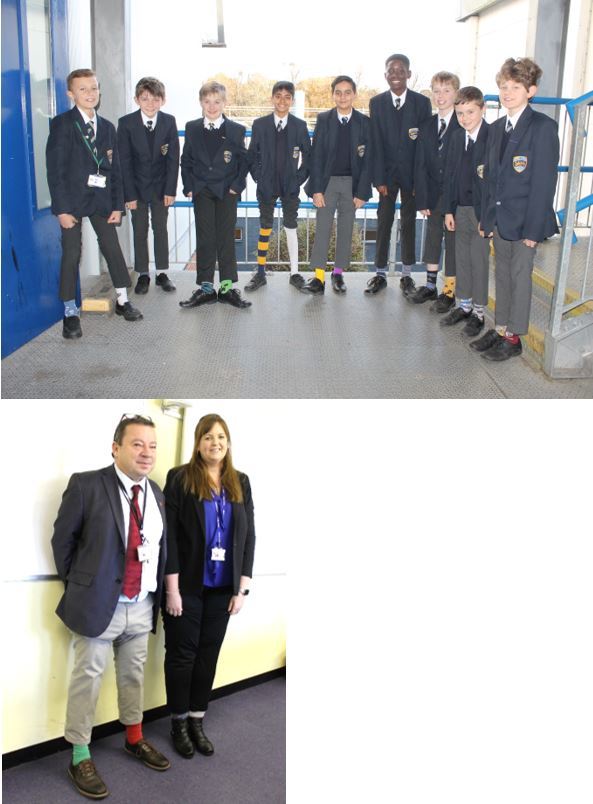 PE Department Rugby Review – Mr Lynch, Head of PE
During Term 1 the PE department offered an after-school club for all students in Years 7-10 who wanted to work on improving their rugby skills. The clubs were extremely popular and it was great to see so many students taking advantage to expand their knowledge further and show such enjoyment playing the game. Many of these students were lucky enough to get picked to represent the school rugby sides. The PE department would like to congratulate each student who was selected to represent the school. Below is a review of the fixtures played so far in each team;
Year 7
St Olave's 25-20 victory for WGSB
St Columbus 40-10 victory for WGSB
Gravesend Grammar 10-5 victory for WGSB
St George's 35-0 victory for WGSB
Meopham 40-0 victory for WGSB
Year 8
St Olave's 35-15 defeat to St Olave's
St Columbus 40 – 10 victory to WGSB
Gravesend Grammar 20 – 10 defeat to Gravesend Grammar
St George's 25 – 10 victory to WGSB
Meopham 15 – 5 victory to WGSB
Bexley Grammar 35-20 defeat to Bexley Grammar
Year 9
St Olave's 45-35 victory for WGSB
St Columbus 45-10 victory for WGSB
Bexley Grammar 15-50 loss to Bexley Grammar
St George's 60-10 victory for WGSB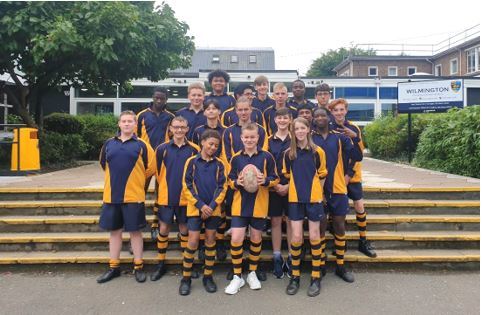 Year 10
St Olave's 26-14 defeat to St Olave's
St George's 32-10 victory for WGSB
Bexley Grammar 39-12 defeat to Bexley Grammar
Sixth Form First XV
Dartford Grammar 29-19 defeat
Gravesend Grammar 57-17 defeat
Riddlesdown Collegiate 31-19 victory for WGSB
Gravesend Grammar 42-0 defeat for WGSB
There will be further fixtures arranged throughout the school year, including the Kent and District 7's rugby tournaments which will take place in December and March. Although some remaining fixtures will take place the rugby club has come to an end now and the focus for the PE after school clubs switches to Basketball for this term. Basketball clubs take place every Monday and Tuesday evening (3.30-5pm). The clubs are open to all students who wish to attend!
After School Clubs in PE for Term 2 now switch to Basketball in the sports hall
Years 7 and 8 – Monday evenings with Mr Powell and Mr Sage 3.30-5pm
Years 9 and 10 – Tuesday evenings with Mr Hook and Mr Lynch 3.30-5pm
Congratulations to Chinonso C of 11N who together with the rest of his Chelsea team was crowned national champions for the second year in a row! The young Blues were winners of the annual Premier League tournament beating the best teams from around the country. This is an impressive achievement, well done Chinonso! To read more please click here
Below, Chinonso pictured celebrating with his team, front row, third from the left.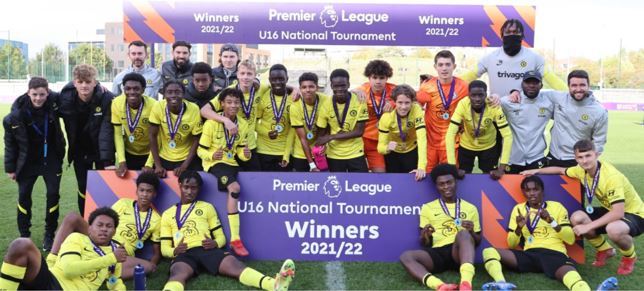 It's not just our students getting involved in sporting clubs and activities! During the course of Term 1, Miss Price ran 4 marathons; Brighton, London, Manchester and Liverpool. This brings her total count to 24. Whilst she loved being there again after so long due to the pandemic; being around all the other runners; the atmosphere; the cheers; she found it hard! 18 months off led to all of them being much more of a struggle than she's used to. However, faced with the option of not doing them or deferring them just because she knew how hard they'd be and how much she'd hurt after them or just trying her best, she did the latter! She completed them slowly – much more slowly than she usually does and can and she felt the pain! – Many of you at various points would have seen her hobbling around in the days afterwards but she does not regret her decision. She can't wait to make time to train more, get faster and do others, however, she is pleased with what she achieved. Sometimes things are tough, especially when we've been going through and are still going through a pandemic, however, sometimes we have to cut ourselves some slack but not give up, try our best and enjoy!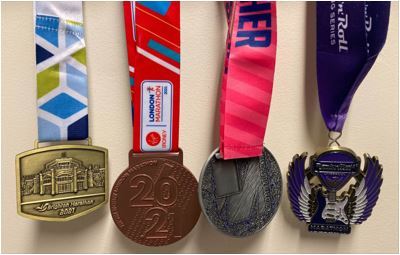 WG6 Media Studies student, Harry F, was accepted onto a course at the British Film Institute to develop his film making and production skills which he is completing in conjunction with his studies at WG6. Harry added "So far on the BFI Academy Course I have worked with many industry professionals and have learnt all about the many different roles in the industry. We have also just finished shooting a short film and begun pre-production for another short film."
To find out more about courses offered at BFI Film Academy, please click here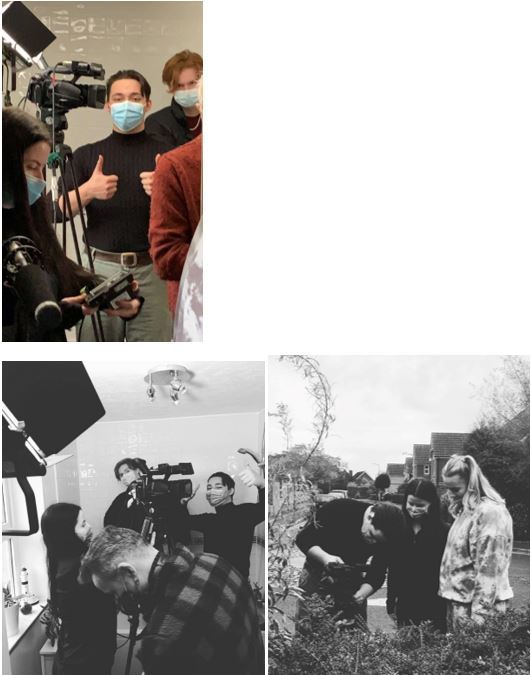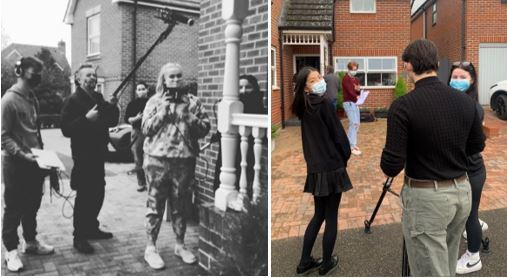 PTA Update - Would you like to purchase a Christmas tree from our PTA? There is still time to support the PTA by purchasing your real Christmas trees through our Christmas Trees scheme!
There are five tree options and prices to choose from, ranging from £28.00 (3-4ft) to £50.00 (premium grade 7-8ft tree). You would be required to collect from the school on Friday 3rd December between 4 and 7pm.
Links to purchase trees have been added to all student ParentPay accounts for you to purchase the tree of your choice. As always, all monies raised directly benefit our students. Please share the news with friends and families as they are welcome to purchase from us. Any questions, please email pta@wgsb.co.uk! Don't forget, you have up to Monday, 22 November to make your purchase!
School Lottery - Thank to all who bought the PTA lottery. Our winners are -
September - No 18, Matthew M 10B
October - No. 17 Jake S 11D
November - No. 114 - Luke H 7D
Update on Quiz Night: It was a fun filled night for all who attended our virtual Quiz of Quizzes. With many thanks to our very own Mr Palmer who made sure it was time well spent for all; and to all who attended. And the winners for the night are . . .
Winning screen £50.00 cash. Team Leye T
Raffle draw
1st prize: £30 Bluewater voucher - Tom C (no.142)
2nd prize: £20 Bluewater voucher - Yathurshshn A (no.162)
3rd prize: confectionery hamper - Alex E (no. 7)
Congratulations to all our Quiz Night winners and massive thank you to all who supported this cause. Watch this space for our next quiz night! Winnings can be collected from the school office from 25 Nov. Please send an email to pta@wgsb.co.uk if you have any questions around this.
Save the Date: Our Christmas Fayre on Saturday 11th December from 10:00am - 2:00pm. Please save the date to attend our Christmas Fayre with activities to include: Christmas stalls with lots of fabulous gift ideas and a huge range of handmade gifts; nearly new uniform stall, delicious treats and lots of opportunities to win prizes in either our tombola or raffle! Members of the public are welcome to setup stalls, for a token fee. We hope you will plan to attend this wonderful event. Please contact pta@wgsb.co.uk for more information.
Easyfundraising and Amazon smile Did someone say Black Friday. . . . Please do consider joining our PTA easyfundraising page when doing your online shopping! Whenever you make an online purchase from any of the over 4,000 participating shops and businesses … they donate to Wilmington Grammar School for Boys at no extra cost to you! It's easy just click - Easyfundraising Our PTA would like to say a big thank you to all the parents and carers for supporting us over the few months using easyfundraising and Amazon Smile. With Black Friday, Cyber Monday coming up and Christmas shopping, there is the opportunity to raise even more for school projects.
Next PTA meeting -
Virtual - Mon, 22 Nov (link to be shared nearer meeting time). Please email pta@wgsb.co.uk if you would like to attend meeting.
Face to face - Mon 6 Dec
I hope to see many of you there!
Best wishes,
Stuart Harrington
Head Teacher