Blog week ending 12th November
Posted on: 12/11/2021
This week we marked Remembrance Day with a series of special assemblies to take time to reflect upon the human consequence of conflict and the sacrifices made by so many to protect our freedom and way of life. Students from local cadet and scouting groups proudly wore their uniform and welcomed their student colleagues into the hall; a visual representation and act of respect to the many who have fallen during conflict. I would like to thank all staff and students who contributed to what were powerful Remembrance assemblies which also served to highlight our shared responsibility to ensure a peaceful, tolerant and collaborative world community for the future.
Our PE Department has taken full advantage of the unseasonably good weather out on the fields! In this lesson, Mr Hook's Year 7 students enjoyed a lesson of match-play to practise passing, control and communication skills.
In Year 8 science lessons, the students are looking at the science behind explorers and adventurers. In this current unit, exploration of the past, students have been investigating the science of ancient Egypt and the ill-fated journey of Captain Scott to the Antarctic in 1912.
Mr Owen's class have been investigating the materials used in mummification to try and preserve samples of apple and bread. Miss Barry's class have been investigating the optimum angle that you should pull a sledge to save energy and maximise efficiency.
The students will then move on to a unit on survival skills and the future of exploration in space and under the oceans.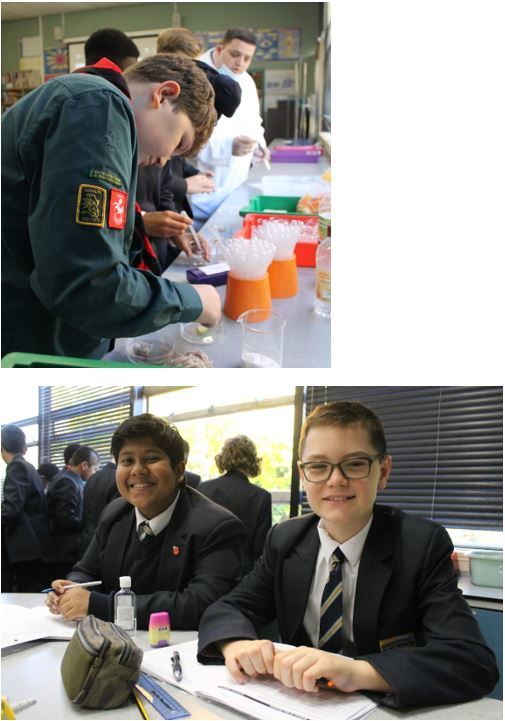 Our Y11 students are making final preparations ahead of their mock examinations commencing 15th November. In order to help support Y11 students with their endeavours both in school and at home staff have been reiterating key revision techniques and sharing tips to complement work done at school and provide them with the necessary tools to maximise their study. Students are fully prepared and have their revision guides to reference. Good luck everyone.
Year 7 Welcome Evening has been scheduled for 18th November 5pm-6.15pm. Please check your letter (that has been emailed out to parents and carers) for full details.
Our WG6 Students undertake work placements as part of their study programme, April and a number of her colleagues have recently completed a placement at our business partners Laing O'Rourke. April has provided the following account;
"During the October half term, myself and some other members of the PCP classes attended a work experience placement at the highly successful construction company, Laing O'Rourke. At the head office, Bridge Place in Dartford, we joined in with the Graduates and Degree Apprentices for an early talent workshop, learning how to use different software for data management and BIM. It was very exciting to be in a professional environment especially as the offices and facilities were very modern. It was also rewarding to meet lots of powerful people within Laing O'Rourke who were very welcoming and enthusiastic."
School Meals Update – We are pleased to report that our breakfast provision has been reinstated. Breakfast is from 8am serving a selection of items including hot breakfast rolls, cereals, yoghurts and fresh fruit.
PTA Update. Would you like to purchase a Christmas tree from our PTA? The PTA are asking for you to express an interest in whether or not you would be willing to purchase a 'real' Christmas Tree from them, and in doing so, raise much needed funds for the school. This is an ideal way to support the school. This is the same offer as last year, and the trees were absolutely wonderful! If you are interested or wish to find out more, please click Christmas Tree – Expression of Interest Form 2021
There are five tree options and prices to choose from, ranging from £28.00 (3-4ft) to £50.00 (premium grade 7-8ft tree). You would be required to collect from the school on Friday 3rd December between 4 and 7pm.
If enough interest is shown, the PTA will email the school community on Monday 15th November to inform them and an order form will be added to all student ParentPay accounts from week commencing 15th November for you to purchase the tree of your choice should you wish. As always, all monies raised directly benefit our students. Please share the news with friends and families as they are welcome to purchase from us. Any questions, please email pta@wgsb.co.uk!
Quiz of Quizzes: Don't forget the virtual Quiz of Quizzes night is running tonight, Friday 12th Nov, 7-8pm hosted by our very own quiz-master, Mr Palmer. The virtual event is a great opportunity for parents, carers, students and teachers to get together for an evening of laughs and general knowledge whilst supporting our school! You can register for the quiz and buy Raffle tickets for the night via ParentPay. Entry is just £5.00 per screen. A raffle will be available on the night. A team prize will be awarded to the winning team on the night! All details are on ParentPay, it would be good to see as many of you as possible. Please join promptly for a 7pm start.
School lottery: A huge thank you to parents/carers for signing up to the school lottery! All payments have been received. Draws will take place next week and winners will be notified by email.
Save the Date: Our Christmas Fayre on Saturday 11th December from 10:00am - 2:00pm. Please save the date to attend our Christmas Fayre with activities to include: Christmas stalls with lots of fabulous gift ideas and a huge range of handmade gifts; nearly new uniform stall, delicious treats and lots of opportunities to win prizes in either our tombola or raffle! Members of the public are welcome to set up stalls, for a token fee. Please contact pta@wgsb.co.uk for more information.
Easyfundraising and Amazon smile Please do consider joining our PTA easyfundraising page when doing your online shopping! Whenever you make an online purchase from any of the over 4,000 participating shops and businesses … they donate to Wilmington Grammar School for Boys at no extra cost to you! It's easy just click - easyfundraising Our PTA would like to say a big thank you to all the parents and carers for supporting us over the few months using easyfundraising and Amazon Smile. With Black Friday, Cyber Monday coming up and Christmas shopping, there is the opportunity to raise even more for school projects!
Next PTA meeting;
Virtual - Mon, 22 Nov (link to be shared later)
Face to face - Mon 6 Dec
I hope to see many of you there!
We were extremely sad to learn of the passing of local Councillor Ann Allen. Mr Kite, Leader of Dartford Borough Council said of Ann "she was held in high regards for the many exceptional things that she did for the Council and our communities, she worked tirelessly to help as many people as possible and will be greatly missed". Certainly, she will be greatly missed by us, she was a huge supporter of our school and always strove to make a positive difference for all of the children and young people across the borough.
A virtual book of condolences has been opened should you wish to leave a comment or share a memory of Ann. www.tolbc.com/AnnAllen
Best wishes,
Stuart Harrington