Blog week ending 22nd October
Posted on: 22/10/2021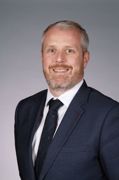 It has been an enormous pleasure to stage our open events this week. Over the course of the open evening and the school day tours we were able to provide local families with an in-person experience of our school community. Student guides conducted tours of the school and were on hand to answer questions and provide reassurance to visiting Year 6 students to help them feel confident and excited about their move into secondary school life. As always, our students are the most compelling ambassadors for prospective students and their families as they understand only too well how different and new everything seems when you transition from primary to secondary school. To see our classroom lessons, student engagement and school opportunities through their eyes gave us all a great sense of pride – and the warm and positive feed-back bears testament to everyone's shared sense of purpose and ambition for each and every one of our school community.
Due to current COVID guidelines, visits were ticketed and numbers closely monitored. We have updated our Virtual School Tour film and I've recorded a new Head Teacher introduction for anyone who was unable to attend our school in person. To see the updated films please click here
I'd like to wish all our students and their families an enjoyable and much deserved half term break, we return to school on Thursday 4th November.
Pictured, a few of our Student tour guides.
Student guides commented
"I really enjoyed talking about our school and explaining about the clubs they can go to"
"I got asked lots of questions on my tours, especially about homework!"
Chidum U of 7T and Joseph A-S of 7B (pictured below) have shared their experiences of joining Wilmington Grammar School for Boys and offer some advice and reassurance to those Year 6 students joining us next year.
Chidum : "You mustn't worry that lessons might be too hard, because the school is just trying to prepare you for your future and it's really worth the extra work as there's so much more you can get involved with at WGSB. You get lots of time to get ready for lessons as we have more breaks and a longer lunch and loads of clubs so you can relax too. I really enjoy sport and am part of an athletics club outside of school so I tried out for the football team and joined the after-school Rugby Club"
Joseph : "It was a massive change moving to secondary school, and it may seem daunting at first but it's definitely worth it as it's fantastic here. You think you'll get lost all the time, but you don't, in a couple of weeks you know your way around and there's always teachers to help"
Chidum : "I'm loving all the new lessons and can't wait to start more Food Tech lessons as I started cooking during lockdown and really enjoy baking. I'm also looking forward to being able to compete in the sports tournaments at school"
Joseph : "I also like the Inter-House competitions that run at break and lunch where you compete against students from other houses and I want to join the Art Club, there's music clubs too I might try"
Chidum : "There are so many more opportunities than in primary school, and it was a big step coming here but there are loads of things that make it so worth it!"
Joseph : "There is such a wide variety of subjects here and every teacher is a specialist in their subject and makes their lessons really special. Another thing I like is that the teachers always greet us outside school every morning and after school, I really like the teachers.
There is so much for us to do here, it is a great school and everything is really interesting so don't worry because once you're here, you'll fit in and really enjoy yourself. There's no need to be nervous, I was and there was no need because everything has turned out brilliantly."
Pictured, from left, Chidum and Joseph
Students were treated to a lunchtime concert on the stage in the canteen area. We have some brilliantly talented musicians here at WGSB, and the lunchtime concert gave us all the opportunity to enjoy a fantastic free live gig! Our Music Department run a number of lunchtime and after school music clubs, as well as offering private guitar and drum tuition (fee does apply). Mr Palmer would encourage any budding musician to come along and get involved!
This week's musicians and stage director were;
Tomisin A - Drums
Ted T- lead guitar
Gervace C - Keyboard
Adam N - Bass guitar
Luke B - Lighting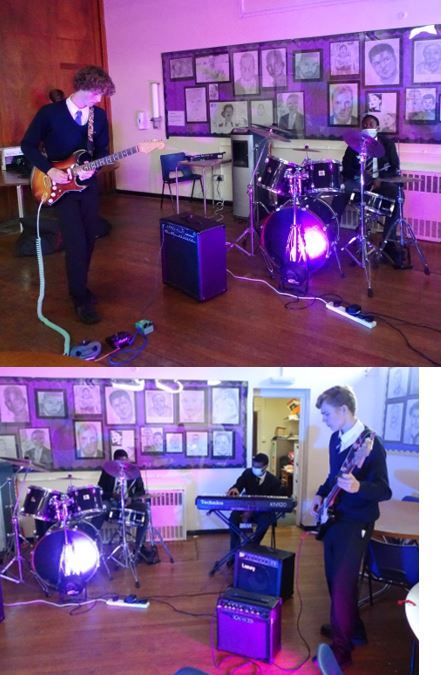 Mr Robinson, Teacher of Media Studies, is delighted to share the news that three of our Year 13 Media Studies students have been selected to attend a course at the prestigious BFI Film Academy. All three will be studying a fully accredited, film Industry qualification and will take part in a series of masterclasses and workshops lead by BAFTA and OSCAR nominated industry professionals. Each will produce their own film as part of a team that will be screened at the BFI.
Harry commented; "I have had a lifelong passion for storytelling, but as I didn't used to be the best at reading, I gravitated more to the visual mediums, and films in general. I will be studying film history and production and am really looking forward to developing my skills and working at the BFI!"
Philip added, "it's a great chance to build on the knowledge gained during my A Level studies and explore new potential opportunities for my future career"
To find out more about the courses offered by the BFI please click here BFI Film Academy Short courses | BFI
From left; Philip, Harry and Jay
The English Department offers a range of lunchtime and after school clubs including a Years 7, 8 and 9 Film Club on Wednesday lunchtime. If you have an interest in storytelling, film production or cinema in general, come along and watch, discuss and debate with fellow students. For more information please see Mrs Kenny in the English Department.
Our Life Programme sessions have been running across the Year groups this week providing valuable skills to support both wellbeing and educational development. Our programme focuses on spiritual, moral, physical, social and cultural wellbeing with special activities and sessions created to be pertinent to the students' needs at each stage of their personal and educational development.
In this term's Life Programme, students in Years 8, 9 and 10 focused on various aspects of drug and alcohol education. WGSB are delighted to be working with the Daniel Spargo-Mabbs Foundation to provide high quality education and information to students, staff, carers and parents.
Years 8, 9 and 10 had a talk by drugs educator, before working in their form groups on topics such as drugs and the law, peer pressure and the consequences of drug and alcohol use.
Last Thursday an online Parent/Carer information event was delivered by the Director of the Foundation, Fiona Spargo-Mabbs, who set up the Foundation in January 2014 following the death of her son Daniel after taking ecstasy. This extremely informative evening gave parents and carers valuable information about drugs and alcohol use by teenagers and included some practical advice about how to talk to your teenager about substances and how to keep them safe.
For those parents/carers who were not able to join us on the night, the session was recorded and can be viewed by clicking the link
Mrs Wells – Head of PSHE
Mr Smith – Assistant Head Teacher
More information regarding our Life Programme can be found on our website by clicking here. Each of this academic year's sessions will be added as they take place.
PTA Update. You can join our school lottery for as little as £12 per year. A monthly prize of £30 is up for grabs with a special Christmas draw also taking place. All monies raised are used to support and fund school projects, and give you a chance to win as well! A huge thank you to all parents and carers who have contributed so far. Sign up today via the parentpay platform https://app.parentpay.com/public/client/security/ It's not too late to join, for more details please visit our webpage here .
Save the date! 'Quiz of Quizzes' virtual Quiz night, Friday 12th Nov, 7-8pm hosted by our very own quiz-master, Mr Palmer. The virtual event is a great opportunity for parents, carers, students and teachers to get together for an evening of laughs and general knowledge whilst supporting our school! You can register for the quiz and buy raffle tickets for the night via ParentPay. Entry just £5.00 per screen. A raffle will be available on the night. A special prize will be awarded to the winning team on the night! All details are on ParentPay, it would be good to see as many of you as possible.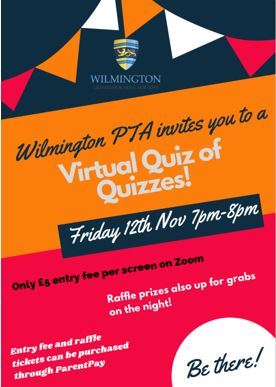 Would you like to purchase a Christmas tree from our PTA? The PTA are asking for you to express an interest in whether or not you would be willing to purchase a 'real' Christmas Tree from them, and in doing so, raise much needed funds for the school. This is an ideal way to support the school. This is the same offer as last year, and the trees were absolutely wonderful! If you are interested or wish to find out more, please email pta@wgsb.co.uk There are five tree options and prices to choose from, ranging from £28.00 (3-4ft) to £50.00 (premium grade 7-8ft tree). You would be required to collect from the school on a set date in late November/early December. If enough interest is shown, the PTA will email the school community on Monday 15th November to inform them and an order form will be added to all student ParentPay accounts from week commencing 15th November for you to purchase the tree of your choice should you wish. As always, all monies raised directly benefit our students.
Easyfundraising and Amazon smile Please do consider joining our PTA easyfundraising page when doing your online shopping! Whenever you make an online purchase from any of the over 4,000 participating shops and businesses … they donate to Wilmington Grammar School for Boys at no extra cost to you! It's easy, just click - Wilmington Grammar School for Boys - Dartford Fundraising | Easyfundraising
Our new Scholastic Book Club is up and running! Go to https://schools.scholastic.co.uk/wilmington-grammar-for-boys/digital-book-club to browse the latest books and order online. Year 7 and 8 have been given leaflets to take home but anyone can view what is on offer online. There are a lot of newly published books on offer in addition to copies of classic titles currently being studied by our students. All at very reasonable prices. For every £1 you spend on this month's Book Club, our school will earn 20p in Scholastic Rewards. Please place your order online by November 2nd, 2021.Thank you for your continued support. Kind regards, Ms Fisk, Librarian
Do you have a child in Years 7-11? The Kent & Medway Immunisation Team is coming to WGSB on the 26th and 29th November to give the flu vaccinations – please could you complete the online consent form before the 23rd November by clicking here https://childconsent.co.uk/kchft/consent/search. For more information please visit http://kentcht.nhs.uk/imms. You can phone the team 0300 123 5205 or text 07401320923 if you have any questions about your child's immunisations
Best wishes,
Stuart Harrington
Head Teacher