Blog week ending 24th September
Posted on: 24/09/2021
This week, we showcased our talented students and wonderful school as we captured new footage for our Open Day video during lessons. Our students are without doubt the most compelling ambassadors for our school and their footage so beautifully captures the ethos and feel of our Wilmington Grammar School for Boys community. Thank you to all students who took part, I will share the final edit of the film in due course.
Below, me recording my new Head Teachers welcome!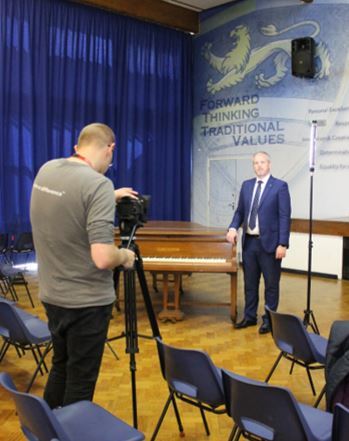 A selection of our talented musicians came together to record new footage and to highlight the creativity and musicality of our Music Department and its students. Mr Palmer, Head of Music runs a series of music clubs throughout the year, highlighting new instruments and musical genres as well as providing a space for student to practice and rehearse for out of school activities. Additionally, outside specialist teachers provide further music lessons including drum, guitar and piano (these are subject to a fee). Please come along to our Music Department to find out more and to get involved!
Our Year 11 Music GCSE students have been doing a series of exercises in a 'focus on sound' study module. Tasks included a rhythmic and melodic diction test as well as sharp and flat key signatures.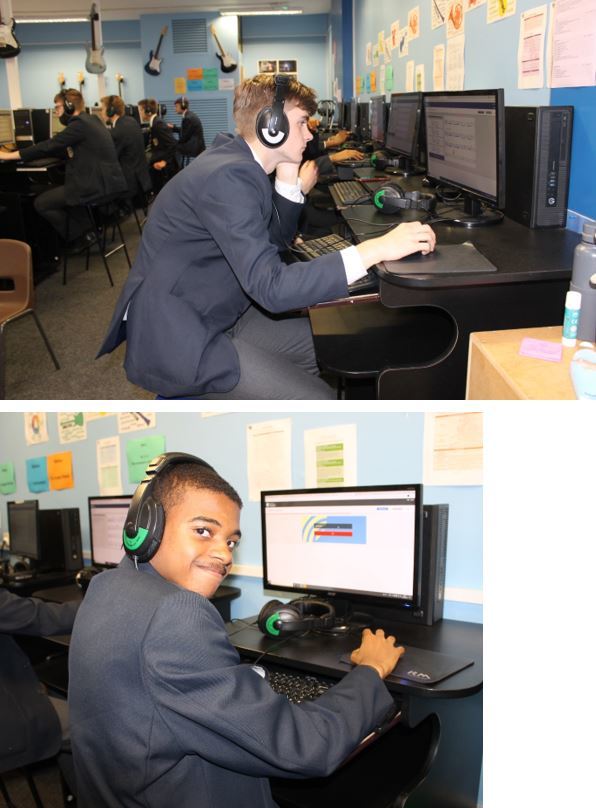 Mrs Cross and her food technology students, also hosted the film crew. The students were preparing choux pastry buns which is a tricky recipe and technique and they were absolute pros .. ignoring the crew and applying themselves to the lesson with enthusiasm!
Introducing Mrs Prabhu, Teacher of Mathematics; "Teaching has always had an irresistible charm and appeal to me since my student days. Following the completion of my B.E in Electronics and Communication in India, I worked as a lecturer in engineering colleges for 5 years. My teaching career was briefly interrupted by my family's relocation to London, and during this temporary interregnum, I worked as a private tutor, teaching vocal music to many students for 7 years. Due to my engineering background, mathematics is always a passion of mine, and I am absolutely delighted to embark my teaching journey as a Mathematics teacher at WGSB."
Our WG6 A level Sciences with OCR courses include a practical endorsement qualification. Students complete a series of practicals throughout the course to demonstrate their competency in practical skills. This qualification is highly sought after by universities offering STEM courses.
Today the Year 12 Chemists were assessed on their ability to carry out an experiment to produce data which they could use to calculate the relative atomic mass of magnesium.
They collected and recorded the volume of hydrogen gas produced when they reacted magnesium ribbon with acid. They then applied their understanding of equations covered in lessons to calculate the atomic radius of Magnesium from their results.
Congratulations to Louis D of 9D who has just been nominated by his rugby club, Dartford Valley Rugby, for the Kent Saracens developing player pathway. This is a two-year programme which will take him further than his local club is able. Additionally, Louis is one of just 20 players selected for the 'talent development group'. This is a significant achievement especially given Louis has been playing for under two years and is clearly demonstrating a great talent and flair for the game!
Pictured below; Louis at Twickenham Stadium representing his club and talking to England's Head Coach Eddie Jones. Louis was the only member invited by the executive board members of the club and spent the day being coached by England's, Eddie Jones and ex England player Ugo Monye.
If you are inspired to try rugby outside of school for yourself, visit our PE department for the latest list of clubs and fixtures or contact Dartford 'Valley' RFC (pitchero.com) for their list of events.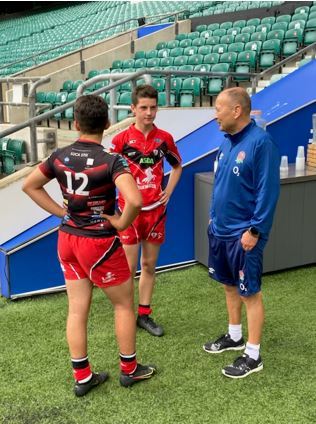 Forthcoming;
Next week, our MFL Department are celebrating all things international in light of European Day on the 26th – and we're just taking it up a notch! On Wednesday 29th, in both KS3 lunch and KS4 lunch break, we're inviting staff to bring in and share a dish from their own country/culture or simply one that is a favourite!
Wilmington Grammar School for Boys Parent Teacher Association Committee Meeting. Monday 27th September 2021, 7:00pm-8.00pm. Annual General Meeting to be held in the main school hall
OFFICIAL NOTICE AND INVITATION – ALL ARE WELCOME! Refreshments will be available
The PTA plays a vital part in the school community and all parents and carers, as members of the PTA, are invited to support the AGM. This is your chance to hear and see how the funds you have helped to raise have been used for the benefit of the students at our school.
The AGM is also an opportunity for you to elect the PTA committee, to represent the association throughout the forthcoming academic year. This year we have some positions vacant and would welcome new members to join us. Existing committee members are welcome to stand for re-election and for anyone wishing to stand as an officer or ordinary committee member, for the first time we look forward to seeing you.
To function effectively, the PTA relies heavily on support from parents & carers, both in terms of attending the various functions and by helping to organise them. The more parents we have who are willing to help us, the easier the workload; a great social environment for all involved and of course, the increase in fundraising opportunities. If you would like to be added to the volunteer list for future PTA events, please email PTA@wgsb.co.uk with your name and your child's form group.
I do hope you are able to attend the AGM on Monday 27th September and I thank you in advance for your support for the coming year. Please confirm your attendance – CLICK HERE.
Come and join our team! Across our Trust we have a number of excellent job opportunities. Roles range from Pastoral & Wellbeing Manager, to Receptionist and Maths Maternity cover to Cleaners. Please click here to read more about the roles and to apply. Recruitment (accessacloud.com)
Come and join our team! Across our Trust we have a number of excellent job opportunities. Roles range from Pastoral & Wellbeing Manager, to Receptionist and Maths Maternity cover to Cleaners. Please click here to read more about the roles and to apply. Recruitment (accessacloud.com)
Best wishes,
Stuart Harrington
Head Teacher