Blog week ending 17th September
Posted on: 17/09/2021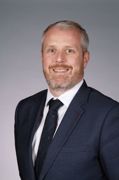 I have been proud to stand at the school gates every morning since our return to school and am delighted when students arrive on time, impeccably dressed and with a cheerful 'good morning, Sir'; however, I have been concerned at the speed at which some parents and carers are driving on the school site. The school (and surrounding area) is very busy in the morning. Please leave sufficient time for your journey and drive safely, considerately and slowly on the roads in and around the school. We are delighted to be able to re-introduce a variety of extra-curricular clubs and activities as we continue to return to a normal school schedule of events. Our Inter-House competitions are overseen and coordinated by Mr Pope who plans an (extremely!) varied programme of activities. Each cycle includes a range of activities to allow students to represent their House and take part in a new activity; regardless of your interests or strengths Mr Pope will have an activity for you! Over the course of the academic year students can look forward to taking part in activities including 'tug-of-war', Rubik's cubes, treasure hunts, maths quizzes, spelling bees, computer games, basketball .. and human hungry hippos! We would expect every student to be involved in the rich extra-curricular programme and we would value your support with this, please do encourage your child to get involved .. it's a great opportunity to experience new activities, and earn plenty of House Points for themselves and crucially, their House.
This week's key stage 4 Rubik-cubers did an amazing job (at record speed!) of scooping House Points for themselves and their House – however, this week's champion is Year 8 Student Luke G of Darwin who solved the Rubik cube in a mere 28 seconds, which is a new school record!
The crowd for the key stage 3 Inter-House five-a-side football was sensational .. such a show of support, with a huge roar for every goal scored! Well done to all participants.
The key stage 4 Inter-House Basketball matches were energetic and fast-paced with plenty of skill on show.
Our PE Department are thrilled to announce that sports fixtures, away and at home are starting to take place .. and the excitement around school is palpable! Mr Lynch, Head of PE has provided the below round-up of events and clubs;
Football. The trials have taken place for nearly all year groups now, with only the year 9 and 10 second trials taking place on Monday 20th September. In total over 400 students have taken part in football trials in the last few weeks so the honour of being selected in each final team should be an achievement celebrated by all who have successfully made the final squads.
Football Squad managers for this season are:
Year 7 – Mr Colledge
Year 8 – Mr Sage
Year 9 – Mr Hook
Year 10 – Mr Lynch
Year 11 – Mr Powell
Badminton. It has been great to welcome back students to the badminton after school clubs. The clubs are so popular that the spaces were filled within hours of going live and available. It is great to see such interest in the clubs and due to the unprecedented demand, a new club will be set up to start in January. Parent/Carers will once again be notified via school communications when booking is available. Leading the sessions is level 2 badminton coach Gilly Verry who we are very pleased to be working with once more. The first sessions started this week on Thursday and Friday and will continue for the next 9 weeks.
WG6 Sport
Rugby – First XV. On Wednesday 15th the First XV rugby side travelled to Dartford Grammar School for the first round in the National Cup. The squad was hit with some bad luck leading into the game with 2 players being absent from school through illness and a third player off school isolating.
Despite the disrupted preparation the side gave an excellent account of themselves and fought all the way in the game, sadly coming up just short in a 29-19 defeat. Special mentions must go out to Babs F who scored a hat trick of tries and almost completed a forth with the last play of the game in front of the posts. We would also like to congratulate Josh A and Levi A in year 11, who made their debuts for the side giving an excellent account of themselves.
The team will now prepare for their next game against Gravesend Grammar away next week, we wish them well for this fixture and know if they show such desire and determination as they showed this week they are bound to return with a victory.
Football – First XI. On Wednesday 15th September the First XI were awarded a walkover win so have started the league season with a win despite not a ball being kicked yet. Hopefully the unbeaten run can continue when we welcome Gravesend Grammar for the first home league game of the season on Wednesday 23rd. The First XI are going into the season attempting to defend their North Kent Premier League title win from the 2019-2020 season. We wish them well for this fixture and for the remainder of the season.
Further information concerning school clubs and societies will be included in the school blog as they become available.
In addition to extra-curricular groups in school, many of our students take part in clubs and activities outside of school, some competing at a National level or representing their organisations at key events. Please do share any news with us so that we might add our own congratulations and celebrate all achievements whether in school, or outside. This week I am delighted to share news from two of our students;
Ethan R of 10B, represented Bexley Borough in the recent London Youth Games, he and his team performed brilliantly, reaching the final in the U15 Hockey and winning Silver! Pictured below, Ethan wearing his medal .. well done Ethan, we are all thrilled for you and very proud
Ethan W of 11T is an RAF Air Cadet and was selected to attend a special Cadet Muster at RAF Cosford. The day, which included visits by the Battle of Britain Memorial Flight and a flypast by the Red Arrows, was the culmination of the 80th anniversary ceremonial event. Cadets also spent time in the air, flying in either a Chinook or one of two Puma helicopters. What an amazing experience that must have been Ethan!
We are determined to offer our students the best opportunities to enjoy the things that have been so absent over the course of the last two years: working as a team, tasting defeat and enjoying the simple pleasure of the outside world. Our Year 8 PE students have been working on their rugby skills with a series of drills and learned techniques. In this session, Mr Hook was working with students to hone their tackling skills to ensure safe and effective game play!
Mr Law has joined our Design and Technology Department teaching across the school including both GCSE and A Level students.
Mr Law added; "I studied Product Design at the University of Southampton and have been teaching Engineering since 2008 working in Schools in Chiswick, Kingston, and the Dartford area. I was head of Engineering at Dartford Science and Technology College for the last 4 years and I am looking forward to the new challenge of working within a specialist technology school. I am a keen rock climber and I hope to bring the opportunity for students at WGSB to challenge themselves at the local climbing wall"
Our Year 10 GCSE Design and Technology students are designing and making light boxes. Working to technical drawing students have been making the wooden element of the boxes, taking into consideration design, form and function as well considering sustainability of raw materials and safety of the finished product.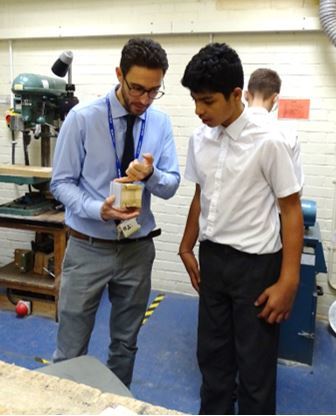 Introducing Mr Owen, Teacher of Science; "Having spent three years working at Lewisham hospital I made the decision to retrain as a Science Teacher. I completed my teacher training at DSTC (Dartford Science and Technology College) and am incredibly proud to have now joined the Science Teaching team at Wilmington Grammar School for Boys. I studied Forensic Science and Criminology at University and am very passionate about the study of Science, and there are few things I enjoy more than discussing Scientific theories both old and new with others. Outside of work I enjoy Movie marathons, Clay pigeon Shooting, Reading and Singing Karaoke!"
In the below photos Mr Owen is familiarising Year 7 students with our school laboratory rules, including hazard symbols that give information about chemicals ands materials and what safety precautions we need to consider when working in a laboratory.
Our Year 8 Food Technology students have enjoyed their first practical lesson back in the kitchen perfecting their weighing and measuring techniques as they make granola bars. This equips the students with the necessary skills to prepare their ingredients at home ahead of future practical lessons.
Endeavour MAT School Open Events
WGSB Open Evening - Wednesday 20th October - Times to be confirmed. Open Mornings 19th & 21st October. Full information and booking details will be posted on our website shortly.
WGSG Open Evening - Thursday 21st October – Times to be confirmed. Open Day is Wednesday 20th October. Full information and booking details will be posted on our website shortly
WG6 Open Event. Wednesday December 1st, 5-8pm.
Stone Lodge School - Open Evening has been scheduled for 11th October from 5.30pm to 8pm (Head Teacher talk at 6pm and 6.45pm) no booking required. Open Mornings on the 12th, 14th and 15th October from 9.20am. To book a place please email admissions@stonelodgeschool.co.uk with your name and contact details and your preferred date.
Please note the details are subject to change (in line with latest guidelines)
Best wishes,
Stuart Harrington
Head Teacher