Blog week ending 10th September
Posted on: 10/09/2021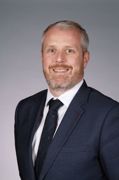 This week, all students returned to school allowing me the opportunity to meet each of them in year groups during assemblies and to converse with many students on a one-to-one basis around school. I have been universally impressed by the strong sense of purpose and ambition demonstrated both for the individual and for the school community as a whole. This week I delivered assemblies centred on Respect and Key School Values and spoke about one of my heroes, the footballer Raheem Stirling. I believe Raheem's power as a role model transcends the footballing sphere that he inhabits and for me, he encapsulates everything that we are trying to achieve together at WGSB. Raheem has overcome many obstacles in his life and he has made mistakes, mistakes that could have changed the course of his life dramatically, yet through dedication, resilience, humility and ambition he has realised his dreams and is now one of the most successful and respected sportsmen in the country. Raheem actively speaks out against inequality and racism, and is dedicated to his team and country and in my view epitomises each of the PRIDE characteristics that are central to our school ethos.
At WGSB we are unashamed in our determination to maintain the highest possible standards, which will create the platform for students to achieve great things. Similarly, under my leadership, WGSB will offer its students unrivalled opportunities for personal growth and development beyond the walls of the classroom and our clear expectation is that every one of our students will be involved with an enrichment activity outside of their academic studies. Students have proven throughout the last testing 18 months that they have remarkable resilience and academic agility. We will seek to build on these skills and we will offer students the chance to once again enjoy the rewards of human interaction - of working as a team, of experiencing difficulty and tasting defeat and building back stronger than ever before.
Our Library has now re-opened to all students and our Librarian, Ms Fisk, has been introducing our Year 7 students to the library and the many reading schemes and groups and that can be accessed. Our library is constantly adding new books and newspapers, sharing reviews, staging competitions to win author signed copies and is generally a hub of discovery to develop and promote the students' ability to be creative and imaginative! We are committed to helping our students become sensitive, critical and efficient readers, who understand the importance of forming the habit of reading for pleasure, interest and for research purposes and encourage students to make full use of our Library and its many resources. Please visit the Library page on our website for more information
Pictured, a Year Library class taken by Ms Fisk
Over the course of the next few weeks I will include introductions from each of our new staff. This week, Miss Sweeney, Teacher of English and Drama
"I completed my teacher training at WGSB, after spending 7 years working in film production, advertising and events, and was absolutely thrilled to be able to stay on as an English and Drama teacher. I studied at Newstead Wood School for Girls in Orpington and then went on to achieve a BA Hons in English Literature and Greek Civilisation at the University of Leeds. I am happiest in the classroom helping students to understand the possibilities and opportunities that the study of English literature and language can offer. Outside of work I enjoy running, fitness classes, skiing (when possible!) and getting lost in a good book or film."
Pictured, Miss Sweeney with one of her Year 7 classes.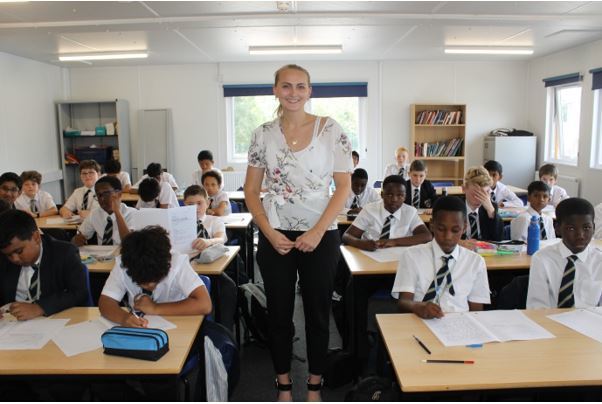 Our Year 10 Food Technology GCSE students have been perfecting their knife skills, preparing vegetables to range of professional styles including brunoise dice and julienne. Over the course of the term students will have an opportunity to apply their learned skills to creating a range of recipes.
Year 7 students have been investigating a 'Grime Scene' in the Food Technology classroom! In readiness for practical lessons, students have been learning about maintaining a safe environment and best practice for ensuring our health and safety measures are in place.
Mrs Cross, Head of Year 7 would like to add that she has been very impressed by how well our Year 7 students have settled into WGSB. Over the course of their induction programme students have been wearing lanyards in their House colours as they familiarised themselves with the school layout, homework timetables and in-class expectations.
Pictured below; from left Hardik of 7 Brunel, Phineas of 7 Darwin, Denys of 7 Hawking, Xi of 7 Stevenson and Aadam of 7 Telford.
Forthcoming.
Our professional school photographers, Braiswick Photography have taken 'first day' school portraits of our Years 7 and 12 which will be available to purchase. Our students will be bringing home proof copies. Purchases can be made directly by going online using your child's unique reference barcode and passcode number or by returning the proof card to WGSB reception.
Wilmington Parish Council are holding a 'Big Clean' across the Parish on Saturday 11th September 2021 from 10.30am. There are various meeting points throughout the Parish and all equipment will be provided.
If you would like to take part, please could email the Clerk at clerk-wpc@outlook.com
The Parish Council will be inviting all volunteers back to the Pavilion in Oakfield Park after the litter pick for a picnic, teas, coffees and sweet treats! All are welcome.
Best wishes,
Stuart Harrington
Head Teacher