Blog week ending 3rd September
Posted on: 03/09/2021
Welcome to all new students and staff! And a warm welcome back to our existing students and staff. It was a pleasure to meet our new Year 7 and 12 students this week for their induction programme. As a newcomer myself I can relate to any excitement or trepidation they may be experiencing but can say with confidence that we have joined a vibrant, inclusive and forward-thinking community.
We are compiling a number of activities and a range of fun and stimulating trips to support and enrich our students' learning, each is designed to aid transition into the new academic year and support a return to full-time school-based learning. The full details of these and all extra-curricular clubs will be available in due course. I strongly believe in the benefits of experiential learning and we expect all students to take part in extra-curricular activities beyond the classroom.
Each week, via our school blog, I will share news and provide an insight into school life as well as key dates for forthcoming events. I am delighted to inform you that we have a number of exceptional new teaching staff who I will introduce via the school blog over the course of the next few weeks. We foster a culture that celebrates, and is inspired by, all of our shared and personal achievements, whether school based academic ones or through clubs and activities undertaken out of school; so please do make us aware of any key events so that we can share them in our school blogs.
You will have received a letter from me via email which includes a full introduction to this term and details key dates as well as current covid guidelines and requirements. Please click here to read
Pictured below, Mrs Cross, Head of Year 7 and I welcoming our new Year 7s
Our new WG6 Year 12 students also joined us on induction day, enjoying a series of taster sessions to introduce them to our WG6 staff team as well as A Level study expectations and a tour of WG6 dedicated study areas. Our sixth form (WG6) is co-ed and is based across both our Wilmington Grammar School for Boys and Wilmington Grammar School for Girls sites.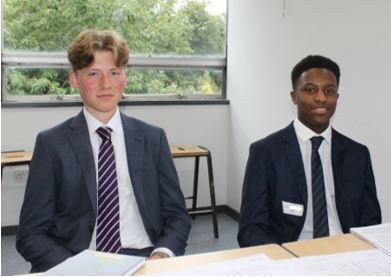 I look forward to working with you all over the course of your child's academic career with us and, (guidelines willing!) to meeting more of our parents and carers as we progress through the term.
Best wishes,
Stuart Harrington
Head Teacher