Blog week ending 16th July
Posted on: 16/07/2021
Our programme of Enrichment activities continued across the Year groups. The enrichment sessions have been designed to provide hands-on activities, exposure to new ideas and concepts and most crucially, be a lot of fun!
Our Year 8 students enjoyed a planetarium show which explained the stages of development in the universe from the big bang to how life on planet earth came into being! They learned about atoms and how cells developed into living beings. At the end they were also shown a night sky as it will appear during the summer holidays, highlighting stars for them to look out for.
Alan Ames of Eagle Heights came in to speak with our Year 7 and Year 9 students .. accompanied by a barn owl, peregrine falcon and bald eagle! Mr Ames and the Eagle Heights centre are actively involved in wildlife conservation here in the UK, as well as assisting with conservation projects in West Africa. He and his raptors gave a spellbinding presentation and display demonstrating why these birds of prey are so unique and the value of conservation.
As you can see from the photos, the session was quite an immersive experience! For more details of their work please visit their website here Homepage | Eagle Heights
The Y9 Food Technology Enrichment saw our students making and decorating swiss rolls. Students had 10 minutes to design a pattern on baking paper then choose a colour to pipe their design. They then made the sponge, baked it, rolled it hot, then whip up the cream and cut the strawberries before rolling it back up again. Each had a presentation box to display their finished products.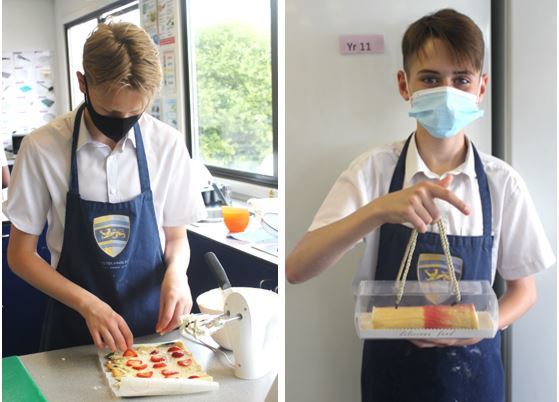 The results are in for our WGSB World Cup Sporting Tournament! (drum roll ..) Congratulations to Newton House who scooped the top position with an outstanding score of 1456. Well done to you all!

Y8 Science enrichment sessions included 'cotton reel racers'. Students made rubber band powered motors - twisting the band increases the tension and when released powers the cotton roll to roll forward. Students took part in heats for the furthest and fastest competitor!
Year 9 Science Enrichment saw the students build a solar oven using pizza boxes, aluminium foil and black card. The ovens were put to the test making melted chocolate and marshmallow treats!
Miss Exall, our Art technician runs an Art Club for our WG6 students. "We have been researching an artist called Susan Chrysler-White, who makes huge scale glass sculptures. Using the artists work as inspiration we made a collage of natural forms and trace over them with pen and pencil. They were then scanned in to the computer to mirror the image in photoshop. Then the students made the below beautiful paper sculptures out of the print outs".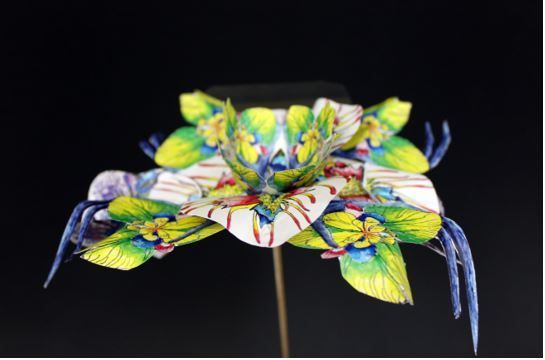 Angela Garcia is a Y12 WG6 student studying English Literature, Media Studies, French and Spanish – and is a budding journalist! In this week's blog Angela has contributed a piece reflecting on her experience of Y12 with contributions from fellow students.
Summer has arrived and it's time to look forward to going out with friends and family and enjoy our summer holiday as best as we can. We have time to reflect and become the best people we can be and make amazing memories with our friends and family and strengthen unbreakable friendships. Now that the school year is ending we need to think of who we want to be and what we want to achieve going forward. We also have to look at the things we've achieved as school, for example the school's achievement at looking after the environment. This includes the upgrades of the sites at both the girl's and boy's school to make sure they are environmentally friendly and litter-picking schemes that the school is involved in to help the community's environment.
Year 12 has been a year of learning about ourselves and other people and of great achievement. I always thought of Year 12 as the stage where we begin to find who we are and where we belong. We begin to kindle new friendships and strong connections and I've talked to some students who told me the things that they achieved, learned and are looking forward to in Year 13.
WG6 student Katie Chatton said "I think personally I have achieved better perseverance and am more motivated towards everything. I also think I have become more developed in my educational skills as well as life skills for the future. I have learned that everyone is capable of what they want to be as long as they work hard for it, as seen through some A Level work. I'm looking forward to the content next year and preparation for the future. However, most importantly I'm looking forward to enjoying my last year of education with everyone before we all go our separate ways for our future aspirations."
WG6 student Harriet Leplar said "Coming from a different school, I have definitely gained confidence, independence and resilience skills! I've learned that people share my passions for my subjects and have met loads of people all with different passions which have been very exciting!" and the thing she's most looking forward to Year 13 is "the prospects of uni and a different way of life"
PTA Update. Our WGSB Lottery was drawn at our recent PTA meeting.
Congratulations to our winners;
June - Jack R 10T
July - Adedamola B 7B
August - Ankit H 7N
All our winners have won £30 each.
Next year's WGSB Lottery is on ParentPay if you wish to sign up ready for the new academic year. A fantastic chance to win £30 per month and £50 for our Christmas draw. All for just £12 running from September-August but all entries must be in by 1st November to be included. All proceeds support the school to support the students.
All donations of unwanted uniform would be gratefully received as we held a recent sale and all our stock has virtually been cleared. We raised an amazing £1,300 which again, will really help the school in the new academic year.
Don't forget easyfundraising is a great way of supporting the school without costing you a thing. A huge thank you to all those who have shopped online via the app .We have 99 supporters who have raised well over £2,000, but I'm sure we could get over that 100! We wish you a happy and healthy summer and would like to thank you for all your support for our school and its students! For more details on the PFA and its school events and activities please visit our webpage by clicking here
Forthcoming;
The National Careers Service is delivering a series of webinars for parents and carers whose children are receiving results this August.

It has been a challenging year for students and the National Careers Service want to equip parents and carers with advice to support their children on the day. Click the links below to sign up to one of the webinars and get:
tips on how your child can prepare for results day
advice about their options
advice about leaving education and exploring careers
signposting to useful sources
an opportunity for Q&A
Book your free place now: Choose one of the dates below and click the 'book your place' link to sign up.

Friday 30th July, 12pm – book your place
Tuesday 3rd August, 4pm – book your place
Wednesday 4th August, 12pm – book your place
Best wishes,
Charlie Guthrie
Head Teacher