Blog week ending 2nd July
Posted on: 02/07/2021
This week we hosted our annual Governors review meeting. In normal circumstances our Governors are regular visitors and contributors to school life, but sadly due to covid restrictions their contact has been largely conducted via Teams so it was a pleasure to be able to spend time with them in person! Representatives from across our school community contributed to the day providing vital insight and feed-back to aid discussions surrounding our school objectives and ambition for the next academic year. Our Student Leader representatives spent time with the Governors sharing their views and aspirations on a broad range of school provisions, their well-considered observations will be factored into the plans for the next academic year.
Governors pictured below; from left, Ms Ogunkoya, Mr Strachan and Mrs Ogebule
To read more about our Local Governing Body and their roles and experience please click here

Dr Harris, in addition to his role at WGSB, is a regular contributor to the British Society for Sports History (amongst other professional academic bodies!) This week Dr Harris is contributing to a live online event discussion 'discover more about researching Olympics and Paralympics'. The event is for anyone interested in the history and heritage of the Olympics and Paralympics, especially researchers and those working in the Galleries, Libraries, Archives and Museums (GLAM) sector. To find out more, or to attend, please click here https://www.bl.uk/events/documenting-the-olympics-paralympics#
Dr Harris' Year 12 A Level Historians are just beginning to write their coursework on the changing place of women in British society between 1850 and 1950. There are a number of questions which the students are able to choose from, all of which look at how women's economic, political and social position has changed between this period. In total the essay is a maximum of 4,500 words with a number of primary sources, such as posters, newspapers, accounts, along with secondary sources from leading historians of the genre. This is a crucial element for their coursework as it contributes 20% of their final grade, alongside two exams, on the Cold War and Tudor England.
Ms Fisk, our librarian runs a series of book groups to support our literacy curriculum across the school. The groups encourage engagement with our library and in-school reading initiatives as well as help foster a life-long love of reading. In this session students were discussing Catherine Johnson's book, 'Race to the Frozen North', the story of Matthew Henson, the first American to reach the North Pole.
Mrs Cross' Year 7 students are currently working on a cross-curriculum project with DT and Computer Science to create a 3D Computer Aided Design (CAD) virtual model of their own kitchen design they produced in their DT lessons this term. They have all finished producing 3D card models of their kitchen designs in their DT lessons which they completed for homework. The students are now developing their computer skills by using SketchUp to create a CAD model of their kitchen design in their computer science lessons. The students are developing their maths skills using measurements and scale as well as their problem solving and spatial awareness skills which are essential in Design and Technology.
Our Y12 Biologists dissected hearts to examine the main blood vessels, the internal structure, and functions of the coronary arteries, before producing a scientific and annotated drawing of their findings.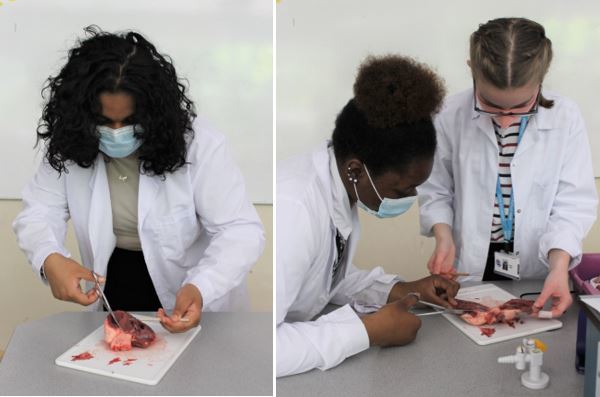 Forthcoming
Enrichment Week, Monday 5th July to Friday 9th July. A schedule of exciting immersive activities that are linked to the main school curriculum but provide context with interactive tasks and hugely enjoyable practical sessions! Activities include;
Year 10 Architecture workshop, whole school House World Cup competition and a visit from conservationist and founder of Eagle Heights Bird of Prey Centre. A full report will be available in next week's blog.
Wilmington Grammar School for Boys Summer Activity School 23rd August to 27th August
We understand that our current Y7s have had a very difficult introduction to their secondary school life, we have worked very hard to make their introduction to secondary as smooth as possible, however we recognise that some students may be slightly behind and we would like to give them the opportunity to catch up.
We are planning to run a Year 7 Summer Activity School, this will be an exciting opportunity for students to:
• To further develop their academic literacy and numeracy skills
• Take part in a variety of different subjects that are aimed at enriching their learning as well as having some fun.
• As well as catching up on their literacy and numeracy skills we will be engaging in sport, food tech, business enterprise, drama and science.
The Summer Activity School has no costs to parents.
If you have not signed up already please contact the school.
Best wishes,
Charlie Guthrie
Head Teacher