Blog week ending 25th June
Posted on: 25/06/2021
Angela Garcia is a Y12 WG6 student studying English Literature, Media Studies, French and Spanish. In this week's blog Angela has contributed a piece highlighting her own experience of WG6 and Futures Week, together with tips that she has found useful:
Futures Week. Education has taken a tremendous hit during the covid-19 pandemic and many students feel like they have been left behind in terms of their educational progress, with lockdown restriction making students and teachers alike adapt to virtual schooling and teaching, it's been a hard start to Year 12, one with many unprecedented situations such as; not being able to see family and friends or adapting to restrictions, however that shouldn't stop us from thinking about our future. We're back to school with new measures put in place to reduce the spread of covid-19 this includes a one-way system which at times can be irritating, hand sanitising, testing and wearing face coverings. Many students find it hard to think about the future or have an optimistic approach to where they want to be years later from now, some might be feeling confused or uncertain and these are challenges that the Futures Week at WG6 has allowed us to confront.
Futures Week at WG6 included; coaching sessions that provided students with support on what their next steps might be, talks from teachers and universities to help students decide on what they would like to do in the future as well as offered a package of information, for example, there was a talk about the financial side of university which I'm sure for many students was hugely insightful and helpful. Futures Week has made students think about their future and whom they wish to be going forward. Despite the challenges, we must take the challenges we've faced as part of the learning process to make a better future for ourselves. I personally, before Futures Week, had a rather dismal outlook of my future and all I could think was how it's going to be impacted negatively by Covid-19 to the point that the future wasn't something I wanted to think about. However, Futures Week has made me realise the support that's out there from my teachers at WG6 and it made me more optimistic because it allowed me to organise myself and think about what I want to achieve.
During the last day of Futures Week, we did a personal statement workshop. Personal statements have been something that I believe many students have been struggling with, including myself and this workshop has given us the time to put our heads down and write an amazing personal statement that will be key in us being accepted in our chosen universities. I feel like I've learned a lot from Futures Week and found it informative and helpful.
Covid-19 is not over and there are still many restrictions in place, we are not able to attend universities open days as we usually would have before covid and it has made it harder for students to gain work experience. Here are a few tips that I've personally used as a way to replace these restrictions:
Virtual open days- many universities today offer virtual open days, and I know it is not the same but we have to make do with what we have and find a way to make the situation better. Since we're not able to visit universities make sure you check out their virtual open days to gain a better insight and understanding of the university you wish to go to.
Virtual tours- Universities also do video tours where they'll take you on a virtual tour of their campus, facilities, student's union and more. If you feel like knowing more about the school it's something worth checking out.
Some universities offer live sessions to allow students to discover more about the university they wish to go to and how to make the transition from sixth form to university. You'll have the opportunity to gain insight into career's opportunities, study skills and support. Some universities also offer the opportunity for you to talk to a student and ask them about university life or any questions you might have.
Covid-19 doesn't have to be the thing that defines us, but something that propels us to look forwards towards the future and the only time when we're allowed to look back on the past is to see the challenges we overcame and how far we've come, we are not the past, we are the way forwards.
Written by Angela Garcia of Y12
Mrs Martin, Careers Adviser and Work Experience Coordinator presented a session during Futures Week on higher and degree apprenticeships to highlight the value and opportunities they represent. Mrs Martin provided resources and links to websites for students to explore the broad range of qualifications and careers available.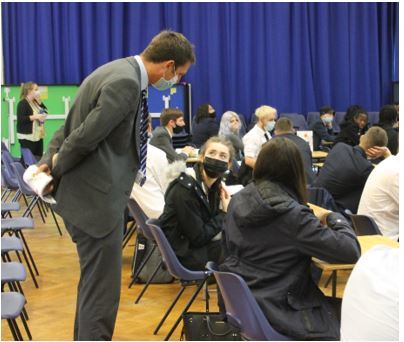 WGSB Life Programme, Y7, 8 & 9 Careers Focus. We welcomed a number of key speakers into our school (and others by the power of Teams!) to share their experiences of their industries and roles within the workplace. Each visitor has a wealth of knowledge and expertise to share with students to help inform their choices as they plan their own career pathways.
Students asked a range of questions to allow them an understanding of each speaker's 'typical day' as well as their education and career development to progression to their current role. Every visitor shared practical insight and highlighted areas for students to consider when making career pathway decisions.
Thank you to all our guest speakers;
Speakers who delivered in-person talks to individual forms;
Mr Berwick, Development Manager and Wellbeing Warrior & WGSB Alumni
Mr MacAulay, Lead Economist Business Performance Modelling and Evolution for Digital Catapult
Ms Loomes, Senior Manager for Innovation, RGM and Commercial Development at Coca Cola European Partners
Mr Brooks, Entrepreneur
Mr Loomes, Service Delivery Manager IT Services Riocoh UK & WGSB Alumni
Mr Berwick spoke to students about his business The Wellbeing Warrior and the market factors and opportunities he identified to launch his new book and programme of training and nutrition plans. Pictured, Mr Berwick with his published book, 'Become the Best Version of Yourself' copies of which he has kindly inscribed and donated to our school library. Mr Berwick left WGSB in 2008 to got to university, and Mr Baker was his Head of Year.
Speakers who delivered whole year group talks to Years 7, 8 and 9 via Teams
Mr Hill, Managing Director of Whitecode Design & WGSB Alumni
Mr Lomas, Trainee Detective Constable, Metropolitan Police
Miss Webb, Graduate Hydrologist at Mott MacDonald
Her Honourable Judge Davies, Deputy High Court Judge Canterbury
Mr Carter, Project Engineer Rolls Royce Motor Cars Ltd
Mr Jha, Chief Information Officer, Data Marketing and Communications at Barclays Bank
Students were extremely engaged and keen to understand the day-to-day life of a Deputy High Court Judge and the range of important and complicated cases that they must decide. Her Honourable Judge Davies gave a very candid and insightful view of a career in the legal profession.
"Thank you for inviting me, I was very impressed by the quality of the questions and the general atmosphere. I look forward to working with you in the future" Her Honourable Judge Davies, Deputy High Court Judge Canterbury.
Mr Carter (session pictured below) delivered a very exciting view of the role of Project Engineer at Rolls Royce Motor Cars Ltd which the students thoroughly enjoyed, asking a number of questions to gain further insight.
Mr Carter added "Please thank the students, I really enjoyed our time this morning. If any students would like to ask any further questions, please do get in touch via Mrs Walker the Careers Leader"
Mr Hill, Managing Director of Whitecode Design & WGSB Alumni spoke about the construction industry and the range and breadth of professional roles available within this growing industry. Mr Hill talked about apprenticeship opportunities at Whitecode Design, in fact two of our Y13 students will be commencing degree apprenticeships with Whitecode in September.
Our Year 10 GCSE Food Tech students have been making mini Victoria sponges demonstrating a range of techniques in this delicious practical lesson. Students first made the jam, then the sponges then the buttercream icing before assembling their mini sponges. Mrs Featherstone, our Food Tech technician supported the students throughout the lesson offering guidance at each step of the recipe.
Below Mrs Featherstone sharing how to determine whether jam is ready!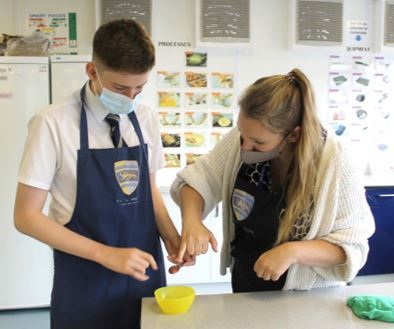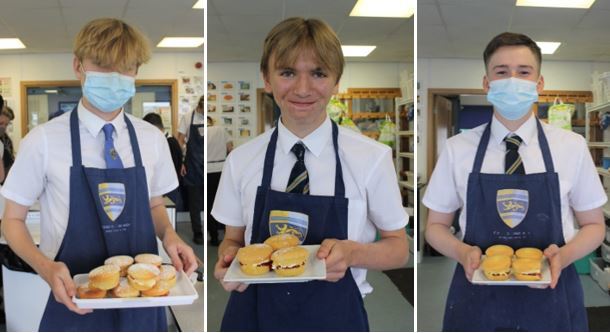 Please join me in congratulating our KMT trainees; Miss Sweeney - Teacher of English, Mr Littlemore - Teacher of Mathematics, Miss Maltman - Teacher of History and Miss Pelly - MFL Teacher on the completion of their Qualified Teacher Status. It has been a pleasure to work with such a driven a talented group. I am delighted to report that Miss Sweeney and Mr Littlemore will take up department posts to remain with us next academic year.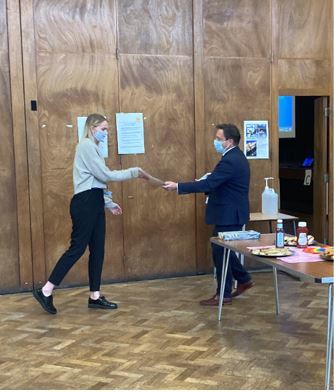 Mr Aimey's Year 9 Chemistry students have been studying separation. In this practical lesson students used evaporation to separate a soluble solid from a liquid – In this case sea salt. Separation is used to either, remove unwanted particles, obtain valuable resources or to obtain pure substances.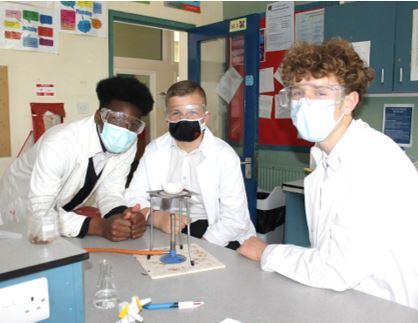 Best wishes,
Charlie Guthrie
Head Teacher