Blog week ending 11th June
Posted on: 11/06/2021
Please join me in congratulating our new Head Students, each had produced a compelling and well-articulated video detailing their 'manifesto' and aspirations for the role. Head Students have been elected with specific responsibilities at the school they are based at, but will work together on cross-school projects. We are all looking forward to working with you over the coming months.
WGSB Head Boy – Callum Hudson & Head Girl - Roxana Ristea
WGSB Deputy Head Boy – Tom Woodham & Deputy Head Girl – Dara Amanor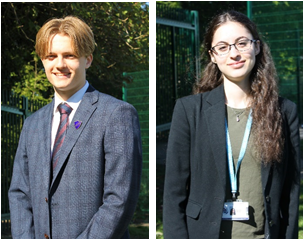 "My name is Callum Hudson - and I'm really looking forward to filling the shoes of this fulfilling role. In my time at Wilmington, I've developed an undeniable passion for the school and I look to demonstrate this through the work we undertake this year. I wish to make the school a better place for everyone; for students and staff alike."
"Hi, my name is Roxana Ristea and I hope to fulfil this role by voicing what is important to the students. I am consistently a positive and supportive member of the wider school and hope to make this a gratifying experience to campaign for improvements in the community as an inclusive and prosperous place. Being a catalyst for positive change in areas which explore diversity and inclusion is equally meaningful to me as the wider school community."
Tom Woodham "I wish to use my experience and skills to enhance all aspects of school life. This includes extracurricular activities such as sports and team activities as well as more academic based activities for those who wish to excel in all aspects of their education. I also believe it is important to represent the cultural and minority backgrounds of Wilmington and I will do everything I can do support and educate every student of our inclusive society."
"Hi my name is Dara Amanor and I am a girl passionate about volunteering and charity work. I believe that it is really important to give back to the community helping those who can't help themselves."
WGSG Head Girl – Ayomide Mohammed & Head Boy – Shaun Guness
WGSG Deputy Head Girl – Berri Cooper-Croft & Deputy & Head Boy – Apigith Ananthavadivel
"Hi, my name is Ayo Mohammed and I am the Head Girl here at Wilmington Grammar (based at the Girls' site). I want to encourage our school community to elevate each other towards excellence and to emphasise diversity "
"My Name is Shaun Guness and I have the privilege of being the head boy of this school for the upcoming year. During my time, I want to work with the school community to improve facilities in and around the school and improve every students Wilmington experience."
"My name is Berri Cooper-Croft and my role is deputy head girl. Within this role, my main aims are to bring the school community together and help everyone to achieve their best."
"My name is Apigith Ananthavadivel and I am the deputy head boy of WGSG. My aim is to ensure the school is a safe and secure environment for all, filled with equal opportunities."
Our practical lessons have now been reinstated across our year groups and so our Year 10 Biologists had an opportunity to extend their study of osmosis. In this practical lesson students investigated the impact of changing salt concentrations on the mass of plant tissues (potato chips). This was an opportunity for the students to work on their various practical skills.
What is the relevance of osmosis in everyday life: Osmosis is used in many commercial business settings such as in food preserving and the purification of water.
Our Year 10 Physisists spent a practical lesson making an electric motor. The instructions required a high level of neat and precise work in order to power the motor and turn the armature. Benard J made a highly effective motor and then went on to provide peer support – good work Benard! (pictured on the right in the first photo)
Our WG6 A Level Design Technology students are completing their bespoke jewellery boxes following their own unique designs. As you can see from the below, they are made to a very high standard with great attention to detail.
The next project the A Level design technology will undertake is a modernist concrete table lamp. Following design template, the students will cast, construct and wire their finished pieces.
Congratulations to Professional Construction Practice Level 3 students Mikolaj Ogorek and Ben Grier who will be soon starting their Degree Apprenticeship in Building Services with Whitecode Design Associates, one of our partner companies supporting our students in designing the built environment.
Best wishes,
Charlie Guthrie
Head Teacher