Blog week ending 28th May
Posted on: 28/05/2021
Our whole school community came together to wish our Y13s luck, happiness and success in their future endeavours! It was a day of celebration, with the most wonderful and uplifting final assembly which included heartfelt messages from Donna Lodge, our CEO as well as from myself and Mrs Lawson, Mrs Tiddy and Mr Watson. Mrs Regan raised a cheer (and a few tears) as she addressed the students for the final time. We all enjoyed the 'alternative' awards presentation delivered by the Student Leaders and wasn't at all surprised to see that "Freddie F was nominated "Most Likely to become Prime Minister"!
Pictured, our Student Leadership group were presented with a keepsake to thank them for their hard work and leadership!
Our Year 7 students from both Grammar Schools came together to form a 'guard of honour' as students left school, forming a path of cheering and clapping to mark the effort and achievements made by our Y13s throughout their careers with us. It was lovely to see the Y13s stop to chat to the Y7s, and laugh with them about their own old Y7 photos!
Across our sites, teachers have been wishing fond farewells to students, sharing picnics and in the case of our science departments, setting light to students! *
*actually, these were scientific experiments conducted with full due diligence to health and safety regulations!!
Year 8 student Kweku A-A is an active member of the Dartford Youth Council and chair of Social Media for Kent and has now been elected to join the UK Youth Parliament to serve as a deputy member. We are all immensely proud of him! The Youth Parliament provides a public platform for our young people to have a voice to help inform decisions that affect their lives. I look forward to hearing news of Kweku's forthcoming campaigns and am sure he will go on to inspire not just those at WGSB, but young people across our whole Borough.
Kweku's appointment was covered in the press, the article can be read here Dartford youth councillors elected to serve communities as deputy members at UK Youth Parliament (kentonline.co.uk)
Library Update. As an avid Tweeter for Wilmington Grammar School for Boys, @WGSBL, I was lucky enough to win a signed book from the author of the 'Jamie Johnson' series, @DanFreedman99. It was a pleasure to have it dedicated and presented to Arnav in 8D, who is a keen enthusiast of Dan's books and reading in general. Please follow @WGSBL for all the up to date Library news, competitions and activities. Enjoy your break.
National Book Tokens are running a competition to win £5,000 for a school library. Please could you nominate us to win! It would be amazing to be able to let the students choose lots of new authors and books for us to be able to share – please click here to nominate us
Win £5,000 of National Book Tokens for your school
Ms Fisk, Librarian
Our Y12 students have been working on their EPQ (Extended Project Qualification) presentations. The EPQ is an independent research project which comprises an essay of about 5,000 words in an academic style together with a formal presentation which provides a qualification (and UCAS points).
The presentations were extremely well researched and executed and I was impressed with our students' level of professionalism. Each student had chosen a subject that (crucially) they were interested in and in these two instances, related to a field of further education and career path they are planning to pursue.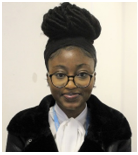 Claudia shared her findings on "To what extent is sustainable fashion achievable?" In an excellent presentation Claudia demonstrated a balanced and progressive view of the fashion industry's approach to reconcile consumer habits, profitability and environmental impact.
Josh C delivered a presentation that explored the role of AI within medicine and on humanity as a whole. Josh is interested in pursuing a career within medicine and chose to research this topic to give him an understanding of AI's current use and future potential within medicine. Whilst researching his EPQ Josh became increasingly aware of the moral and legal questions raised by AI's use and capabilities in the modern world. A fascinating topic and one that Josh's presentation sought to provide insight and food for thought!
Wildlife Update from Miss Barry. As you can see from this stunning shot by Jake L in Year 8, the school kestrels have clung on through a week of worrying storms, and their nest has survived! Here is the male, named Charlie by popular demand, bringing in breakfast for his partner. The female does not have a name, but I am open to suggestions. This was the second bird catch within an hour this morning - very unusual for kestrels. They normally eat mostly insects, but there have been very few insects around at the moment. The other unusual observation this week is the couple of times both kestrels have been off the nest at the same time. This implies they are not incubating their eggs, very sensible in this terrible weather. They will delay the hatching until they think the weather is warmer and there is a good food supply - just imagine if humans could do that- it's the equivalent of a pregnant woman thinking, "Hmm, well, not much money in the bank right now, let's not give birth until after payday next month....." - Kestrel life has certainly not been boring recently, last week the two of them saw off a buzzard that had spotted their eggs. The buzzard is more than twice their size, with claws that could crush their skulls, but they bravely hurled themselves at her, beak first, like javelins, until she moved on. She hasn't gone far, though, and can be seen regularly, circling high above the school, watching us. She has fantastic eyesight, and can see you clearly, even though you can probably only see a speck in the clouds.
Pictured, 'Charlie' our school Kestrel
There have been a lot of similar dive-bombing incidents reported to me around the school recently. Many birds are defending eggs, and will perform similar javelin type manoeuvres to drive away real or perceived threats. One class saw a whole flock of parakeets divebombing crows, and other people have seen sparrows divebomb crows too. I have recently seen nuthatches divebomb a very confused squirrel!
Something else to watch out for right now - the swallows are here in numbers. There is an old wives' tale that you can forecast the weather by the height that swallows fly - the higher the flight, the warmer the next day will be. They can fly below knee height, or so high in the sky you can hardly see them, or anywhere in between. I would be interested to hear of any sightings over half term. Class the flight as:
low (below head height)
medium (higher than your head, low enough to see the red throat)
high (too high to see the red throat).
very high (just a speck in the sky)
Tell me how many you see, how high they are flying, and what the temperature and weather was like in the same place the following day. House points for all contributions! Let's see if we find a correlation. I have included a swallow photo from the BBC to help you. House points for any reports of dive bombings you see, and remember, if you find a nest of cold eggs, don't disturb it! It probably hasn't been abandoned; the parents are just waiting for better weather before hatching the eggs.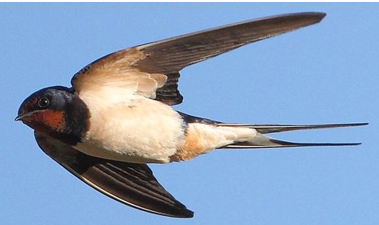 We currently have a small number of vacancies across our schools including roles for two Assistant School Premises Managers. If you, or someone you know would like to come and work at our wonderful schools you can apply by clicking here Recruitment (accessacloud.com). If you would like to speak to someone to find out more, Mrs O'Halloran, Head of Premises and Estates will be happy to speak with you. Please email her on DOHalloran@endeavour-mat.co.uk to arrange a time.
PTA Update. Thank you to all the parents/carers and students that took part in the PTA "Back to School" Virtual Quiz on Friday evening. Mr Palmer, our infamous WGSB quiz master made it really good fun and plenty of laughs! We had an amazing 26 teams compete, congratulations to the winning team "Quarrenteam" who won a £50 Bluewater cinema voucher.
Our raffle winners are as follows: (which the whole school took part it)
1st prize Dining Out voucher - Dylan F 7N
2nd prize Bottle of Prosecco - Tobias P 9B
3rd prize Body shop goodies - Franco M 8S
All the winners have been notified.
Thank you all for your brilliant support of the PTA and school, we really appreciate it in these challenging times, in the Quiz and raffle raised £500! We hope you all have a great half term.
Online Shopping. Please consider joining our PTA easyfundraising page to valuable funds for our school. Every time you make an online purchase (from any of the 4,000 participating shops and businesses) they will donate to WGSB at no extra cost to you! Click here to find out more and to sign up Wilmington Grammar School for Boys - Dartford Fundraising | Easyfundraising
We have been requested to share the following information with our families;
Information: EU Settlement Scheme (EUSS)
Now that the UK has left the European Union, children and adults from other European countries who live in the UK may need to apply for permission to stay. This is called 'pre-settled' or 'settled status' depending on how long you or your parents have lived in the UK. Once you have received permission, you can carry on living in the UK as you do now. Existing close family members (who are EU or non-EU citizens) will also be allowed to come and live with you in the UK.
It is crucial that eligible parents apply to the Scheme themselves and check whether they need to do so on behalf of their children. Eligible children are required to have an application in their own right and no child of any age is covered by a parent's application to the EUSS. There's more information on this here on GOV.UK.
To provide additional guidance, an EUSS leaflet has been produced by the University of Liverpool, in partnership with the Home Office. It has been designed with children in mind and is intended to support both children and parents with information to help them apply to the EUSS. A set of accompanying FAQs are available too.
Applications to the EUSS are free and can be made online at www.gov.uk/eusettlementscheme, where you can also find out more information about how to apply.
Best wishes,
Charlie Guthrie
Head Teacher