Blog week ending 21st May
Posted on: 21/05/2021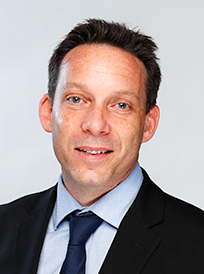 This week we marked our Year 11s careers at Wilmington Grammar School for Boys, commemorating their achievements and celebrating our shared time. Mrs Rowson led a very special final assembly taking time to remind the students of everything they have overcome, all the hard work and positivity they have displayed and ultimately all they have achieved. There were a number of fun certificates that were awarded for accolades including 'Future Businessman' which went to Alex T of 11S and 'Mr LOL' which went to another Alex T in 11T. The 'Kindest Classmate' was David R of 11D. The 'Super Scientist' award went to Taran K of 11B and the 'Maths Wizard' Owen H of 11T. 'Future Head Boy' and 'Student of the Year' was awarded to Will SS of 11N.
And I shared a poem I wrote especially for the occasion .. which all seemed to go down rather well!
There were also messages from several staff wishing them well which are available to view on the Teams Head of Year area Y11 Final Assembly noms.pptx (sharepoint.com). We are incredibly proud of Year 11s and wish them a great summer before welcoming them back to our WG6 in September.
Dr Harris' Year 8 Historians have been researching historic figures who acted with entrepreneurial spirit either by their inventions or actions or both! Students prepared presentations of their finding to share with the class who provided support, praise and critique! The below groups shared a presentation on Mr George Cadbury, who in addition to the management and development of the Cadbury Company designed and built Bournville village for his factory employees and other locals. Another group cited Alexander Graham Bell as their chosen Entrepreneur. Students did a great job of researching, planning and writing then presenting their work. Great work everyone!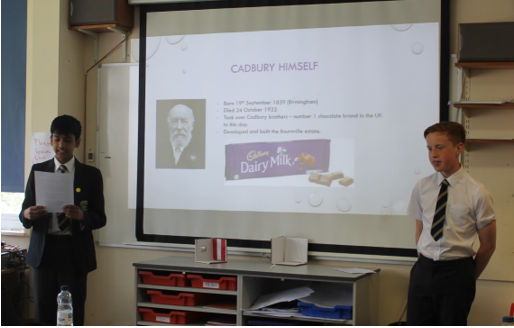 This week our Y10 GCSE Food Technology students have made a Thai Quorn Curry as part of their alternative protein source topic. This recipe was full of skills such as chopping, blanching, marinating and stir frying, they also got to see a variety of vegetables they weren't familiar with such as pak choi. The recipe can be found below if you would like to try it for yourselves! If your son is in KS3, they have access to the recipes on the Food Technology OneNote.
In this Physics practical Y7 students explored refraction, Investigating the refraction of light as it passes from air to glass. Using refraction students showed that with a glass prism, it is possible to split white light into its component colours
Our Year 8 Physics students enjoyed a series of practical lessons and experiments where they explored the electrons and forces that create static electricity. Students tried out the effects of static electricity using a Van de Graaff generator.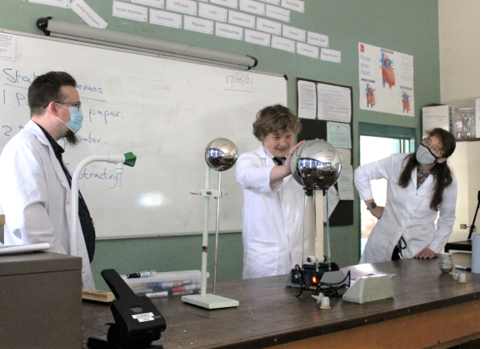 Mr Stimson, Science Technician (pictured above assisting in lessons) "I'm the newest member of the team, an undergraduate studying B/Sc physics at the Open University and have thoroughly enjoyed the experience of being in a school environment. Prior to joining WGSB I worked within the hospitality industry where, amongst other roles I learned the brewing process and specifically the science of making beer – and how different biochemical reactions and processes can influence the final product!"

Congratulations to James Beecroft of 8S who last weekend competed in the Kent County Athletics Championships on Saturday and Sunday 8 and 9th May at the Julie Rose Stadium in Ashford.
"James competed in the U15 age group and came up against some boys who were a year older than him. We are delighted to announce that James won the 100m and 200m and was crowned County Champion and he will look to regain his crown next year in the same age division.
We look forward to seeing James competing at the Kent Schools Athletics Championships in June, whereby he will be aiming to qualify to represent Kent and the School at the English Schools Athletics Championships in Manchester in June and hopefully sharing more success. Congratulations James, well done!" Mr Sage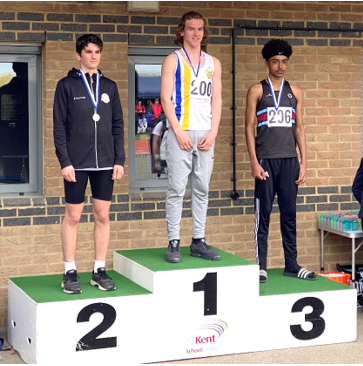 The exciting events of Eid ul fitir By Rahil Hossain 7B
Muslims celebrate the festival of Eid annually. This day marks the end of Ramadan in order that they eat their heart out on this day. Prophet Muhammad started this tradition in Mecca first.
It is believed that the Prophet Muhammad reached Medina on this day. During Eid, people raise their spirits high and revel in a great deal. They start preparing for Eid before a month. The excitement begins at the onset of Ramadan.
Women start preparing their dresses, bangles, accessories beforehand. On the opposite hand, men brace themselves for their traditional kurta and pajamas. When people sight the moon for Eid, they wish everyone 'Chand Mubarak' or "Eid Mubarak" because it confirms the day of Eid.
Women and girls also apply Mehndi (henna) on their hands beautifully. Similarly, houses are painted and decorated as well. Before Eid, Muslims fast, give charity, offer prayers, and perform other good deeds during the holy month of Ramadan. Thus, on the day of Eid, everyone enjoys their day.
It is a ritual to eat sweet vermicelli, (referred to as sewaiyyan), first. It is prepared with two different methods and is legendary worldwide. Similarly, other delicacies like kebabs, biryani, korma and more are prepared. It is for the guests to relish and have a hearty meal with their close friends and dear ones.
When Eid arrives, everyone wakes up early in the morning. They take a shower and don their new attires. The women offer prayers first while the men visit the mosque to do their prayers called Namaaz. Meanwhile, the food is starting to be prepared at home. After the men are done offering prayers, they embrace one another and exchange Eid greetings. They wish Eid Mubarak to each other and hug three times alternately. Then, people visit their friends' and relatives' houses to exchange gifts and greetings. The guests eat Sewaiyyan once they visit their dear ones. Another interesting part which youngsters love is Eidi. Eidi may be a gift they receive from the elders, most often money. Consequently, children enjoy receiving Eidi then buying their favourite items. Everyone enjoys everything about Eid and eats to their heart's delight.
Being the festival of joy and celebration, Eid brings a lot of happiness in everyone's lives. It is a gift to people who fast the entire month and luxuriate on Eid like it's their feast. In other words, it's God's gift, of all the great deeds people have done during Ramadan. Therefore, it spreads joy and brotherhood.
It is essential you know who your son or daughter is playing with on any online gaming. Often young people meet other gamers and form groups. These may take the form of WhatsApp chat groups. Young people are not aware of who they are chatting to and it is clear that this seems to be a route to target young people by people intending to cause harm. Groups named as organisations e.g. schools, may be misleading as they can often be joined by anyone at all. Please sit down with your son or daughter this weekend and have an open chat about their device usage. Who are the group chats with? How do they know the people? Are they who they say they are?
If you have any concerns please contact: WGSB – Mrs Hollebon mhollebon@wgsb.co.uk and WGSG – Mrs Leamon – jleamon@wgsb.co.uk
PTA Update. A big thank you to everybody who is taking part in our PTA "Back to School" quiz this evening and for purchasing raffle tickets - We've had such an amazing response!
All of your support is appreciated and goes such a long way to helping the school fund extra support for our students.
The PTA Lottery was drawn on Monday, congratulations to all of our winners;
April is David Clarke
May is Michele Neep
Both winning £30 each
Forthcoming:
Y13 Celebrations. Today was our students last day at WG6, in next week's blog we will include details and photos to mark the event and celebrate their time with us.
Best wishes,
Charlie Guthrie
Head Teacher