Blog week ending 14th May
Posted on: 14/05/2021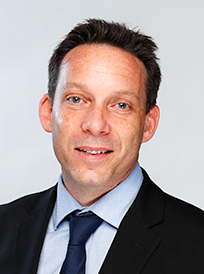 I am pleased to be able to share some changes to our Risk Assessment and practice in school as a consequence of the Government's recent announcement regarding the lockdown road map. Firstly, from Monday 17th May students and staff will not be expected to wear face masks when in the classroom or for students when they are moving around the school. School staff and visitors will still be expected to wear a face covering when moving around in corridors in the short term. Students are still expected to wear face coverings when travelling on public transport and so it is vital that students continue to carry the masks with them.
We are introducing more assemblies this term, but again this will be in year group bubbles and observing social distance. However, we do need to continue with the twice weekly lateral flow tests, thank you for your support as this has offered us additional security as we begin to open things up a little more. My sincere thanks for your continued support and I look forward to greater opportunities to meet with parents as we begin to return to a more normal school experience!
Careers Update. This week our Careers Leader, Mrs Walker has provided a Year 10 programme of guidance and support including one-to-one 'Next Step' student interviews. Each student completed a personalised Morrisby Profile; Morrisby Careers is an online tool and resource with simple yet powerful assessments that match students' individual interests and preferences to specific careers and courses, analysing results against more than 600 careers. The one-to-one interviews were with Mrs Walker, a careers adviser from Morrisby and Mr Raynor, a careers adviser from Prospects. The programme contains information about subjects, courses, apprenticeships and universities, to help students explore future goals and help them create a step-by-step career plan to get there.
The Year 10 Careers Programme is designed to give students the skills, information and support they need to make an informed choice about options after Year 11 studies and focuses on;
•Career exploration
•Researching options after year 11
•Exploring own strengths, interests,
preferences
•Building employability skills
Pictured, one-to-one interview with Mrs Walker.
Our students are catching up fast with (covid delayed!) practical lessons and have been enjoying an exciting range of experiments and investigations. This Y7 class are learning about the pH scale and neutralisation (the chemical reaction if an acid and base are combined) Students used ingestion tablets containing magnesium hydroxide and magnesium carbonate which neutralise the acid.
Year 10 Food Technology students are learning about alternative proteins this term. in their last lesson they taste tested a variety of finger foods made from alternative proteins, some of these included Quorn nuggets and fishless fingers. The students carried out sensory analysis and evaluated the food based on taste, texture, smell and appearance. They had to guess what alternative protein had been used. I was very impressed the students were willing to try so many 'mystery' products -they thoroughly enjoyed their pre-lunch snack! The students will be completing a number of meat free recipes over the next few weeks to develop their knowledge even further.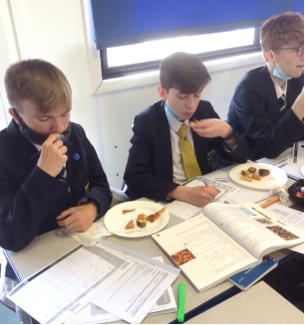 Our Forensic Scientists have been conducting a hair investigation! Using a compound light microscope, students viewed and compared the structure of hair fibres in both animal and human examples before identifying the samples.
Wildlife update. I am very excited to report that our resident school kestrels seem to have laid eggs! They never leave the nest unattended now, but take it in turns to sit on it while the other parent hunts. They talk to each other with a shrill jittering sound, which you may hear as you go around the school (click here for a recording), so you know what to listen out for. You only hear this when both birds are together, when they are swapping between nest sitting and hunting duties. Sometimes there is a lot of chatter when the hunting bird has brought something back to the nest for the sitting bird to eat - Rajvir, that is what was going on directly over your head on Friday.
You can see the birds around the school. Kestrels are small falcons, and like all falcons, they hunt out in the open. They are not great at hunting under small tress, so I hope they will leave the school wildlife garden alone. You may see them on the top of school building, peering out over the school, looking for small prey. Here is a snap of the female taking a careful look at me from the top of the sports hall. The other picture is to give you a better idea about what the whole bird looks like, in a tree. The snap of the male hovering shows you the difference between the two, the male has a blueish grey head, and the female's head is brown. The male is also a bit smaller. If we are lucky, we could soon be seeing and hearing baby kestrels around the school too!
Something else to look out for at this time of year, English bluebells. These are very precious, so if you find any, take great care not to disturb or damage them. They are an "indicator species" and only grow in ancient woodland, (or where ancient woodland has existed until recently) and only in any numbers in the UK. They are different from the more common Spanish bluebell, as most of the flowers of English bluebells grow on the same side of the stem, making the stem curl over. They have thin leaves; less than the thickness of your thumb, whereas Spanish bluebells have thicker leaves, and flowers all around the stem. English bluebells have cream coloured stamens. I have attached a picture of an English bluebell to help you identify them. If you can't tell if a bluebell is English or Spanish, it may well be a hybrid.
As always, house points for any photos of anything from my wildlife snippets - but again, if you are photographing bluebells, take great care not to disturb them.
Miss Barry sbarry@wgsb.co.uk
Photographs of our Kestrels and Bluebells
The Wildlife Trust is inviting people to take part in its 30 Days Wild Challenge
The Wildlife Trust is challenging us to do one wild thing a day throughout the month of June! That's 30 simple, fun and exciting Random Acts of Wildness.
When you sign up, you'll get a free pack of goodies to help you plan your wild month, plus lots of ideas to inspire you to stay wild all throughout June (and beyond!).
To get involved click here for further information
We currently have a number of recruitment opportunities to join our wonderful Trust, including Teacher of English, Geography and Computer Science as well as roles for Cleaners. For more details or to register with our Careers Hub please click here.
Our Nearly New PTA Uniform Shop will soon be able to re-open and is asking for any donations. If you have any school uniform your son has grown out of please do consider donating it to our PTA shop ahead of our new Y7s joining us in September.
We sell all uniform and PE kit items for you to purchase. If you require any items please email the PTA via pta@wgsb.org.uk
New PTA Event! Back to School Zoom Quiz night Friday 21st May 7-8pm hosted by our own notorious quiz-master, Mr Palmer. The virtual event is a great opportunity for parents and carers, students and teachers to get together for an evening of laughs and general knowledge whilst supporting our school! Entry just £5.00 per screen. A raffle will be available on the night, five tickets for £1.
A team prize will be awarded to the winning team on the night! All details are on ParentPay, it would be good to see as many of you as possible.
Thank you to all those supporting the school by using easyfundraising when they shop online. We now have 93 supporters all raising valuable school funds at absolutely no cost to themselves. Click here to join
Best wishes,
Charlie Guthrie
Head Teacher