Blog week ending 7th May
Posted on: 07/05/2021
Our Science Department is a hub of experimentation and discovery; and it's wonderful to have all of our school laboratories back to full capacity and to see so many students taking part in such a range of practical lessons, familiarising themselves with specialist equipment and making their own scientific discoveries!
Our Science Department provides students with a wealth of extra-curricular activities for Years 7 to 9 and additional revision clubs and support for GCSE and A Level students. For students who are interested in pursuing Science at university and beyond our Careers Lead, Mrs Walker, runs one-to-one student meetings as well as group sessions such as the Y11 Aspiring Medics Group.
This week, in a continuation of the topic our Year 8 Scientists have been learning about pH indicators. In this practical lesson students made a red cabbage pH indicator, before then using their made indicator to identify acids and alkaline.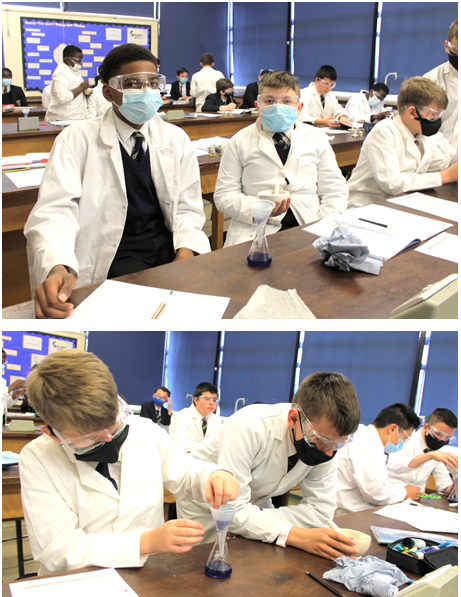 Our Year 7 Scientists have been using universal indicators to test several household substances. Using a pH indicator chart to match the colour change of their samples, students were able to determine whether the substances tested are acidic or alkaline.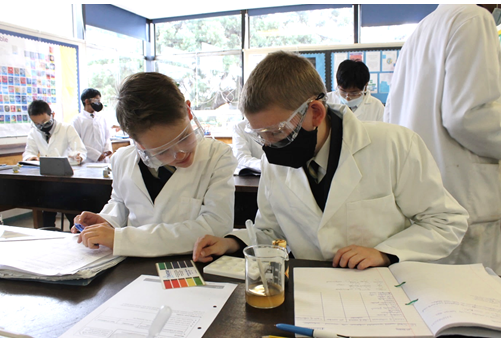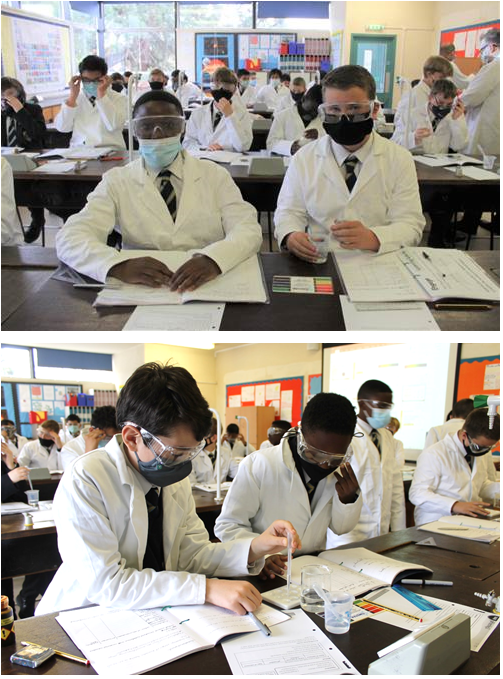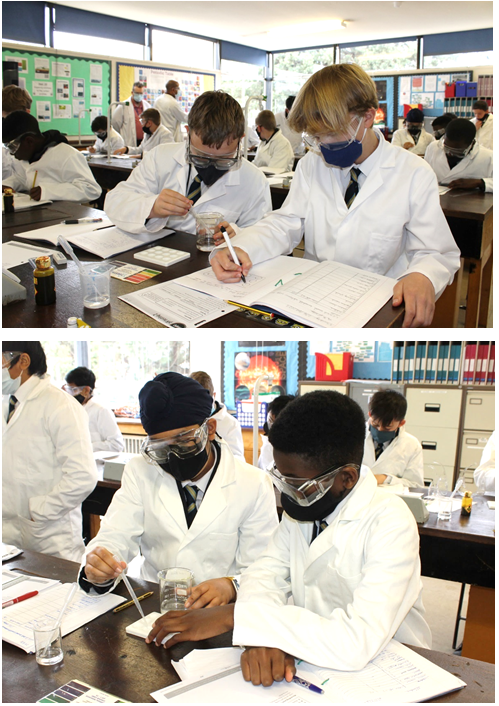 Within our Science Department, student learning is supported by our excellent Science Technicians. Our Technicians bring a wealth of industry experience and first-hand knowledge of the application of science within businesses and research. Our technicians prepare and support practical lessons, providing hands-on support and guidance to students in our science lab classrooms.
Mrs Edwards, Lead Technician. "Throughout my career I have worked within laboratories, both conducting research and as a laboratory supervisor within the dairy industry where I was responsible for the delivery of specific scientific research briefs and business objectives. I have a close working relationship with all of our wonderful Science Teachers and support them in the classroom and in the preparation of practical lessons."
Mr Harris, Technician. "I specialised in microbiology, working for Thames Water before transferring to research and development where I used computer modelling to determine risk to major structures from reservoir flooding. I thoroughly enjoy working with the students here at WGSB and seeing their enthusiasm for the subject and helping them make the connections between their experiments and the role of their findings in everyday life"
WG6 offers students a choice of Biology, Chemistry and Physics A Level courses as well as Forensic Science BTEC Level 3 National Diploma.
Our Y12 Forensic Science students have been investigating a WG6 CSI challenge – The Meadow Murder! Our student investigators were issued a crime report detailing a suspected murder at the WGSG site. Students assessed the crime scene to gather evidence, ensuring the preservation and accuracy of all collected evidence within the crime scene boundary. Students will then conduct tests in the lab before reviewing all findings to determine whether any of the suspects could be tied to the evidence at the scene.
Pictured below, marking and photographing the position of 'bullets' found at the scene.
Bagging and recorded evidence
Secured the crime scene boundary
Students located two potential murder weapons, pictured below.
Our WG6 aspiring leaders have been finalising their hustings; their pledges and plans as part of the Head Boy and Head Girl school election process. Each candidate will record a two-minute film which will be broadcast to all students during form time as part of their campaign! All students will then have the opportunity to vote for whoever they believe has the best vision for the Head Student roles. Good luck everyone!
We are delighted to announce the launch of our Year 10 Mentoring Programme in conjunction with Canterbury Christ Church University and Brightside to offer, bespoke 1:1 mentoring for every Y10 student. The project gives students a choice for support in English, Maths, Science, or general study. Their mentor will then work with them for the next 6 weeks to offer specific support and guidance in the student's chosen area.
The support being offered is not tutoring, it is subject mentoring from someone who understands the challenges and can offer alternate ways to overcome some of the barriers that the students might be feeling. Whilst we will work within school to close any gaps, it is vital that the students have an opportunity to gain additional support in a different way, rather than just expecting them to attend more lessons. The Mentoring Programme has already run with our Year 11s and we are exploring the potential for extending and adapting the scheme across other year groups for the future.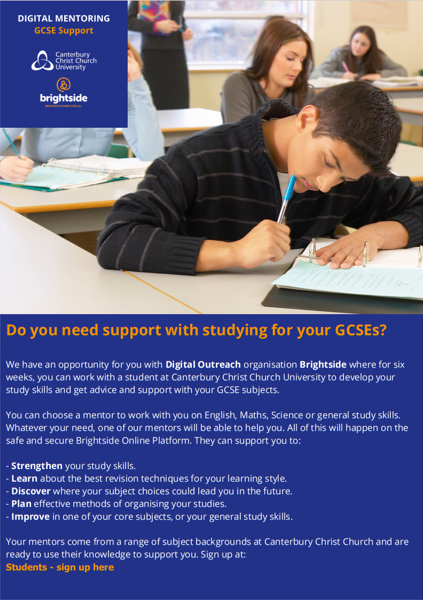 Library News. Thank you to everyone who ordered from the latest Scholastic Teen Book Club, I'm hoping that the books will be delivered and ready for collection before the end of school today. This always helps us to restock the Library so there are plenty of up-to-date books available to borrow.
New in the Library. Below, a small selection and students can always email me with book suggestions that I will consider purchasing if funds are available.
Mr Guthrie recently held a whole school assembly, where he talked passionately about Stephen Lawrence. Anyone wishing to find out more may like to read 'Silence is Not an Option' by Stephen's brother Stuart. It will become available to borrow over the coming days.
People are becoming more aware of the damage to the planet that is occurring and may like to take a look at '100 Things to Know About Saving the Planet' and 'How You Can Save the Planet'. Both contain lots of useful ideas to try and improve things.
If you're looking for fun and adventure, and saving the world at the same time, there is Justin Fisher's fantasy trilogy 'Ned's Circus of Marvels'.
The Times Children's Book of the Year and A Book of the Year in The Guardian, Observer, Sunday Times, Financial Times and New Statesman is 'Bearmouth' by Liz Hyder. The first words on the blurb of this debut novel are 'It only taykes one person to start a revolushun'!
Accelerated Reader. The word millionaire Leader Board has been updated and we just want to congratulate the 27 students who have made it on to the board. There's still time for others to join them, not forgetting the 15 House Points students earn for every million words read. Our current star is Ben from 7D who is fast approaching 4 million words read. David in 8D is just behind him by a few thousand words. It will be interesting to see who ends the academic year at number 1.
Carnegie Shadowing Group. Thank you to those who stepped forward to join in but there is always room for more. This is a fantastic set of 8 books, all with something different to offer. Please join us and take yourself out of your comfort zone by trying something different. Just email TFisk@wgsb.co.uk for details.
I hope you have a lovely weekend and, in the words of Dr Seuss 'The more that you read, the more things you will know, The more that you learn, the more places you'll go'.
Ms Fisk, librarian.
Year 9 DT students are designing their own sports clubhouse which could be built on our school field. They are developing their technical drawing skills and will soon be making a scaled card model. This is great practise for students taking the DBE (Design for the Built Environment) course next year.
Year 7 are currently designing their own kitchen as well as developing their model making skills to produce a scaled card model. As a construction challenge they made a miniature washing machine with a pull-out drawer and washing powder box all from a paper net!
Dartford Valley Rugby Club have asked us to share the below message regarding their plans for an enhanced community area and facilities.
"We are looking for backing to go ahead with a brand-new community space, open to everyone, which will include an outside braai/grill and bar area, large pitch side seating area, open fire pit, children's soft play area and memorial garden.
The cost of this project is £84,155, but we need as many pledges as possible to get the green light for this. All we are asking is for everyone to pledge just £2, as the quantity of backers is worth more than what is pledged. For example, 200 people pledging £2 is worth more than one person pledging £400. A greater number of backers then allows us to unlock access to larger grants from Kent County Council and others. Thank you to all families who already support and are users of Dartford Valley Rugby Club – we hope to welcome more students and their families as Covid regulations are lifted"
Shane, Dartford Valley Rugby Club
Please click here for more information and to pledge.
New PTA Event! Back to School Zoom Quiz night Friday 21st May 7-8pm hosted by our own notorious quiz-master, Mr Palmer. The virtual event is a great opportunity for parents and carers, students and teachers to get together for an evening of laughs and general knowledge whilst supporting our school! Entry just £5.00 per screen. A raffle will be available on the night, five tickets for £1.
A team prize will be awarded to the winning team on the night! All details are on ParentPay, it would be good to see as many of you as possible.
Thank you to all those supporting the school by using easyfundraising when they shop online. We now have 93 supporters all raising valuable school funds at absolutely no cost to themselves. Click here to join
Best wishes,
Charlie Guthrie
Head Teacher