Blog week ending 30th April
Posted on: 30/04/2021
We have now been able to resume our Inter-House competitions giving students the opportunity to try their hand at new activities and sports whilst earning valuable House Points. For this cycle Mr Pope is presiding over, a rowing challenge, queen ball, trivial pursuit, charades and humbug! .. something for everyone!
As it stands our House Competition scoreboard puts Newton House as the clear leaders, however, there's plenty of time to get involved, win points and influence the final score!
Pictured, Year 11 students winning the Trivial Pursuit points for Newton, with Telford in second place.
Our Year 12 Students are now able to take advantage of our sports facilities as we are able to return to recreational PE on Wednesday afternoons. This week students played basketball in the hall, football on the field or worked-out in our gym. All are welcome!
Our WG6 Y12 students are currently studying biodiversity. In this practical lesson students were exploring the range of plant species using quadrats, over a given area, on our school grounds. Students analysed and identified the different types and abundance of plant species, noting any changes, within different geographical features including a hill, under trees and on a sports field. Miss Morrison has been impressed with the high level of engagement and work-rate of the students across this topic. Well done everyone!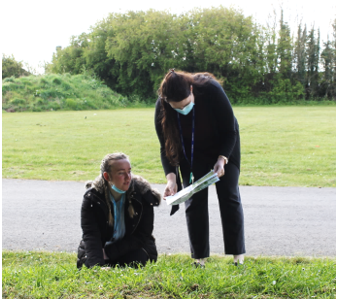 Y10 Physics students have been studying magnetism during a practical lesson. Students conducted a series of experiments to explore and identify magnetic materials and magnetic fields. During an induced magnetism task, students competed to see how many paperclips they could attached in a line from a single magnet!
Year 8 Design and Technology Students have designed their own breakout room for their garden and are now making a scaled model. Students have been bringing in their own materials, constructing furniture and accessories and have even been following origami videos to make some of the components!
Tishe has demonstrated excellent drawing and model making skills in the last few weeks with his breakout room design which is pictured below.
David D has been making the surrounding area for his breakout room at home from modelling materials. We are looking forward to seeing his finished design. Well done David, great work.
Thank you to all families for your continued support of the Covid lateral flow home testing initiative. As you are aware I am strongly encouraging all students to take part, as testing at home will allow your child and other students to attend school as safely as possible. Do make sure you log your tests on both the School and the NHS Test and Trace Systems, and continue to Test twice a week. Please click here to record your home test results.
School Meals. As you are aware we have been able to re-introduce a counter service which allows students to choose their meals each day whilst remaining in their year group bubbles. To ensure that the system runs smoothly and to schedule, please can students ensure they have their ID card with them and have decided upon their choices prior to joining the queue. For more details, please view the School Meals page on the website by clicking here. Also, please make sure your son/daughter's Dinner Money item is Topped Up on Parent Pay with sufficient money to cover their purchases. We highly recommend you switch on the ParentPay Auto-top-up facility.
New PTA Event! Back to School Zoom Quiz night Friday 21st May 7-8pm hosted by our own notorious quiz-master, Mr Palmer. The virtual event is a great opportunity for parents and carers, students and teachers to get together for an evening of laughs and general knowledge whilst supporting our school! Entry just £5.00 per screen. A raffle will be available on the night, five tickets for £1.
A team prize will be awarded to the winning team on the night! All details are on ParentPay, it would be good to see as many of you as possible.
Thank you to all those supporting the school by using easyfundraising when they shop online. We now have 93 supporters all raising valuable school funds at absolutely no cost to themselves. Click here to join
Best wishes,
Charlie Guthrie
Head Teacher