Blog week ending 1st April
Posted on: 01/04/2021
Walking around school this week there was a tangible sense of positivity and optimism throughout classrooms and staff rooms! The beautiful weather and imminent Easter break with its promise of more social interaction and outside activities would certainly have played its part, but there is no doubt that lessons together in school and the camaraderie of our community has lifted us all. The below items are illustrative of the many school initiatives and truly wonderful lessons taking place – I hope you enjoy reading .. and watching them!
Y7 Geography students have been studying how to construct earthquake-proof structures using 10 strands of spaghetti and marshmallows! Their creations needed to withstand 10 seconds of shaking to be successful structures. The tallest structures and those withstanding the shaking would win a prize. This was achieved by Sam S, Caden H and Elvin J. Well done.
This practical lesson linked to our DT GCSE 'Design Engineer and Construct in the built environment'
Tristan and Seb of Y13 are running a half marathon on Friday 16th April in aid of the charity Young Minds and are inviting us all to get involved!
Tristan "Seb and I would like to invite any teachers, students or parents and carers who wish to take part, as we hope it will increase the amount of people participating or joining us at the end. I have attached the points and rough timings for people to join the run or finish the run so people can plan where they want to join us."
Young Minds is a charity leading the movement to make sure every young person gets the mental health support they need, when they need it, no matter what. In the UK today, an estimated five children in every classroom has a mental health problem, Tristan understands only too well how the right mental health support and tools can make a difference and aid recovery.
Despite an ongoing knee injury Tristan is determined to complete the challenge to raise money and awareness for the work of Young Minds, so he and Seb will be running 13.1 miles each … a collective Marathon! Tristan and Seb would like to invite you to get involved, if you would like to join and run to help raise funds, that would be fantastic, you could sponsor Tristan and Seb by visiting their GoFundMe page for more details on how to get involved!
Mr Lynch added "Both Tristan and Seb were vital members of the sixth form football side last year who won the North Kent Premier League. With no football season for either of them it's inspiring to see how they have set themselves such an amazing challenge and for such a good cause. They are both great role models inside and outside of the classroom and will no doubt inspire many younger students. As a department we would like to wish them both every success with this challenge."
Our Life Programme sessions have been running across the Year groups this week providing valuable skills to support both wellbeing and educational development. Our programme focuses on spiritual, moral, physical, social and cultural wellbeing with special activities and sessions created to be pertinent to the students needs at each stage of their personal and educational development. As you would expect, we are sensitive to the impact of a prolonged lockdown and tailor our support accordingly, this week our Y7 and 8 students have been discussing Health; healthy routines as well as emotional and mental health. Our Year 10 student have had a career focus with work on exploring future careers and educational development based on their strengths and aspirations. Our Year 11 students' sessions concentrated on examination preparation and stress management skills to provide and strengthen coping skills.
Miss Price's Y8 Spanish students enjoyed using our new 'chat boards'! They were able to simultaneously contribute to class with answers and ideas whilst demonstrating an instant whole class view of comprehension of a topic before progressing to new content. 'chat boards' are our new Year 7 to 11 tool, adapted from the school's fantastic work undertaking synchronous (live online) lessons where teachers employed the 'chat box' function regularly, and to great effect, to interact with students and gauge learning. Great answers Year 8!
Mr Palmer and Mrs Wisdom would like to invite you to view our virtual Easter Arts Festival. This special production includes drama and music performances as well as a visual display of the students' artwork. The students have submitted a range of amazingly accomplished pieces which have been recorded and edited into a very special festival production! Thank you to all students for sharing their work and musical pieces with us which collectively show off the incredible creative talent of our school.
Miss Kemp's Y12 Physicists spent a practical lesson carrying out an experiment to determine the Young Modulus for copper (the elasticity or stretch of the wire). Students plotted a graph of their findings to calculate the force of the stress and the strain on the copper during the experiment.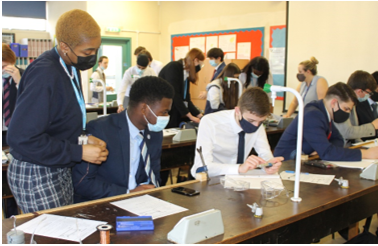 WGSB Wildlife Garden. Miss Barry, of our Science Department
Pictured, a leucistic crow who visits our school (leucistic animals have whitish fur, plumage, or skin due to a lack of pigment.) Leucistic crows may have more or less white than this. Sometimes it can only be seen in flight and there is a local crow that has so much white, she can be mistaken for a magpie.
I am hoping to get you all a bit more interested in crows! They are amazing birds, with very high intelligence, can do simple maths as well as recognise and remember human faces for years. (better than I can!). They watch us carefully. Crows in London parks have been known to observe humans exchanging shiny coins for sandwiches at snack shacks, and then attempt to do the same thing themselves, bringing shiny objects and trying to "buy" food. As humans, we largely ignore them. This is partly because they are normally very, very difficult to tell apart and get to know. However, many of the local birds carry a leucistic gene, meaning they may have some white feathers. This means that it IS possible to get to know specific birds, and it is well worth making the effort. If you learn to recognise one bird in a local flock, by a few white feathers, then you can often get to know the birds around that individual too. You might discover he has a slightly smaller brother that he often squabbles with, or an older crow he respects and copies, maybe his mother, or grandfather. I will give house points for any photos or accounts of leucisitic crows that you notice over the Easter holidays. Email sbarry@wgsb.co.uk
In last blog I mentioned our School Wildlife Garden but failed to include pictures of some of its visitors .. which are now attached!
PTA Update. Congratulations to our winners drawn at the PTA monthly lottery draw, who both won £30 each. February's winner is Jack A of 10B and March's winner is Jothan C 7S
We now have 91 people supporting our school via easyfundraising who are raising money (at no cost to themselves!) every time they shop via the easyfundraising App. We have now received just under £2000 with your help and support. This has helped the PTA purchase 9 new picnic tables and benches for our playground, which are especially useful in these challenging times.
Thank you, we couldn't do this without your support! To view a video showing you how to join please click here for our PTA website page
Our students using the benches and taking advantage of the sunshine this week!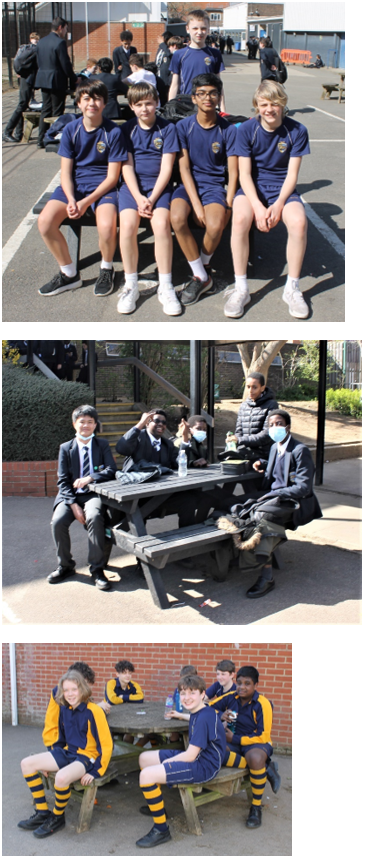 New PTA Event! Back to School Zoom Quiz night Friday 21st May 7-8pm. The virtual event is a great opportunity for parents and carers, students and teachers to get together for an evening of laughs and general knowledge whilst supporting our school! Entry just £5.00 per screen. A raffle will be available on the night, five tickets for £1. Prizes on offer
1st prize Dining Voucher
2nd prize A bottle of specially selected wine
3rd prize Body Shop goodies
A team prize will be awarded to the winning team on the night! All details are on parentpay, it would be good to see as many of you as possible.
We return to normal school uniform rules from Term 5, with some minor exceptions. Details as below;
Only school approved jumpers (Navy blue V-Neck) will we allowed to be worn under a blazer.
Coats should not be worn indoors in any area; however, coats will be permitted to be worn in classrooms if the teacher deems the classroom cold, due to the ventilation needed. However, to reiterate the teacher makes this decision not the student.
There will be special dispensation for students that have not got a blazer, if students wish to wear a jumper instead they need to wear an appropriate jumper (plan jumper with no labelling, either navy blue or black), absolutely no hoodies. Students in Y7-10 will need to acquire a blazer as soon as possible.
Ties must be worn to the belt line and shirts must have the top button done up and tucked in to the trousers.
Belts need to be black with a non-designer labelled buckle.
Shoes need to be black and leather, if they resemble trainers they will not be allowed.
I hope you all have the opportunity to enjoy time with family and friends over the Easter break and we will welcome back our students on Monday 19th April.
Best wishes,
Charlie Guthrie