Blog week ending 19th March
Posted on: 19/03/2021
As you know, students (and staff) have collected their home test kits from school and should take the test, twice a week before coming into school. Each year group is being asked to take their tests on:
Years 11,12 and 13: Thursday and Sunday
Years 10 and 7: Friday and Monday
Years 8 and 9: Saturday and Tuesday
Students will also need to let the school know the result of each test. For details on how to report the result of the test and for further information regarding the testing please click here.
Mr Palmer's Year 8 Music Students are working on an "All that Jazz" project and today was all about Swing and Ragtime. It's so good to have our lessons back in the classroom .. and to have the boys making some noise (all very musical and part of their lessons!) Pictured below are Sam and Harry who are working on a piece of their own composition as part of the 'take it further' extension task on the module, and they were sounding very good indeed.
Mrs Wisdom's Year 9 Art students are completing a project that was started during lockdown. Now we are back in class we have been able to combine student work to create a bigger single class piece. The work was inspired by the artist Aboudia, who is from the Ivory Coast and who depicted images from his own experiences during his country's civil war and of the many disadvantaged children that the war created. "My work is similar to that of a journalist writing an article: I was simply describing a situation, in order to create a record of my country's recent history"
Students used a range of styles and medium for their work from home including the great digital, pencil and painted examples below. We then added to them in class to create the group images pictured below. To find at more about Aboudia or to view his artwork please click here
Garth and Ethan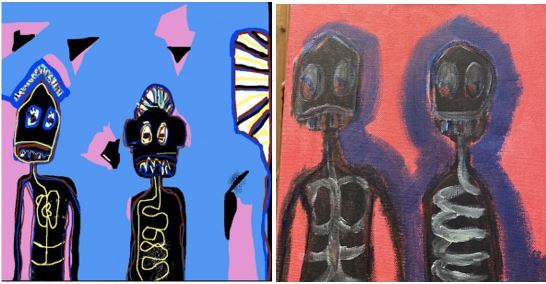 William
Our wildlife garden is full of life! We have insects in our student made 'bug hotels' and newts have been spotted in our pond! Our bird feeders have been very popular, attracting at least eight bird species this week; blue tits, long tailed tits, great tits, green woodpecker, goldfinches, magpie, crow and a black bird that comes for a dip in the pond in the evenings. Sadly, due to the current Covid regulations we can't currently have students in to help us with the wildlife garden – but we are hopeful that will change later in the year.
Some of our wildlife visitors and residents!

To mark British Science Week students have been working on a cross department project across the Science and Art departments to come up with a new design for a science lab coat, illustrating what science means to them. Mrs Tame and Mrs Wisdom have receive lots of amazing entires including;
Kevin H
George P
Tyler
Flipping Pancakes! Well done to all students and staff who took part, we had 185 entries in total – all brilliant! It really did make me smile to see so all those wonderful photos, and I particularly enjoyed the photo of Miss Price in action with her chef's hat (or toque) and the aerial pancake shots! Overall, congratulations go to Newton House who scored a winning 47 points.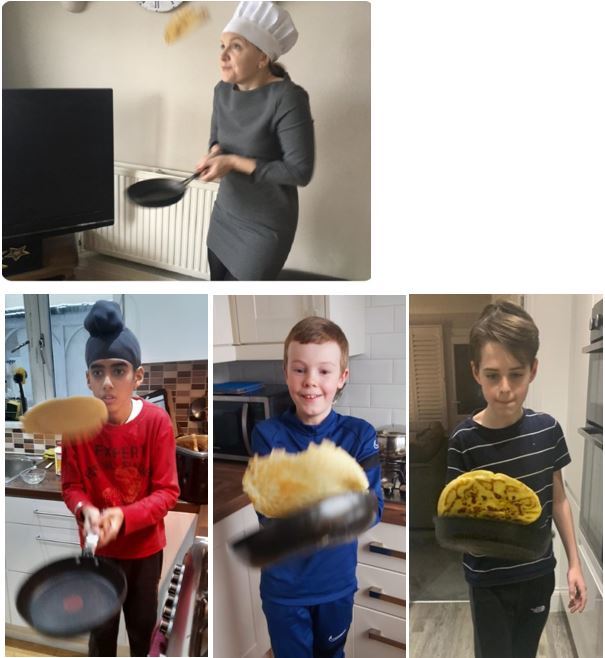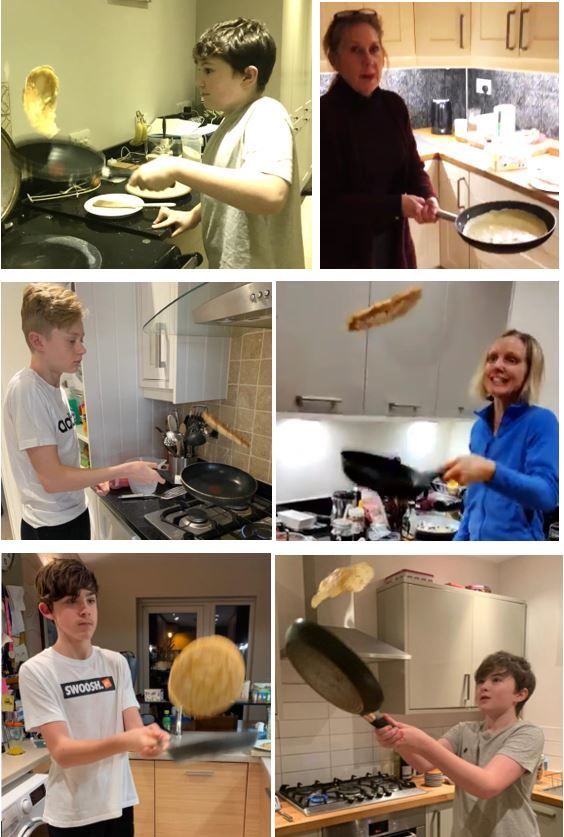 Easyfundraising. With many of us doing more shopping online due to lockdown, we could be raising even more funds for our school! If you join our PTA easyfundraising page, every time you make an online purchase (from any of the 4,000 participating shops and businesses) they will donate to Wilmington Grammar School for Boys at no extra cost to you! We now have 85 supporters regularly using the App, it's so easy, simply click on the App and go to your chosen store and our PTA will receive a donation! We really do appreciate your support – we are so limited with ways to raise funds this year .. every little helps! Click here to join
Best wishes,
Charlie Guthrie