Blog week ending 5th March
Posted on: 05/03/2021
We are incredibly excited to be welcoming students back to school on Monday (8th March). We have all been buoyed by the recent announcement and 'road map to recovery' that the Prime Minister has laid out and look forward to a gradual return to normal.
You will already have received a letter outlining our Covid testing programme together with consent forms and information regarding the lateral flow tests. If you have any further questions please telephone our school office or email enquiries@wgsg.co.uk. You may wish to see the below video that shows how the testing centre operates.
Here is a reminder of the times you need to return to school:
This week, interactive online lessons have featured new activities and competitions across many departments. Below is a selection of wonderful online lessons and competition winners who we look forward to congratulating in person upon our return to the classroom!
PE Department Challenge – The results are in! During Term 3, our KS3 students were set the task of completing 20 days active for 21 minutes as part of the 'WGSB 2021 KS3 PE Challenge'. It is fair to say that the response to this challenge far exceeded our expectations and the response was incredible!
In total, we have had a whopping 3,932 entries over the space of four school weeks! An amazing total of 201,914 active minutes recorded by our students throughout the 4-week challenge.
The results of the Inter-House competition and individual winners are listed below:
The PE Department would like to thank all KS3 students that took part in the challenge over the last four weeks of Term 3, the engagement from our students was phenomenal, and it was fantastic to see our students share their experiences with us, some of whom made special appearances on our PE Department Twitter page, to view/follow please click here @wgsbsport1.
Staff Fitness Challenge 2.0 The 2nd Staff fitness challenge has been completed. Staff were awarded points by completing fitness challenges such as running, cycling, walking, completing home workouts, press ups, sit ups and holding a plank. A combined total of 40 staff were split into 4 teams and had 3 weeks to obtain as many points as they could as a team.
Huge congratulations to the winning team, Team A. They were victorious with a combined score of 1650 points over the 3 week period. Members of the winning team were, Mr Powell (Captain), Miss Price, Mr Vidler, Miss Lynch, Mr Littlemore, Mrs Hicks, Mrs Wells, Mr Pope, Mrs Fiander and Dr Musami.
A special mention must go to the top 3 individual point scorers in the competition;
1st Place – Mr Pope (Team A) 543 Points
2nd Place – Mr Long (Team C) 541 Points
3rd Place – Miss Lacey (Team D) 515 Points
A special mention must also go to Miss Price (Team A) who completed 2 separate marathons over the 3 weeks herself alone! An amazing achievement. Mr Vidler also deserves a special mention as the only staff member to be on the winning team in both staff fitness challenges!
Mr Lynch would like to thank all the staff members that participated for their efforts over the last few months and give special thanks to the team captains for their support in running the competitions, Mr Powell (Team A), Mr Sage (Team B), Mr Hook (Team C) and Miss Lacey (Team D).
Science Week House Competition – Years 7 & 8. To mark Science Week, our Science and Art departments have organised a joint house competition running from the 5th - 15th March.
Using a lab coat template, students are invited to decorate a lab coat using the theme, 'What Science means to me'. Designs could be related to an area of Science you are passionate about, a topic you have enjoyed or a way to pass an important message onto others about the impact of our lifestyles and the Science behind how it affects the planet. A letter has been sent home with full details, but if you have any further questions students should ask their Science or Art teacher for more information.
MFL Department. This half-term, 7B were set a bit of a different homework, which would see them stretch their knowledge of the French language and/or culture. Students had a list of activities to choose from learning new words to watching their favourites in French (someone watched a movie AND a football match in the target language!) to engaging their family in their learning to doing some research or cooking. A number of students did more than one activity!! Here is just a selection of some of what they did and produced. I can't wait to test them on their new words once we're back, and only wish I could try the food! It looks so good! Fantastique, comme toujours, 7B! Mademoiselle Price
Library update. Throughout lockdown I've been busy getting plenty of new books for the return of our students. Don't forget to check them out on Libresoft, where you can place a reservation once you have logged in. Anyone who has forgotten/or not received their log in details should contact me directly.
It's such a pity that students won't be in school for World Book Day but as you can see (below) there were lots of great entries for the competitions.
£1.00 book tokens are in school and will be issued next week and I have a selection of books that students, initially in years 7 & 8, can exchange their token for. Alternatively, they can use them to get a £1.00 off of the next Scholastic Book Club order.
I have been advised, that if you want to use the token outside of school the use by date will be extended by most book shops, while stocks last. Ms Fisk, Librarian
The World Book Day books available from school are;
'Football School' by Alex Bellos & Ben Lyttleton
'The River Whale' by Sita Brahmachari
'Kill Joy' by Holly Jackson
'Skulduggery Pleasant: Apocalypse Kings' by Derek Landy
'Skysteppers' by Katherine Rundell
We look forward to seeing you again next week.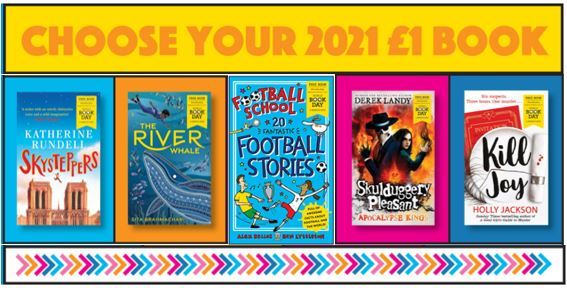 World Book Day was on Thursday 4th March and to celebrate, and have some fun along the way, a number of WGSB students took part in four competitions. There were so many amazing entries (we had over 60!!!) it was great to see them flex their writing and creative muscles. Our judges, Mr Guthrie and Mrs Lodge commented on how tough they found it to whittle them down - They were so impressed and remarked on how varied, fun and artistic the work was. Each entry will be awarded 3 House Points and those that are "Highly Commended", 2 more. Those in Third place will receive 7 overall, those in Second place will receive 9 and those in First place will receive the same and a little prize. All Highly Commended and place winners will receive certificates once we are back in school. To see our Highly Commended and place winner entries, please click here
Winners:
Competition 1 - Book review
1ST place Daniel 9N
2nd place Julian 8D
3rd place Rahil 7B
Highly Commended
Jack 10D
Brandon 8T
Aadit 8N
Tyler 7B
Competition 2 - Redesign a book cover and write a blurb
1st place Alex 7T
2nd place Aahil 7D
3rd place Jake 8S
Highly Commended
Emilis 8T
Siddharth 7B
Harvin 8S
Rahil 7B
Competition 3 - Create a wooden spoon version of your favourite book character
1st place Kurtis 7S
2nd place Nate H
3r place Rylee 9S
Highly Commended
Harry 7B
Harry 7S
Competition 4 - Dress up as your favourite book character
1st place Nayeem 8S
2nd place Harnek 7S
3rd place Jake 8S
Highly Commended
Brandon 8T
Dylan 7N
Well done to all those who entered. You did an amazing job, and I personally really, really enjoyed reading and looking at them all.
We can't wait to see you back again!
Miss Price
If you are looking for free or cheap ways to get access to children's/young adults reading books here are some tips from money saving expert Martin Lewis;
Even if you don't have a Kindle, you can use the free Kindle Reading App.
Amazon has lots of Kindle books and you can check out their list of free classics, and there are a number of others which have been made free due to the school closures.
If you use Apple products there are also plenty of free children's books available. Just do a search for 'free books'.
Of course, you can also use your library for free ebooks & audio books. Some are even providing a click and collect service.
Audible also has a large catalogue of free audio books. Who doesn't like being read to? If you have an Alexa enabled device you can ask it 'Alexa, what's free from Audible?'
Our Year 12 Art students have produced a range of lovely work, demonstrating a high level of creativity and work rate over the latest period of lockdown. Our Art Department showcases student work from all year groups on its Instagram account which can be viewed at @wgsb art
A selection of recent work is included below.
This week is National Careers Week. The Parents' Guide on the NCW website provides parents/carers with the information they need to help their teenage children make the right choices to create successful futures after GCSE and WG6. Their guides include the most up to date information on topics such as apprenticeships, universities and revision techniques. There are also links to virtual work experience opportunities which offer valuable insight and experience which can be included in applications to apprenticeships and universities.
New NCW Homepage - National Careers Week
Year 10 and 11 students have been encouraged to sign up to the below sites which both offer free virtual work experience opportunities usually during the school holidays. This will be extending to additional Year groups in due course.Springpod Speakers for Schools
Faith H of Y12 has recently completed a virtual work experience placement;
"I am in year 12 and considering studying neuroscience at university. As one of my year 12 elective courses, I participated in a virtual Kent and Medway NHS Trust work experience programme which ran for 2 weeks from the 8th to the 19th of February. The course was structured to give an overview on many areas and specialties within the NHS including paediatrics, cardiology, general practice, and psychiatry. Each section involved articles to read, a couple of videos to watch that gave in depth explanations of the day to day lives of medical practitioners and a short quiz or other activity to summarise what we had learnt. Each section also involved a live webinar from medical professionals giving more detail on their specialties, and where we had the opportunity to ask questions about their specialty or the path to become a doctor. Overall, the work experience was a great opportunity and I now feel that I have a better understanding of how the NHS works and also how medical research such as neuroscience can link in with clinical practice."
Field Mouse joins Online Classes! 7H, 7D, 9N, 9S and 9T were joined last Thursday by a very cute field mouse. While teaching on Microsoft Teams, Mr Clark noticed a movement on the top of a nearby chair. Looking over he saw a mouse. Small, grey, and bright-eyed.
The mouse looked at Mr Clark. Mr Clark looked back. The mouse looked on.
And then, as quickly as it had appeared, it was gone.

During the day's lessons the mouse made many appearances and the classes voted on names for the mouse. Male names unsurprisingly topped the polls: Barry and Bob. At one point, Bob appeared round the side of the chair, curious about Business and Finance. Later he was halfway up the curtains listening into the Year Seven's lesson on Information Retrieval. Before long he was down from the curtains and atop the chair again, this time up on his haunches with his head to one side. Appropriately we were learning about the 'Journey Method' and Bob was probably interested in a journey out of here and back to his family.

Mr Clark is happy to report that Bob (or Barry) was finally caught and given his freedom. He did perform some death leaps to avoid capture!

So excited was he that he bounded like an evolutionary cross between frog and mouse to safety. Do have a look at the release video. Can you identify the species to which Bob (or Barry) belongs?

There is now only one mouse in the room. That sits, bluetooth-activated, aside the computer. The cat is disappointed.
Mr Clark
To watch Bob's release, please click here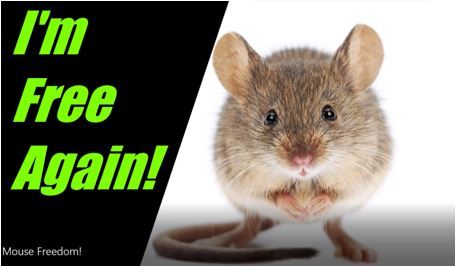 Best wishes,
Charlie Guthrie
Head Teacher