Blog week ending 11th February
Posted on: 11/02/2021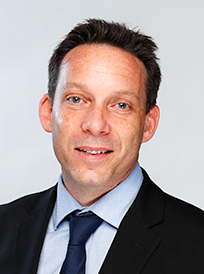 Dear Parents and Carers,
I do hope that you are able to make time to relax during half term. There have been a huge range of incredible lessons and school activities that have taken place across our school this term, despite the continued lockdown and abundance of weather! Well done everyone, you have certainly earned your break. We will return to our online lessons on Monday 22nd February.
The vaccination programme and reduction in infection rates are providing optimism that we will start to see an end to this lockdown. Naturally, as soon as we are advised that it is possible and safe for us to re-open we will immediately notify you by email.
Your continued support and words of encouragement have helped boost us all during this term of online lessons, a heartfelt thanks to you all! The Kent Messenger Charity Team hold an annual Kent Teacher of the Year Awards, and have shared the below information with us. If you or your daughter/son would like to nominate one of our members of staff for an award, please click the link at the end of their notice – nominations are cherished by staff, that students and family recognise and highlight their work is incredibly meaningful to them.
Calling for nominations for the Kent Teacher of the Year Awards!
The Kent Messenger Charity Team are calling for you to nominate a Teacher, or member of the support team who you feel has gone 'above and beyond'
"This has been a difficult year to say the least but out of this situation we have seen heroes come to the fore, staff of the NHS and care workers have quite rightly received the accolades and publicity they deserve for their amazing efforts but there are many other heroes that have gone unnoticed.
You and your colleagues in the education sector, working tirelessly to ensure our children have been taught, fed, inspired and motivated, are among those heroes and deserve the recognition for everything you and they have done.
We at the KM Charity Team deliver the Kent Teacher of the Year Awards and we would love your help in spreading the word to everyone in your school and community to nominate a member of your school community.
This is not a popularity contest, it's not measured on the number of votes, it's judged by a panel of judges who read the content of every entry and then have the difficult task of selecting the winners.
Anyone can nominate and it's not just teachers who are recognised – these awards celebrate every role in schools from student managers to administrators, heads and governors. Not everyone can win but all nominees receive notification of their nomination and that in itself goes a long way to them knowing how appreciated they are"
To nominate is simple:
Go to www.kmcharityteam.co.uk/awards/toty/ and complete the online nomination form.
Our DT department have announced a House 'pancake flipping' competition which started this week. All entries must show the student flipping the pancake either by a photograph or a short video, one point per entry. An assignment will be created in each form groups' Teams channel for students to upload their photo or video. Mrs Cross is welcoming entries from school staff, but the same rules apply, videos or photos must be submitted for the point. Good luck everyone!
On Tuesday 2nd February, it was La Chandeleur in France (Candlemas in English), which is commonly celebrated there with pancakes! So, in their French lesson on Thursday, 7B learnt the words for the different ingredients of pancakes, the implements you use to make them with and the recipe instructions in French. They unmuted themselves to go against their teacher, Mademoiselle Price, at naming everything from flour to a frying pan in French and then instructed her in the target language as she made them live for them. They even got to guess whether she was going to drop or catch the pancake (in French!) as she prepared to flip one. Suffice to say they DID NOT have faith, however, she did not drop it (phew!) Some members of the class followed suit, making pancakes at home! Here are some photos and information in French from the students. Excellent travail 7B! I fully expect you to be picking up all the points in the Pancake Flipping Competition! Miss Price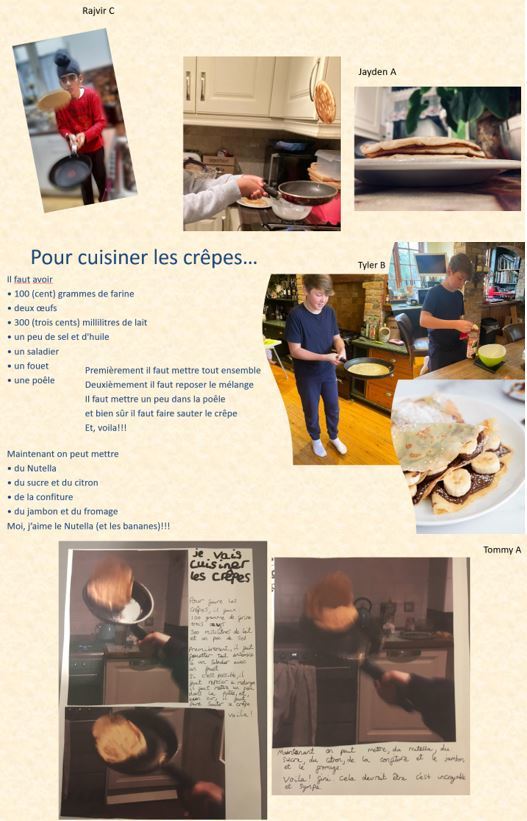 Careers Update. We have just completed 1:1 Teams meetings with each of our Year 11 students to provide guidance and support as they make their A Level decisions and complete their WG6 applications.
For our Year 9 students making their GCSE options we have completed Teams meetings with them (together with parents and carers) to provide information outlining the courses on offer and tips to support student choices. Our Options Booklet and accompanying video can be viewed here on our website here
In March we will stage Year 10 & 12 Next Steps & Careers meetings for all students. Further information will be emailed out in due course.
This week is National Apprenticeship Week. The event aims to provide information to future apprentices and link them to employers, giving the insights students need to make well-informed decisions. Apprenticeships provide recognised qualifications as well as providing an income as you study. Below, five celebrities who started their careers as apprentices!
Sir Ian McKellen completed a three-year apprenticeship at the Belgrade Theatre in Coventry.
Alexander McQueen. Savile Row apprentice tailor.
George Clarke. Architectural technician apprentice.
Jamie Oliver. Westminster Catering College, Catering Apprentice
David Beckham, a Football Youth Training Scheme.
There is a wealth of information and opportunities on the National Apprenticeship website which can be viewed here
A parent/carer guide can be accessed here
For a comprehensive list all of the current higher and degree apprenticeships that are currently open for applications please click here
There are two local employers offering great apprenticeship opportunities, click below for more information.
https://baesystems.groupgti.com/VacancyPosting/Search#!/?facet_field=facetstring_VacancyDetail_Location_Text:Rochester
https://careers.laingorourke.com/explore-by-experience/professional-apprenticeships.aspx
Students can sign up for a free online workshop with the education team at @UKParliament, who explain how laws are made and how to get heard. This curricula-linked session is broadcast live and accessible from different devices. Book now: https://bit.ly/3iU33aZ. This is a free live event which will be delivered by staff from the UK Parliament
PE Department Fitness Challenge Update. Despite the weather, WGSB students have been finding ever more resourceful ways to get their minimum 21 minutes in the daily challenge. Some amazing and creative ways on display, and clearly lots of fun has been had in the snow. Pictured below, Nasir, Connor and Alex making the best of the snowy conditions, together with a selection of rather splendid snow characters!
We are now up to an amazing 3000 student entries! Congratulations to Sylwester H of 8N who is the lucky winner and achieves the accolade of being our 3000th entry! Who will be our 4000th?
The PE Department would like to congratulate all students (and family members!) who have taken part, the points are being counted by Mr Lynch and Mr Sage and they will share the results with you in class after half term.
Colleagues have shown me lots of great examples of very polished work being submitted by our students. Mrs Wells from our English Department was keen for us to share the below examples;
"7D and 7N have just finished reading their class text, 'Where the World Ends' by Geraldine McCaughrean. This novel won the Carnegie Medal in 2018 and is based on the true story of a group of men and boys marooned on a sea stack off Scotland, the archipelago of St Kilda in 1727. The students were tasked with researching the truth behind the story and have produced some wonderful work, including the pieces below" Mrs Wells
Kurtis, 7N
Taylor B, 7N
Mr Palmer would like to share the news that we will be staging an Easter Arts Festival, which will take place in the last week of next term. This special production will include drama and music performances as well as a visual display of the students' artwork. Invites will be sent out during our first week back after half term for students to submit their audition videos. We are all looking forward to being able to come together to enjoy a shared event in person, I'm very much hoping this will provide just that opportunity!
Online Shopping. With many of us doing more shopping online due to lockdown, we could be raising even more funds for our school! If you join our PTA easyfundraising page, every time you make an online purchase (from any of the 4,000 participating shops and businesses) they will donate to Wilmington Grammar School for Boys at no extra cost to you! We now have 85 supporters regularly using the App, it's so easy, simply click on the App and go to your chosen store and our PTA will receive a donation! We really do appreciate your support – we are so limited with ways to raise funds during lockdown .. every little helps!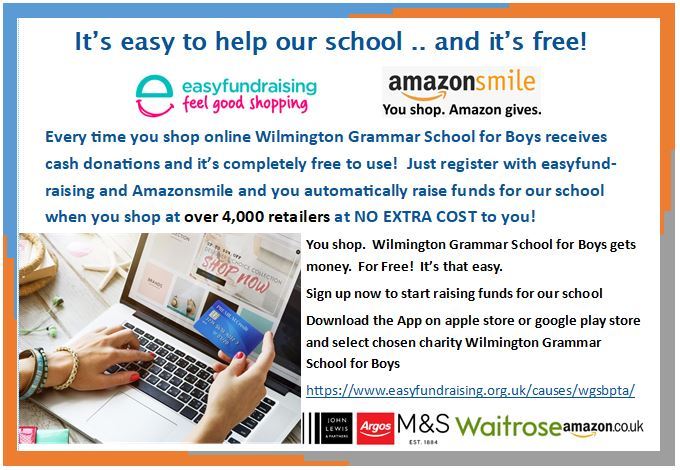 WGSB Lottery. Congratulations to Mr Paul Donaldson, who is January's £30 prize Lottery winner.
Best wishes,
Charlie Guthrie
Head Teacher