Blog week ending 4th December
Posted on: 04/12/2020
Our Y11 students are taking part in a series of Careers sessions as part of our Life Programme. Led by Deputy Head Teacher Mark Baker, students are exploring and discussing their WG6 post-16 options in relation to strengths, preferences and longer-term career aspirations. Our Careers Lead, Mrs Walker together with Mrs Rowson, Head of Year 11 and subject specialist teachers are delivering a series of destination driven talks, taster lessons and support sessions to help students navigate the options available; including university entry requirements and apprenticeships. All students received a Curriculum Booklet for WG6 outlining the extensive range of courses and enrichment opportunities available to them. A number of our alumni joined the sessions via teams, to share their career pathway and offer practical advice based on their own experiences of university, degree apprenticeships and career development. A strong theme from all of our alumni speakers was, "work hard and aim big"!
Message from Mrs Rowson, Head of Year 11
"From a young age, I was fortunate to know what I wanted to do – which was to travel the world. I learnt that the life you dream of can be lived. After achieving some good O-Level`s, I left school and began working as a travel agent apprentice in the west end of London. I became highly trained whilst working there and moved onto the corporate travel world. I became a manager in my early twenties and oversaw an account that spent over £20m in travel per year.
After some years in the travel industry, working and travelling the world, I decided to fulfil an earlier ambition to go to university. So, 16 years after leaving school I became an academic geographer and then a teacher of it. My message is simple: do the best you can, whenever you can and enjoy every moment. Nothing and no-one can stop you – but you. Whatever pathway you choose is fine, you will arrive in the end. Enjoy the journey."
Pictured, students exploring the WG6 Curriculum Booklet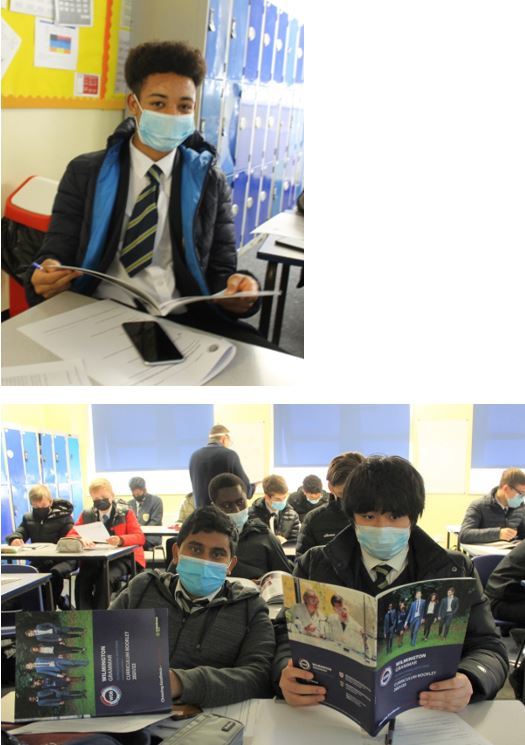 To give you an insight into our WG6 and to hear from current students, please view our Open Event Film which is available to view on our WG6 website together with a digital version of the Curriculum booklet, which details our full range of exciting courses.
Click here to view our WG6 Open Event and Curriculum Booklet
A letter detailing our Careers session together with the WG6 application process can be found on the Correspondence page of our website here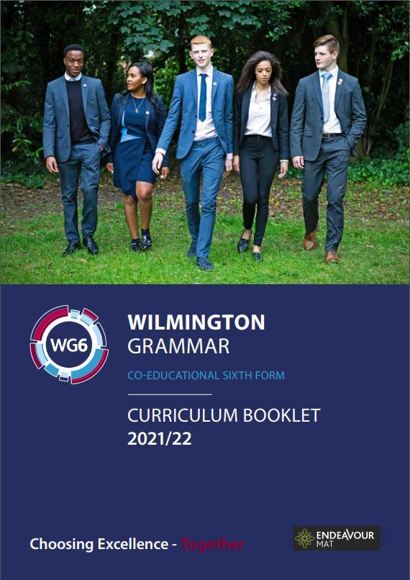 Across WG6 we have a network of subject ambassadors and alumni contacts, including;
"My name is Holly M, I am currently in year 13 and I will be sitting my A Levels this year. Outside of study, I train as a sprinter at Blackheath and Bromley Harriers competing in many competitions nationally as well as internationally. Athletics has been a passion of mine since I was young and so I decided, to broaden my options by not only applying to universities here in the UK, but to also apply as a Division 1 student athlete in the United States, allowing me to compete there as a college athlete. I received several scholarships offers from colleges as far apart as New York, Texas, and North Carolina, but out of all my options, I decided that James Madison University could potentially be the best fit for me. Overall, my advice to you all is try not to limit yourself, make sure to work your hardest and broaden your options because you never know how many paths it can lead you along."
Holly is pictured in the middle of the below photo
Hana N, who left WG6 after A level study this year has been in touch to let us know all is well on her optometry course at City University, Hana has kindly offered to be an Alumni Student Ambassador for biology, and we hope she can visit soon to inspire other students and share her journey so far.
Our year 7 & 8 Life Programme was all about careers inspiration! Students explored the new Morrisby Careers platform and researched the careers it suggested to them based on their strengths and areas of interest. They explored qualifications they need to get into that career and well as salaries and working environments. They also watched several videos from our Alumni students from various sectors like medicine, finance and engineering telling their stories, the qualification entry routes and important lessons learnt along the way.
The Year 9 Life Programme was about inspiration and exploring the careers in relation to their GCSE options. Students explored qualifications and GCSE subject choices they require to get into the careers of their choice. They also watched several videos from our Alumni students from various sectors like medicine, finance and engineering telling their stories, the qualification entry routes and important lessons learnt along the way.
The Year 10 Life Programme students were asked to sign up for the virtual work experience platforms Springpod and Speakers for Schools - which offer ongoing virtual work experience opportunities and workshops throughout the year. We also talked about the plans for work experience for the 14th - 16th July 2021. Students also watched our Alumni student videos and listened to the advise and insight they provided.
Physical Education Department. The Results are in! Our Year 7 students completed a whole term of fitness testing during their PE lessons. Students participated in various different fitness tests throughout the term and their scores were collected and then recorded. The tests included,
The 12-minute cooper run – a cardiovascular test where students complete as many meters as they can in 12 minutes
The Illinois agility run – an agility test where students run in-between cones as fast as possible
The sit and reach flexibility test – a test where students have to sit down and stretch forward testing their flexibility.
The 30-metre sprint test – a test which tests students' acceleration and speed is timed from a standing start to 30 meters away.
The Anderson wall toss test - a hand eye co-ordination test in which students have to stand 2 meters away from a wall throwing the ball with one hand and then catching it with the other continuously for 30 seconds.
The Sargent Jump Test – a fitness test that assesses students' power and how high they can jump from a standing start point.
Each fitness score was collected and ranked and I am pleased to announce the top 3 students (who are pictured below) were;
1st place – Max W with an amazing 90 points scored out of 100
2nd place Daniel S with 85 points
3rd place Rayan B with 84 points
The whole PE department would like to congratulate all students who took part in the different fitness tests and especially the top 3 scoring students overall. Achieving such high scores in such a range of activities is a very impressive achievement.
Mr Lynch
Y7 Art students have been practising techniques ahead of their test piece. This week, students produced study work with a focus on ellipse shapes, tone and form working either from 'life' i.e drawing their own hand, or using photographic images as stimulus.
PTA Notices. Thank you to everyone who has supported the school in purchasing these beautiful trees, we hope they make your Christmas special. Just a reminder that pick up is either Friday 4th December between 4-6pm or Saturday 5th December from 9am until 12noon – the usual social distancing restrictions will apply!
Christmas Raffle on Parent Pay! COVID friendly prizes(!) up for grabs, draw will be Monday 14th December just in time for last minute Christmas treats. First prize £150 Bluewater vouchers, second is £100 and third prize £50. Tickets are just £1 each and are available on ParentPay .. please be as generous as you are able!
Christmas Shopping. And finally, a huge thank you to those who have been ordering online using easyfundraising. 72 people are supporting WGSB so far and have raised £70 this month alone by downloading the easyfundraising app. All proceeds go to the school at no extra cost to you.
Please do consider joining our PTA easyfundraising page when buying your Black Friday bargains! Whenever you make an online purchase from any of the 4,000 participating shops and businesses.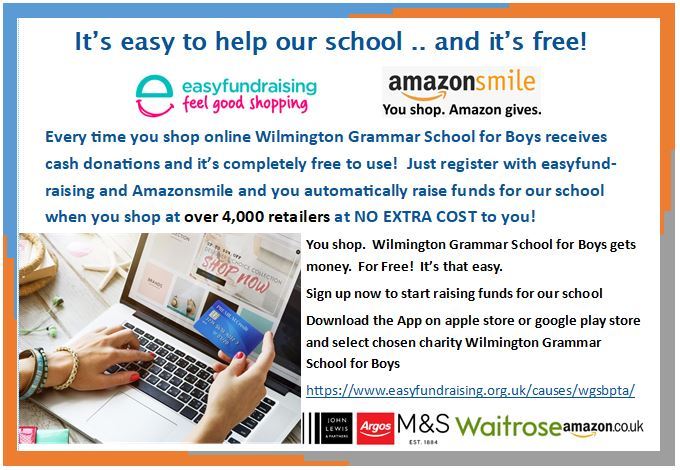 Best wishes,
Charlie Guthrie
Head Teacher