Blog week ending 20th November
Posted on: 20/11/2020
Bookbuzz. Our librarian Ms Fisk has been presenting our Year 7 & 8 students with their complimentary new books, which were funded by our ever-supportive PTA. We have a positive reading culture here at WGSB, with the English department working in conjunction with our librarian to make reading for pleasure, as well as study, a cornerstone of students' time here at WGSB. Ms Fisk makes sure an exciting range of fiction; factual and reference books are available for loan from our library. Our Library web page provides a guide to the services and resources available, please click here to view.
Pictured, Ms Fisk handing out the students' books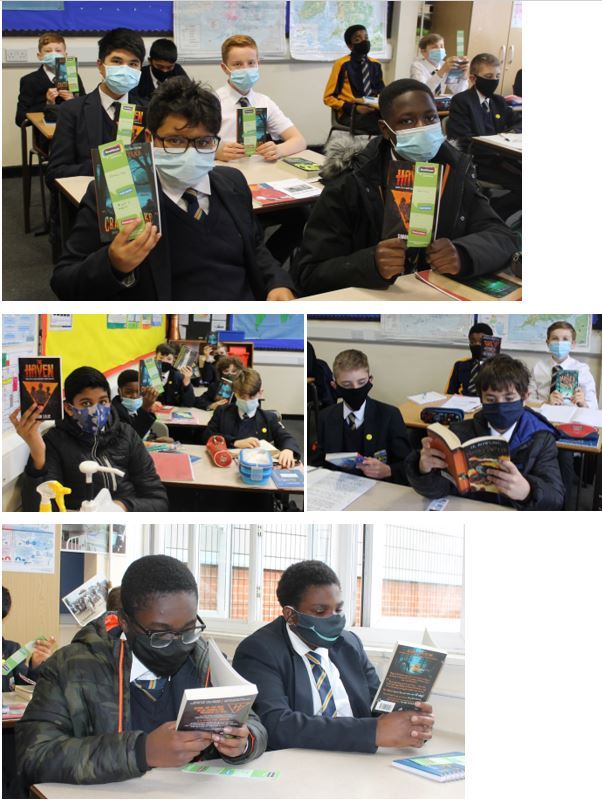 Our Y13 Professional Construction Practice students attended a virtual careers meeting and tour regarding apprenticeship degree opportunities at ISG.
One of our alumni, Alex McCarthy from last year's Professional Construction Practice cohort is currently on ISG's apprentice programme at ISG, and contributed to the virtual tour.
https://www.isgltd.com/en/careers/early-careers/apprenticeships
Online and virtual Careers and Further education sessions are taking place across our schools as we continue to adapt our approach to providing all GCSE and A Level students with the appropriate guidance and support to fully explore future opportunities.
Our students are getting used to seeing a film crew in school! Footage was captured recently at both Wilmington Grammar Schools for our joint WG6 Open Event. The weather held, and we were able to get some great material showing off our facilities and grounds. Thank you to all students who wrote and performed their own compelling scripts and to everyone who gave their time or permitted filming during lessons. The film is currently being edited and will be available to view via our website from Monday 30th November.

Our Y10 GCSE Food Technology students have been creating elaborate bakes requiring multiple techniques. Bake-off, you've nothing on this group! Brilliant array of complicated recipes executed extremely professionally. Every component including jams, curds and decoration made by hand during the lesson. Well done!
Please note these pictures were taken prior to our latest safety precaution review (hence no masks)
In the year 12 Physics lessons students have been studying the concepts of resistance and resistivity. In this experiment they were building circuits to find how the voltage applied to a piece of graphite affected the current that flowed through it and therefore its resistance. They then use this data to calculate the resistivity of the graphite.
WG6 Chemistry students deepening their understanding of esters with a series of practical investigations. In this lesson students were making esters, identifying its component parts and recording the chemical reaction. There was a competition for the most pungent smelling ester, the joint winning groups were Ollie's and Louis'
Please note, these pictures were taken prior to our most recent safety assessment (hence students are not wearing masks)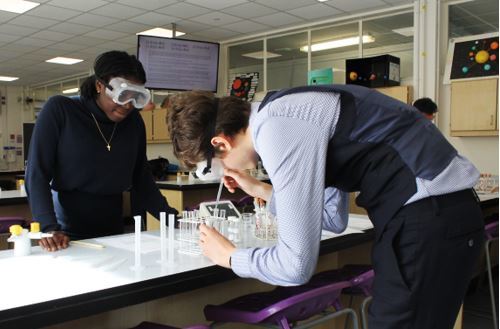 PTA Special Christmas Notices – Buy a beautiful real Christmas Tree from us and we will automatically receive a donation! You can order via your child's ParentPay account – all trees are premium grade and range in price from £26.50 for a 3-4ft tree to £48.50 for a 7-8ft tree. Deadline for orders is 27th November. Pick up at the school from Saturday 5th December 9am-12noon – naturally, we will be abiding by social distancing rules.
Christmas Shopping. Please do consider joining our PTA easyfundraising page when buying your Black Friday bargains! Whenever you make an online purchase from any of the 4,000 participating shops and businesses … they donate to Wilmington Grammar School for Boys at no extra cost to you! So far we have raised over £1,700 which is a huge boost!
Christmas Raffle on Parent Pay! COVID friendly prizes(!) up for grabs, draw will be Monday 14th December just in time for last minute Christmas Treats. First prize £150 Bluewater vouchers, second is £100 and third prize £50. Tickets are just £1 each and are available on ParentPay .. please be as generous as you are able! Unfortunately, due to the current restrictions there will be no Christmas Fair.
Ongoing – Y11 students GCSE PPEs until November 27th
Forthcoming – reminder, INSET day on Monday 23rd November for staff training day – students due back Tuesday 24th November
Best wishes,
Mr Charlie Guthrie