Blog week ending 13th November
Posted on: 13/11/2020
Remembrance Day. As usual, we marked Remembrance Day, but as with so much else, a little differently this year. At school, students attended a special all-school service from their form rooms via Teams which included a number of very moving first-person servicemen accounts delivered by students, reflecting the many countries and cultures across the commonwealth who collectively made up the Allied Forces.
For the first time at WGSB, student members of the Scouts, Sea Cadets, Boys' Brigade, St John's Ambulance and RAF Air Cadets all attended school in their uniforms representing a range of organisations who, today, still work to protect and keep us safe. It was incredibly moving to see so many of our young students actively involved in organisations that continue the work and legacy of those whose sacrifice we mark on Remembrance Day.
Year 7 Scouts
Year 8
Year 10 - Air Cadet and Boys' Brigade
Year 9 Students
Air Cadets from Years 10, 11 and 9
Mrs Edwards, our Office Manager represented the school to place a wreath at Wilmington War Memorial on Sunday.
I am delighted to share the news coverage of two of our Endeavour MAT staff members who received awards in the recent Kent Teacher of the Year Awards 2020. Mr Sage, Head of Year 7 was crowned secondary teacher of the year for the Dartford and Gravesham District while Mrs Martin, our Careers and Work Experience Coordinator at WGSG was awarded Support Staff member of the year.
Our Science Department is working to enable key practical lessons to continue. Chemistry A Level students have been determining the rate of reaction using the Iodine 'clock' method. Students planned and carried out the experiment then processed and evaluated their resulting data.
Biology A Level students have been investigating the effect of temperature on membrane permeability. Using a colorimeter, students tabled their results before using the data to make a graph tabling temperature against absorbance.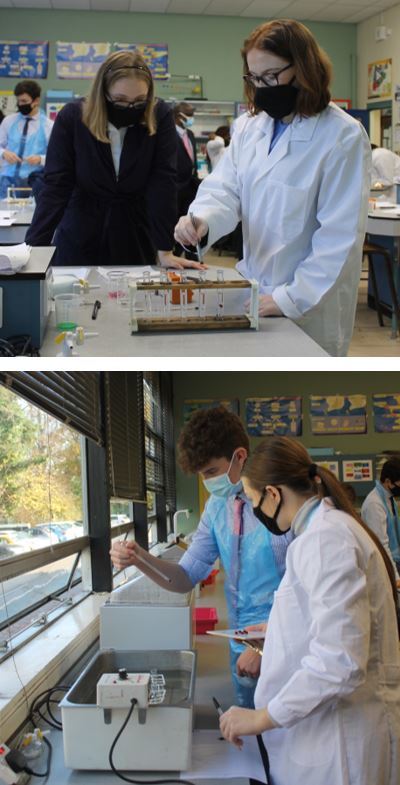 The Inter-house competitions are still happening and are as fiercely contended as usual! Mr Pope has devised new games and adapted old to ensure a full range of competitions that demonstrate skill, introduce students to new activities .. and earn valuable House Points! This week students took part in retro computer games (pictured), chess and board games.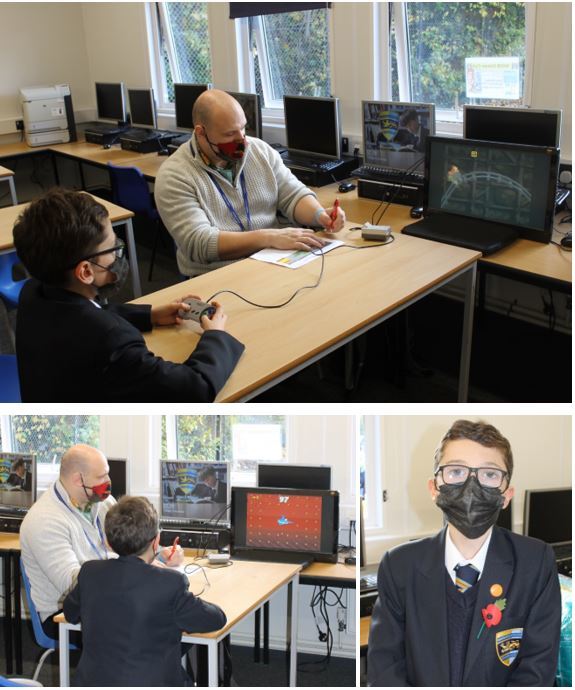 Library. Our new Scholastic Book Club is up and running! Click here to browse the latest books and order online. For every £1 you spend on this month's Book Club, our school will earn 20p in Scholastic Rewards. You may want to consider some further reading for year 7's who are studying 'The Boy in the Striped Pyjamas', 'The Bone Sparrow' or 'Where the World Ends' this term. Or year 8's who will be studying 'A Christmas Carol'. There will be copies of further reading recommendations in each Year 7 & 8 class but these will be limited. Please check out the Library page for these recommendations, or contact me by email TFisk@wgsb.co.uk Thank you for your continued support.
PTA Notice – Would you like to purchase a Christmas tree from our PTA? If you are interested or wish to find out more, please click here Christmas Tree – Expression of Interest Form
This week the PFA had our Annual General Meeting, thank you to all of you who attended. During the meeting we drew the following WGSB PTA Lottery winners. Congratulations to you!
September - Opeolu Olonisakin
October - Glitsun Cheeran
November -Peter Lavender
All our winners have been notified and will receive their cheque shortly.
Christmas Shopping. Please do consider joining our PTA easyfundraising page. Whenever you make an online purchase from any of the 4,000 participating shops and businesses … they donate to Wilmington Grammar School for Boys at no extra cost to you!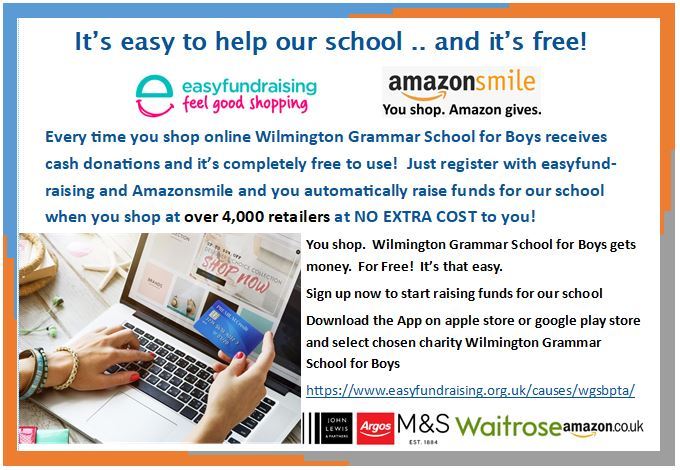 Christmas Raffle! Please look out for a school email (on Monday) offering you the opportunity to take part in our very special Christmas Raffle! COVID friendly prizes(!) up for grabs, draw will be Monday 14th December just in time for last minute Christmas Treats. First prize £150 Bluewater vouchers, second is £100 and third prize £50. Tickets are just £1 each .. please be as generous as you are able! Unfortunately, due to the current restriction the will be no Christmas Fair.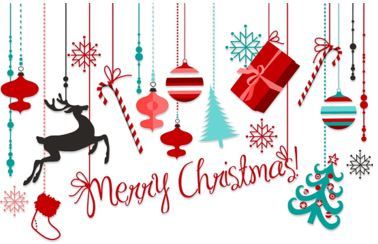 Darent Valley Hospital have taken to Facebook to appeal to local children to create festive art to decorate their wards this Christmas. If you would like to contribute to their display, please send your pictures to the address in the Facebook post below.
Click here to visit their Facebook page
As you are all aware, we are constantly reviewing our COVID safety policy and protocols based on the latest official information together with input from our own students and staff. Rest assured our primary concern is for the safety and wellbeing of our school community and all (sometimes difficult) decisions are based entirely on staff and students continued safe attendance at school. For all those students self-isolating, our remote teaching provides the closest possible learning experience to being in the classroom with teachers and peers. Thank you to you all for your continued support of the school and students – the positive emails and feed-back we receive helps buoy us all as we navigate these difficult times.
Pictured, students and staff from across our Trust (note Mrs Holden of WGSG sporting her Remembrance Day poppy mask)
Forthcoming. Our GCSE Year 11 students will be undertaking their PPE's this month from the 16th November to 27th November.
Best wishes,
Mr Charlie Guthrie