Blog week ending 23rd October
Posted on: 23/10/2020
Our Open Evening Film is now live, and can be viewed by clicking here. I was blown away by the wonderful contributions from so many of our students and staff. Thank you to everyone who contributed (in front of, and behind the camera!), together we have created the perfect film to give all new and prospective families an insight into our school and give a clear sense of what it is like to be a member of the Wilmington Grammar School for Boys community. Please do view and share our video.
I hope that you all have a relaxing and enjoyable break over the half term. We will welcome students back, refreshed and keen to start lessons on Thursday 5th November!
Below a selection of images of 'the cast' of our school film

This term, I have completed two virtual marathons, London and Manchester. I had been scheduled to run these (normally) in April, however, due to COVID, unfortunately, they were cancelled. Like most people who run, I had been trying to get into the London marathon for years (about 10 years!) and had been rejected every single time – So, imagine when I finally had a place and then found out it wasn't going ahead!! However, the London marathon people decided to hold it differently; virtually and non-virtually; on a later date; Sunday 4th October: They had the elites from all over the world isolate together and then run it in their own bio-secure bubble around St. James' Park and the rest of the world; the rest of us non-elites(!) could run it whenever we wanted on that same day and log our doing so and results on their app. The app was great – As I started running, pre-recorded noises of crowds cheering came from it as well as commentary by former British long-distance runner Paula Radcliffe and every mile there were more cheers and words of encouragement by various reporters and professionals. The Manchester marathon participants have been allowed to run whenever as long as it's in October: I ran it last weekend. There was no app but I made a list of all the places I would have seen, running around Manchester and its surrounds (my family are from Rochdale, so, I love it up there!) and crossed them off as I went, and ate a pie afterwards, as a reward (true to my Lancashire roots!)! I ran both in around 4 hours 30/40… Slower than my quickest time of 3:54 (which is still almost twice as long as it took Eliud Kipchoge to run Vienna last year, ha!), however, I enjoyed stopping off to see friends on my way, having a chat, taking photos and being silly. I'm looking forward to running them both properly next year (and Liverpool!), however, as with most things at the moment, they were really different and, actually, great experiences!... Something to say I've done! I love running and would encourage anyone to give it a go – it's brilliant for fitness, fresh air and mental health. It's also great to do alone or socially distanced, with friends, or family. So, why not give it a go?
Have a wonderful and well-deserved half-term break everyone!
Miss E Price, Assistant Head Teacher
I always enjoy hearing of activities and achievements that our students and staff pursue outside of school, it's always a pleasure to hear of student skills and talents beyond those displayed in a school environment. Please do share them with me so we can all celebrate every achievement, whether running marathons like Miss Price, filming wildlife like Joel or volunteering like Elliot and Alex. Good news is always welcome, but never more so than at the moment. Please do send in any news and pictures for inclusion in the blog to Grace Wellcoat in the first instance, at gwellcoat@endeavour-mat.co.uk.
Year 11 GCSE Food Technology students took part in a practical lesson to portion a chicken. Ordinarily, Mrs Cross would provide a demonstration, however, Hadley D kindly volunteered to take over as he lives on his family's farm and is already proficient! The students then marinated and cooked the portioned chicken at home.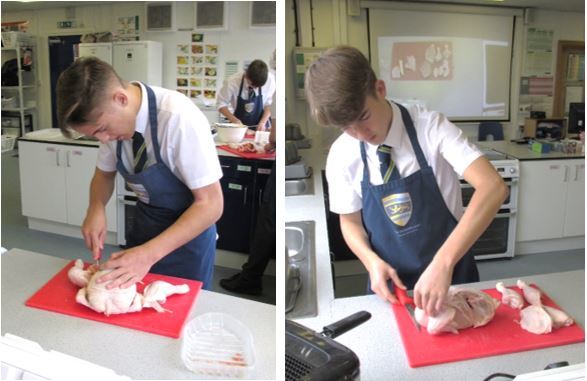 Our Year 13 Chemistry students have completed a required practical in which students are synthesising aspirin by alkaline hydrolysis of oil of wintergreens.
PTA Update. As we start to think about Christmas shopping(!) please do consider joining our PTFA easyfundraising page. Whenever you make an online purchase from any of the 4,000 participating shops and businesses … they donate to Wilmington Grammar School for Boys at no extra cost to you! It really is that simple to donate, and it can make such a difference to our boys.
Our latest purchases for the boys are nine picnic tables and benches (made from recycled materials!) which have been places around our site and provide more 'break-off' spaces at lunch and breaks.
Thank you to all the parents and carers who have joined the WGSB lottery. It's not too late to join, for more details please see our website page here. All proceeds go to the school to help support our boys, and give you a chance to win as well! Thank you to all parents and carers who have signed up, we will be sending your unique numbers out shortly. Good luck everyone!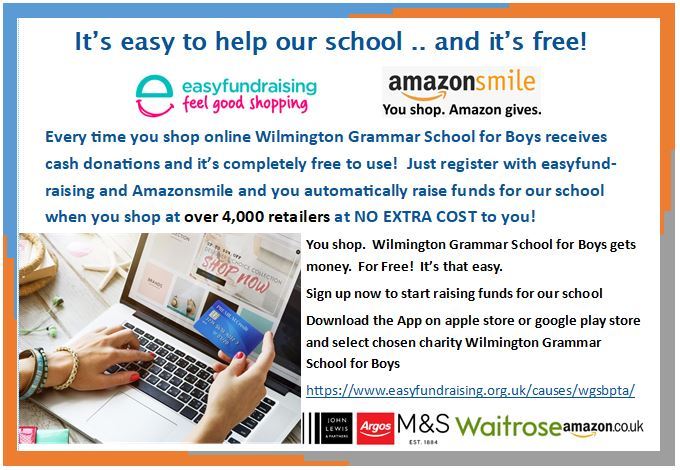 Improvements to Lunch Ordering. To help support the introduction of Hot Food in to the school in a COVID-secure manner, we are looking to roll-out a new lunch ordering system after half term. This will simplify the ordering process for you and mean you only need to log in to ParentPay once to order and pay for lunches.
Rather than using the form that the schools have been sending out, lunch orders will be placed using your ParentPay Account, using a new facility that will be switched on over half term.
All parents (including those of Free School Meal eligible students) wishing to order lunches will need to have activated their ParentPay account, so please ensure you have done this. [Please contact the school Finance Office (bursar@wgsb.co.uk) if you need help with activation.] Of course any lunches ordered for Free School Meals eligible students, within the daily allowance, will not be charged.
Look out for the launch email which will be sent out over the half term!
Please note that the *order deadlines* for ordering meals for 5/11 and 6/11, and the w/c 9/11 WILL OCCUR OVER THE HALF TERM BREAK, so please look out for communications from the school regarding this.
Best wishes,
Charlie Guthrie
Head Teacher