Blog week ending 18th September
Posted on: 17/09/2020
Our Year 7 students are being introduced to the range of specialist computer software available in our music department. In this lesson students were exploring Guitar Pro 7, a user-friendly tool which allows students to edit music scores for guitar, bass, and ukulele, as well as compose new music or play along to existing tracks. Students were also working on their keyboard skills and familiarising themselves with musical signs and symbols.
Pictured below, Head of Music Mr Palmer with Year 7 students.
The DT department have planned projects which can be taught in the students' forms groups as there are a limited number of lessons in workshops due to COVID restrictions. These projects will include sketching, rendering, technical drawing and model making. Some of the year 7 students had their first DT lesson this week where they demonstrated their ability to read instructions to glue and assembly puzzle pieces. If they have read the instructions correctly, the pieces can be assembled in a number of configurations to form a cube. The students will then use these puzzles, called Soma Cubes, to develop their isometric drawing skills later in the term. Let's hope they assembled all the pieces correctly!
Please join me in welcoming our new Teacher of Science.
Miss Barry, Teacher of Science. "I came into teaching after a few years research experience, investigating controlled atmosphere storage and plant virology. The first place I ever taught was Feltham Young Offender's Institute, with students aged 14-20, which made me aware of how crucial a good education is to opening future doors for all individuals, no matter what their circumstances. I have since then worked in a variety of settings, as a teacher, mentor, year head and department head, over nearly 30 years. I am delighted to be starting in WGSB as a biology teacher. Biology is a fantastic subject, relevant to all of us, and I am very excited to have the opportunity to teach it in a school which shares my values, aiming to offer all students a sound education to enhance their choices and opportunities in adult life."
WG6 Chemistry students are investigating reaction rates. In this practical lesson students measured the rate of reaction between calcium carbonate and hydrochloric acid to create data that will enable them to calculate Arrhenius equation in future lessons.
As we all only too aware, our students' GCSE and A level examination process was severely impacted as a consequence of COVID. However, in spite of the obstacles and uncertainty, the results days gave cause for great celebrations for our students and their teachers. During their time at the school students have been exemplary and their legacy will not be defined by COVID, but rather by their spirit, diligence and determination. They have, on many occasions, acted as role models to the whole community and they have risen to every challenge they have been set.
Our excellent results received coverage across local papers and online, an example of each is included below.
WG6 students pictured; Freya Young (photographer) Lori Squirrell (bottom right) and Jonathon Bateman (left page, top right)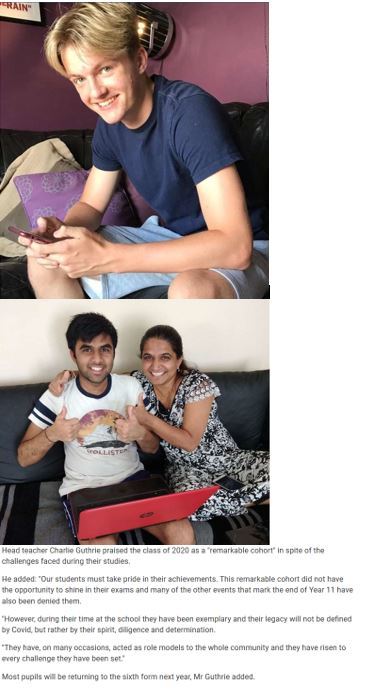 Kent Support and Assistance Service (KSAS) Emergency Assistance have asked us to raise awareness of some additional funding that has been received from central government to support households that are experiencing financial crisis as a direct result of covid-19.
"KCC's Kent Support and Assistance Service is administering requests for support from the new Emergency Assistance Grant, which can support those struggling to buy food and other essential items. While this fund is limited, we know that there are support services out there that will continue to support and advise Kent residents longer term.
Whether you know someone who is struggling to provide food and essential items for their family, or if you're worried about the health, welfare or safety of someone you know – you will find the support lines you need to share with that loved one and help them keep safe and well."
Please click here for further information.
Best wishes,
Charlie Guthrie
Head Teacher