Blog week ending 11th September
Posted on: 11/09/2020
Please join me in welcoming Miss E Price who has joined our Senior Leadership team in the position of Assistant Head Teacher, Teaching & Learning. Miss Price joins us this year from another Kent grammar school where she was HOD for MFL and brings with her a great passion for and a wealth of experience in the field of teaching and learning: She has coordinated and delivered training to newly qualified and experienced teachers across schools and has also completed a Master's in Teaching and Learning from Oxford University. She wholeheartedly believes in providing the very best for students - in encouraging and supporting them to achieve highly and go far. Miss Price is a keen traveller and runner and often combines the two having, to date, completed 17 marathons in 10 different countries.
As part of our Year 7's induction programme Miss Price has set an independent study challenge for students to explore information on the topic "great women who have shaped our world". Each student is challenged to research and learn facts concerning a particular woman and the field in which she worked. The students will earn House Points for sharing their new knowledge with either Miss Price or their Form Tutor.
Pictured, Miss Price
Great women who have shaped our world today – challenge display board.
Year 7 Students are taking part in the 12 minute Cooper Test which is a national fitness test used to determine aerobic fitness and cardiovascular endurance. This test is widely used by coaches and trainers to assess cardiovascular fitness and track fitness over time and compare results with others of the same age and gender. Each student is required to run as far as possible in a 12 minute period – the objective is to measure the maximum distance covered by each student in the allotted time.
Pictured, 7H and T taking part in warming up exercises led by Y7 student A Okorodudu of 7H
Our PE department has a new member of the team, Mr Hook, who joined us this September. Mr Hook has just finished his Physical Education PGCE from Loughborough University and is a very welcome addition to the department.
Mr Pope, who is Head of Year 9 and Newton House also provides a challenging and exciting schedule of Inter-House competitions. Activities range from five a side football to chess and everything in-between (including human hungry hippos!) Each event has been reviewed as part of our Covid policy to ensure the safety of participants. This period students have been taking part in football, basketball and Rubik's cube challenges. Our new Y7 Hawking students have made a sterling start and are leading with an impressive 30 House Points awarded for inter-House activities, academic achievement and conduct!
Each activity includes students from their own 'bubble' only and are scheduled at staggered timings to allow movement to/from the sports hall. All rooms and any apparatus are cleaned between uses.
Y10 basketball & Y7 Football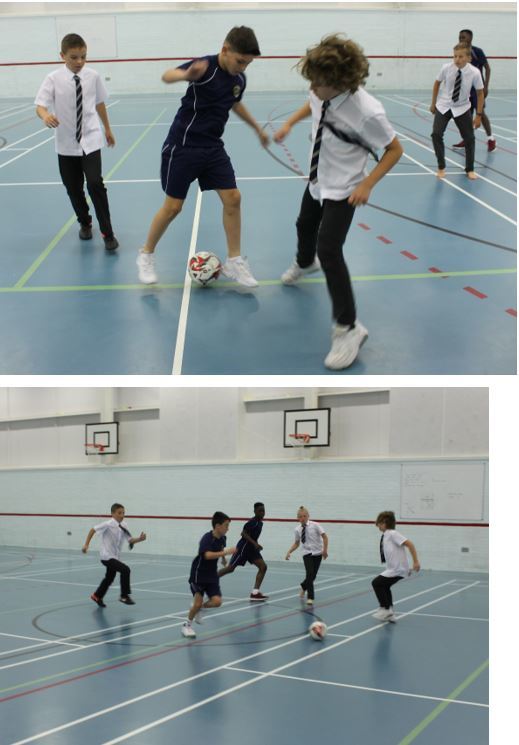 SIMs Parents App. All Year 7 parents/carers – your son's SIMs activation code was emailed to you on Friday 4th September. Follow the instructions to download the App and please check all information is correct. Once activated you will be able to access your son's attendance and school reports as well as term and inset dates. Please could the parents/carers of all other year groups also check that we have the most up to date contact details. For more details please check our website here https://www.wgsb.org.uk/606/sims-parent-app
Parking around the school. We have received a number of calls this week from local residents regarding parents/carers parking around the school, in particular, on Common Lane and Manor Gate Lane (near the Bupa Care Home). Neighbours have mentioned blocking the road at the top of Common Lane (Broad Lane end), parents parking across driveways and even parking on residents' driveways. Whilst we understand the need for parents to drop their children off to school, we do ask that you try and find a location away from the school and Common Lane and be respectful of our neighbours' driveways.
Best wishes,
Charlie Guthrie
Head Teacher