EMAT Home School Newsletter 26th June
Posted on: 26/06/2020
Endeavour MAT Newsletter 26th June 2020
Our wildlife didn't get the memo about lockdown!  Whilst we were all tucked away in our homes venturing out only for our daily exercise, wildlife has been quietly (and sometimes not so quietly) creeping into urban areas and making itself very much at home. 
During lockdown the air quality has improved with the reduction of nitrogen dioxide levels (exhaust fumes) which are down by more than 50% in some areas of the UK. Our skies appear bluer with the lack of airplanes overhead leaving their contrails (vapor trails) and less pollution at night makes the night sky appear clearer and full of stars. We are noticing the bird song which may have been hidden before due to general noise and traffic. The birds have less to compete with now and the dawn chorus can go on way past dawn.
It has been amazing to read stories featuring wild animals in unlikely cityscapes like the kangaroo happily hoping down a main road in Brisbane Australia, a goose sitting on her nest in York station, Yorkshire, fallow deer coming into Brentwood in Essex to be fed carrots by residents or mountain goats who rather cheekily popped into a town in Wales for their lunch!  We have all been spending more time locally, getting to know and appreciate our local green spaces.  Those of us who are lucky to have a garden have had our own outside space to explore and even the smallest of spaces, have the potential to be home to a plethora of fascinating insets, birds and mammals. Lockdown has prompted a renewed interest and enjoyment in the wildlife we share our local area with, a habit I suspect we are likely to retain even after restrictions are lifted!
Kangaroo hops down a deserted city street in Brisbane, Australia
Resident of an Essex housing estate feed fallow deer
A fox trots past no 10 Downing Street in central London
Newly hatched baby leatherback sea turtles make their way into the sea for the first time at a beach in Phanga Nga district, Thailand – the largest number of nests for 20 years have been recorded as tourists are forced to stay at home.
A goose sits on her nest in York Station.
Mountain goats roaming around a town in Wales.
Our gardens are havens for insects, birds and small mammals. As we become increasingly aware of the potential dangers associated with chemical pesticides on our environment and even ourselves, our gardens are providing a habitat safer than much of our countryside which is farmed using pesticides harmful to the ecosystem. Over lockdown some of us have created raised flowerbeds to encourage bees and other pollinators, some have made bird boxes and many have been hanging bird feeders. These activities help our wildlife and enrich our own lives and our connection with the natural world.
For more tips on how to encourage wildlife into your local green spaces or gardens, visit
Engaging and supporting our local wildlife is a mutually beneficial experience, one that educates, enthralls and is proven to have a positive impact on our mental health. The benefits of spending time in green spaces or bringing nature into your everyday life include;
Reducing feelings of stress or anger

Making you feel more relaxed

Improving physical health
Since lockdown, Joel G of WGSB, 8S, has been engaging with the wildlife in his garden.  He has been feeding the birds and has spotted the following visiting the feeders; blue tits, great tits, a family of long tailed tits, goldfinches, collared doves, great spotted woodpecker and parakeets (Joel took the wonderful photo below). Additionally, Joel was lucky enough to spot two stag beetles which are now on the endangered list, due primarily, to loss of habitat.
Joel also discovered that he has a hedgehog (also under threat in the UK) in his garden which has caused a lot of excitement in his house! Joel has bought special hedgehog food, built a shelter and put out clean water every night and has spent evenings outside waiting for the hedgehog. Joel's family have purchased a wildlife camera and set it up to capture the hedgehogs nighttime manoeuvres! The hedgehog has been caught on camera eating the food, having a long drink of water and exploring under the decking.
Joel, you are incredibly lucky to have so much wildlife, quite literally on your doorstep!
Mrs Artmann of Stone Lodge has shared pictures of her fabulous new greenhouse and allotment which have been her oasis over lockdown. Mrs Artmann has planted numerous vegetables including potatoes, sweetcorn and tomatoes – the whole family are looking forward to enjoying the fruits of her labour!
She said, "the silver lining of lockdown for me has been my garden .. I have planted vegetables in my allotment and was ridiculously excited to plant out my seeds in my new greenhouse!"
Mr Simmons, Head of Geography WGSG wrote "Like many of you during lockdown I have enjoyed exploring local green spaces with my family such as Dartford Heath, Brookland Lakes and even a bike ride along the River Thames underneath the QE2 bridge. It was lovely to be able to cross traffic-free roads that had previously been busy thoroughfares in those old pre-lockdown times. I hope many of you are able to escape the confines of your homes and engage with the outdoor world, especially the many green spaces in Southeast London or in rural Kent. There has been much research that shows that visiting the Great Outdoors helps to reduce stress levels and also makes us physically fitter too. Even though the lockdown is now easing I encourage you to maintain the new habits such as walking, running or cycling which you hopefully were able to develop. 
Mr Simmons took this great photography on a bike ride with his family
At last work has commenced on installation of the gates to allow movement between WGSG and WGSB next year. The new pathway will traverse the area of woodland contained within the WGSG site and will prevent staff and sixth formers from having to walk between sites using the pedestrian footpath by the busy road. We hope to provide pictures of the completed gates next week.
WGSG Y9 Art students produced the below work as part of an assignment to respond to the 'Hold Still' Photography Project in conjunction with the National Portrait Gallery. Students were asked to capture images that met the brief: "Captures the spirit, mood, hopes, fears and feelings of the nation as we continue to deal with the Coronavirus outbreak."
Lily of WGSG, 9A featured a visitor to her garden as the subject of her photograph. "I chose this photo because this robin often visits our garden and lets us feed him either cheese, seeds or mealworms, and I felt that this reflected the 'Hold Still' project as it is just a nice, wholesome event that takes place daily that we all look forward to in my house and it helps to alleviate any boredom we have. Additionally, the fact that you cannot see my face I this photo gives it a sense of anonymity and mystery, as you can only see the back of my head/hair and my outstretched arm. I also liked the shape of the tree and the way the sunlight hit specific leaves"
Kabisha S of WGSG, 9B has chosen to create an unconventional 'portrait' that uses nature as her central subject, Mrs O'Donnell thinks it successfully sums up the hope many are starting to feel as we emerge from lockdown. Below is a quote from Kabisha on why she created this image.
"I took a photo of these flowers from my garden. The colour gave a happy and refreshing feeling as if we are looking forward for something"
Mrs McKenna of WGSG has been caring for her garden during lockdown and wrote "Looking after nature meant looking after a huge tree in our back garden. We have been here just over a year and hadn't realised the size of it so we called in some experts. The tree surgeon shimmied up the tree (chainsaw in hand) and made short work of it! They also trimmed back a cherry tree in our front garden so we can see all the birds stopping for a feast! As you can see, there was a lot of tree to cut back!"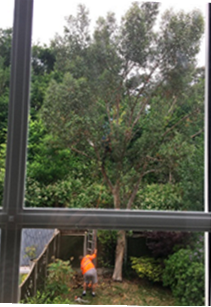 WGSB Art Department featured much of their students' lockdown art on their twitter account @WgsbArt including these marvellous pictures;
Blue dog- George T
WGSG Year 8 Art students have taken some exquisite and very professional photographs that include elements of nature as part of their art project on 'Food'. Students have been learning about the 'rule of thirds' and using this compositional device to develop and improve their photography skills. Food has played a key focus for many during lockdown and the students have produced some excellent imagery of sweets, cakes, fruits and more in response to our artistic inspiration.
This striking and stylish red pepper image is by Chloe W of 8O
These fabulous photographs of mushrooms are by Matilda F of 8B
Many of us who were born and raised in towns and cities have encountered environmental issues such as pollution and the loss of green spaces.  Books can help us to learn about, and understand environmental issues outside of our personal experiences and get close to nature and creatures that we wouldn't usually come across. Here are some suggested reads:
The Carbon Diaries 2015 by Saci Lloyd. It's January 1st, 2015, and the UK is the first nation to introduce carbon dioxide rationing in a drastic bid to combat climate change. As her family spirals out of control, Laura Brown chronicles the first year of rationing with scathing abandon
Hoot by Carl Hiaasen. The book takes place in Florida, where new arrival Roy makes two oddball friends and a bad enemy, and joins an effort to stop construction of a pancake house which would destroy a colony of burrowing owls who live on the site
The Deptford Mice trilogy – Robin Jarvis. In the sewers of Deptford, there lurks a dark presence that fills the tunnels with fear. The rats worship it in the blackness and name it "Jupiter, Lord of All." Into this twilight realm wanders a small and frightened mouse-the unwitting trigger of a chain of events that hurtles the Deptford mice into a world of heroic adventure and terror.
The Wolf Wilder by Katherine Rundell. Feodora and her mother live in the snowbound woods of Russia, in a house full of food and fireplaces. Ten minutes away, in a ruined chapel, lives a pack of wolves. Feodora's mother is a wolf wilder, and Feo is a wolf wilder in training. A wolf wilder is the opposite of an animal tamer: it is a person who teaches tamed animals to fend for themselves, and to fight and to run, and to be wary of humans.
Swimming Against the Storm by Jess Butterworth "Our land is sinking. It's disappearing into the water. And no one knows how to save it." A beautiful story of friendship, environmental justice and identity set in a vividly drawn setting.
The Snail and the Whale by Julia Donaldson. The perfect book to share with younger siblings, this book brings the world to life as we explore beneath the waves and across the earth.
Watership Down by Richard Adams. Set in the beautiful English countryside of the Berkshire Downs, a once idyllic rural landscape, this stirring tale of adventure, courage and survival follows a band of very special rabbits fleeing the destruction of their home by a developer. Led by a stout-hearted pair of brothers, they leave the safety of Sandleford Warren in search of a safe haven and a mysterious promised land, skirting danger at every turn.

The Last Wild Trilogy by Piers Torday. In a world where animals no longer exist, twelve-year-old Kester Jaynes sometimes feels like he hardly exists either. Locked away in a home for troubled children, he's told there's something wrong with him. So when he meets a flock of talking pigeons and a bossy cockroach, Kester thinks he's finally gone crazy. But the animals have something to say. And they need him.
The Wild Remedy: How Nature Mends Us by Emma Mitchell. In Emma's hand-illustrated diary, she takes us with her as she follows the paths and trails around her cottage and further afield, sharing her nature finds and tracking the lives of local flora and fauna over the course of a year. Reflecting on how these encounters impact her mood, Emma's moving and candid account of her own struggles is a powerful testament to how reconnecting with nature may offer some answers to today's mental health epidemic. While charting her own seasonal highs and lows, she also explains the science behind such changes, calling on new research into such areas as forest bathing and the ways in which our bodies and minds respond to plants and wildlife when we venture outdoors.
Students across our schools are benefiting from the face-to-face lessons as we are now able to invite back into school more students and an increasing number of students are taking advantage of the key workers provision which we provide for all students. In the lesson featured below, Y10 students were learning about how to calculate the amount of energy needed to heat materials and change them from one state to another
 
Danny Y10 "I've spent a lot of time over lockdown walking my dogs, which I do enjoy, but it's pretty much all I've been doing!  I've got a 5 year old sister who is great fun .. until you're trying to concentrate on your school work!"  "Coming into school has been much better to get my work done, I get to see other students (from a 2m distance obviously!) and I've got teachers on hand to help if I need it" "what I've missed most about lockdown is being able to see people, I've got a new baby cousin who I've not been able to meet yet and I'm really close to my aunt and uncle so I've missed not being able to see them all"
 
Isabella Y7 "I've really missed social interaction during lockdown and am really looking forward to restrictions being lifted as there are some family members I've not seen since before lockdown.  At least I've been able to come into school and see people there, it makes a difference being able to work with other students without any of the distractions of home"
WGSG DT Department set a Monster Challenge for KS3 students. Mrs Baillie said "We have seen an amazing demonstration of creativity with a huge range of different materials and different approaches. It was very difficult to choose!! Congratulations to everyone who took part – an R2 is being awarded for all"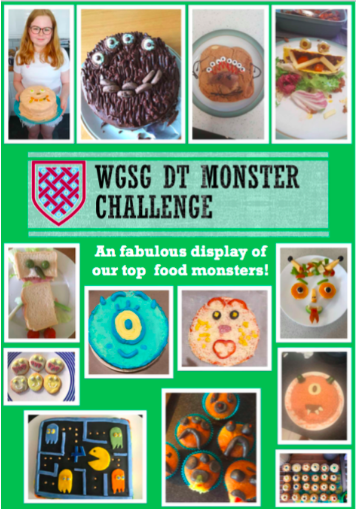 Sofia B of WGSG, of 8C has shared what she's been up to over the last few weeks. Sofia had an incredible opportunity to be trained live online by the three-time World All-around Champions in Rhythmic Gymnastics, Dina and Arina Averinas. Sofia really enjoyed the training and found it very effective in improving her techniques.   In between her studies and End of Year Exam revision, Sofia has learnt how to embroider different patterns and pictures, which she found really relaxing. 
Millie S of Stone Lodge has been enjoying creative pursuits during lockdown. She is really enjoying her weekly guitar lessons as well as creating beautiful art works.
We hope you all have a relaxing and enjoyable weekend … to finish, Dr Newson of WGSG's has shared a dose of football fun to mark the restart of the football season.
Which football team loves ice-cream? Aston Vanilla
What do you call someone who stands inside goalposts and stops the ball rolling away? Annette!
How did the football pitch end up as triangle? Somebody took a corner!
Why was the best footballer in the world asked to tidy up their room? Because they were Messi!
Mrs Lodge CEO Endeavour MAT, Mrs Lawson HT, WGSG, Mr Guthrie HT, WGSB and Mr Barnett HT, Stone Lodge School.