Blog week ending 13th December
Posted on: 13/12/2019
Professor Lord Robert Winston was greeted like a rock star when he addressed our Biology and Chemistry A Level students at WGSG. He delivered a thrilling talk which challenged the students' knowledge and perception of the scientific world in the context of changing times of development, social change, human endeavour and medical advancement.
Professor Winston is a compelling and engaging speaker who had both students and staff gripped for the duration of his talk. His work generated a plethora of questions related to the talk and their understanding of his work. It was evident that Professor Winston valued their input and responded to each and every question with warmth, consideration and interest. When one student asked "what is your proudest achievement" the professor answered "I have been involved in the research and discovery of many important projects, however, I consider my own children to be my greatest achievement and am immensely proud of the people they have become and contribution to society they make in their daily lives." A very modest and human response from one of our country's most eminent scientists.
Professor Winston posed for countless photos and 'selfies' as he was followed through the school .. still answering questions and posing for more photos. It was incredibly exciting to see our students so thoroughly engaged in a talk related to their studies and for so many to attend such a special enrichment activity.
WG6 Biology A Level students have been investigating a dilution series for the process of diffusion. Beetroot and detergent were used to test how much pigment (betalains) is released at different concentrations using a colorimeter.
Students who had earned a place on this term's Rewards Trip travelled to Chatham Snowsports Centre to enjoy some well-earned fun on the ski slopes. The students took to the slopes in sno-tubes (large inflatable rings) for a hotly contested set of heats! The Rewards Trips are open to all students – selection is based on a combination of House Points earned, academic achievement as well as overall contribution to the school community.
We're certainly feeling festive now! Our catering staff pulled out all the stops to decorate the hall, provide festive music, and of course, a delicious Christmas dinner for us all to enjoy.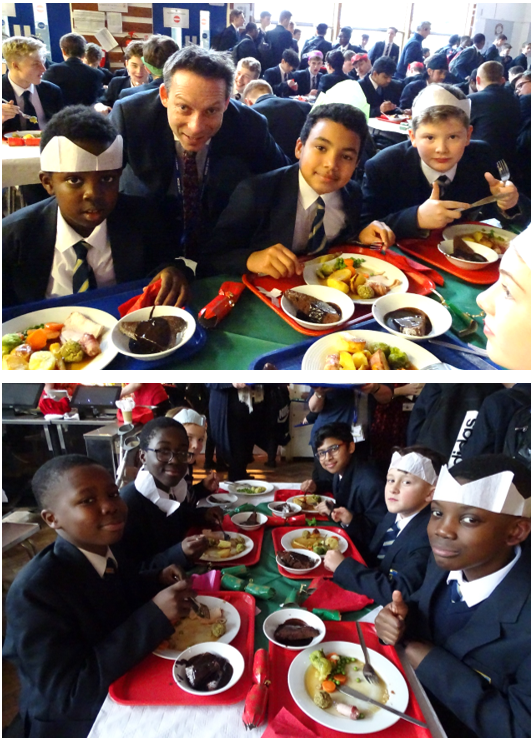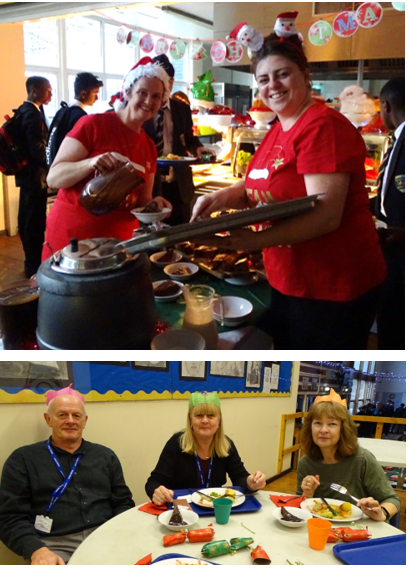 Our Student Voice have scheduled a Wilmington Grammar School for Boys Christmas Jumper Day for Friday 20th December. Please register and pay £1 via ParentPay. All funds will go towards a venture that our Environment group are currently working on which includes tree planting and WGSB recycling awareness and impact of plastics on the environment.
Our Year 10 Art students enjoyed a valuable opportunity to take part in an artist workshop with visiting artist Ian Murphy. Ian is a celebrated artist and ambassador for developing creative opportunities within schools.
Ian uses his work as a stimulus and start point for the workshop sharing images informed by architecture on specially prepared surfaces of built up textures and layers. Each student prepared their own surface using the learned techniques before working on their drawing. Students were introduced to range of drawing techniques and practices from sketchbook practice, development strategies to the finished piece.
It was a stimulating session learning new techniques and approaches that can be deployed in their own coursework and artistic development.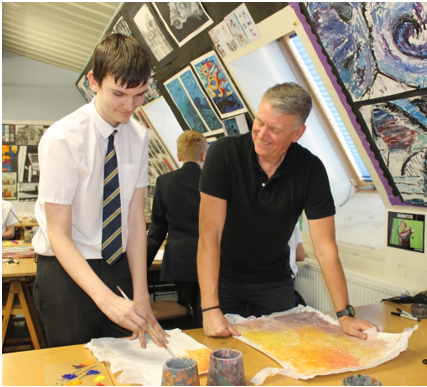 The PTA are delighted to announce our Christmas Raffle winners – congratulations!
1st prize £150 Bluewater vouchers- Mr A Jacks
2nd prize £100 Bluewater vouchers- Lisa Brown
3rd prize £50 Bartellos of Meopham voucher- Sarah Ouarbya
There were a further 27 other raffle winners.
The PTA would like to thank everyone who purchased raffle tickets – we raised £1482 for the school.
Our last winner, is Mr Anthony Smith who won £100 on our Christmas Lottery.
If you wish to be included in the WGSB Lottery, it's only £12 per year with a chance to win £50 in our monthly draw (and £100 at Christmas). The form can be found on the PTA website page here
Best wishes,
Charlie Guthrie