Blog week ending 29th November
Posted on: 29/11/2019
Careers Support. As a part of the school's guidance to give students a destination driven focus to their academic endeavours, Years 7 to 9 will be exploring Fast Tomato and Y10 and 11, the Morrisby Online careers guidance tests. These computer-based systems allow the students to input their subject likes, dislikes, hobbies and experiences which is evaluated to provide individual guidance that supports them towards appropriate careers for their interests and skills-sets as well as introducing them to a broader base of potential opportunities. The school will continue to help the students to regularly review their careers options, inspiring and guiding them to their career destinations.
All year groups are completing either Fast Tomato or the Morrisby Online course this term and we would encourage parents to discuss the outcome of these tests with their sons and encourage the students to work hard to reach the destinations they are most suited to. In Years 10 and 11 this information is supported by a careers interview so that students are aware of the choices they need to make and the qualifications needed to reach their career destination. The meeting will include which universities to apply for, what A Levels will most suit them or what qualifications they need for apprenticeships and degree apprenticeships. This is an exciting time for the school and our students and we feel by helping the students to better understand which destinations suit them they can continue to work hard safe in the knowledge that they are doing the work for a real purpose and tangible outcome.
Fast Tomato can be viewed here
Congratulations to WG6 students James and Morgan who attended the awards event for the Arkwright Scholarship. This opportunity means that they are being supported by an engineering company in their work at school leading towards their future careers in engineering. Can I take this opportunity to remind Year 11 that the deadline for registering for this prestigious award is Wednesday 18th December and if they wish to register they need to e-mail their details to Mrs Smith ejsmith@wgsb.co.uk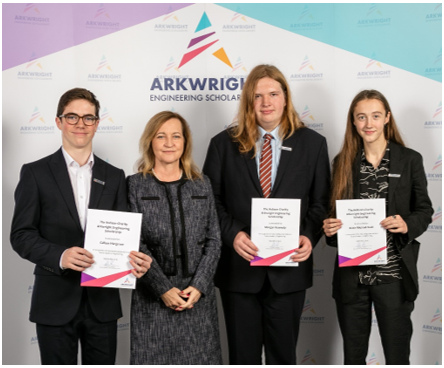 Our Year 7 students enjoyed a thrilling interactive storytelling workshop with Wilf, a 'Storyteller' from the charity Read for Good. The charity runs a hospital programme, for these children stories are particularly important – they comfort, distract, reassure and entertain. Wilf spoke about his work visiting and reading to children and then challenged our boys to create their own story. At the end of the session every Y7 students received a free Bookbuzz book of their choice, and a Read for Good sponsorship form. They will be asked to read their book, and anything else they would like to, and ask friends, family and staff to sponsor them. All the money raised goes towards providing books and readers for Read for Good. Where possible make payments online at readforgood.org/sponsor using the link for Wilmington Grammar School for Boys. Please do not send cash into school, as we are now a cashless school. There will be House Points and the chance to win prizes for all participants.
Please check out the Library Twitter account @WGSBL for up to date news.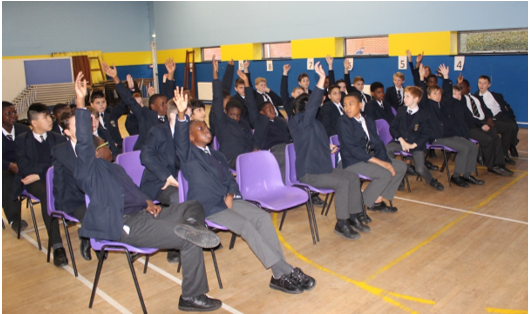 Year 13 Chemistry students completed a practical investigation to study the rate of reaction for their practical endorsement certificate. Competencies being tested include; research, referral and report as well as making and recording observations.
All the fun of the Christmas Fair! Come and join us tomorrow at 11-2pm for a wealth of attractions including;
A Year 7 & 8 Inter house rugby competition to win a new PTA sponsored House Trophy, come and cheer your team on!
Christmas stalls with lots of gift ideas including a Star Wars and super hero memorabilia stall
Fun games with big prizes
Our famous chocolate and bottle tombola
A Photo booth run by our Art department with plenty of festive 'props' to capture a memorable shot!
A staff "Guess the baby"...see your teachers when they were babies and guess who's who
Enjoy a freshly cooked burger, bacon buttie or mince pie and mulled wine to get you in the Christmas spirit! Or enjoy a delicious hot chocolate with marshmallows.
An event not to be missed! The Mayor of Dartford is supporting our Fair and will be arriving at 12 o'clock
All money raised supports the school
Our Christmas Raffle tickets can be bought on the day. Lots of prizes on offer which have been very kindly donated by local businesses.
WGSB Lottery .. don't forget to get your lottery form in to be in with a chance of winning our special Christmas draw prize – a bumper £100! Forms can be downloaded from our PTA website page here
Our traditional Christmas Lunch is scheduled for the 12th and 13th December. The set menu is as below;
*Please note there is no snack bar available on these days.
The cost will be £3.10. No other meals will be served on these days. If your child is not having Christmas Lunch this day, please ensure he/she brings a packed lunch in.
The Christmas Lunch will be served by ticket only. For catering purposes, we will need to know numbers in advance. Payment should be made via the parent pay system using the "Christmas Dinner" option and not "Dinner Money". Students will then be issued with a ticket, in registration on the day. Payments should be made by the end of the school day on Tuesday 3 December. I regret that we shall not be able to provide Christmas Dinner ordered after this date. If your son/daughter would like the vegetarian option can you please select this on ParentPay when you make the payment.
Best wishes,
Charlie Guthrie