Blog week ending 15th November
Posted on: 15/11/2019
In line with the rest of the country, Endeavour schools have been marking Remembrance Day this week and it was lovely to see so many students in the crowd at the special Remembrance Service in Dartford on Sunday. In the picture below, I am pictured with Mr Gavin Barnett, Head Teacher of Stone Lodge School, Mrs Lodge CEO and Mrs Connell, Chair of Governors at WGSG. They formed part of the civic party who process from the Town Hall to the war memorial. Pictured right, our two Head Boys who, with Mrs Jackman, Deputy Head Teacher of WGSB and Mrs Lawson, Head Teacher at WGSG, attended the Remembrance Service and laid wreaths at the Wilmington Memorial.
Our Library is a hive of activity, with the arrival of new books, the Bookbuzz order, and Scholastic Book Club leaflets. In addition, my student librarians and I are currently colour coding all the fiction & non-fiction books which are on Accelerated Reader. It's a gargantuan task but it will make it easier for year 7 & 8 to see at a glance the book level they need to read.
Talking of Accelerated Reader, congratulations go out to David D, in 7N, who was the first person to reach 100 points in this academic year. This is a great achievement, and he has Shafiq M & David I of 7D, and Bojie Z of 7N, hot on his heels. It will be interesting to see who is the next to reach this milestone, and get a silver star on the Accelerated Reader board. Don't forget that this is a great way to earn House Points as every 100% score receives 5, 100 points receive 10, and 1 million words read earns 15. There is no limit to how many you can accrue, you just need to be completing the necessary 20-30 minutes a day reading that is recommended.
Soon we will be having a special assembly to promote the charity Read for Good, which we support every year. And we are happy to announce that Read for Good will be sending a reader for the day. Year 7 will each receive a free Bookbuzz book of their choice, and a Read for Good sponsorship form. They will be asked to read their book, and anything else they would like to, and ask friends, family and staff to sponsor them. All the money raised goes towards providing books and readers for sick children in hospital. I was thrilled to receive a certificate, and a letter of thanks, for our continuing support of this worthy charity, having raised £11,099 over the years.
Y9 PE students have been practising their badminton and umpiring skills with a series of knock-out matches. All groups are showing great technical improvement, and a lot of competitive spirit!
Our Guitar Club is run by student Callum B of 10S who is a seasoned musician, having played the guitar for six years and who also regularly performs with his band (with fellow students from WGSB & WGSG). Guitar club is a fun and informal club, please see Callum or Mr Palmer for further details. Additionally, the Music Department offers Guitar lessons with visiting teacher, Mr Ratcliffe (last picture) – please see the display board in the Music department for information on how to sign up or contact Mr Palmer.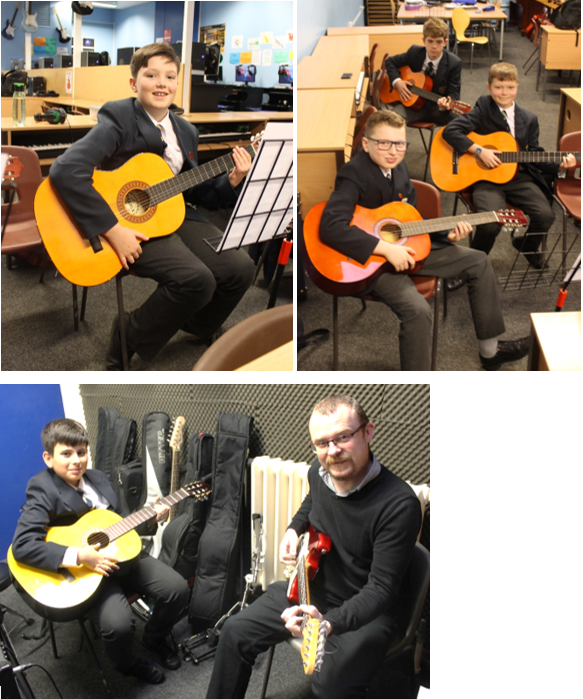 WG6 Open Event: Mrs Tiddy, Director of our WG6 would like to thank all students and staff for their hard work, insight and support which ensured Wednesday's sixth form Open Event was such a successful evening. The student guides, subject ambassadors and presenters demonstrated eloquently what WG6 can offer potential students and were able to discuss specific courses and answer a whole host of questions.
Our WG6 continues to go from strength to strength. Due to our size we are able to offer a much broader range of courses than smaller schools. Furthermore, our Wednesday afternoon Elective programme where students do a range of different activities, from driving theory to volunteering and a variety of sports ensures that students get fully involved. We work with universities and employers to provide a range of advice and really support students to organise their time and their studies. It is no surprise therefore that the event was so well attended, with students from both Wilmington Grammar Schools but also from much further afield. To find out more about WG6 please visit the website: www.wg6.co.uk
Y8 Food Technology students made and decorated delicious cheesecakes. Using fruit of their choice the students practised their decoration and presentation skills to create 'showstopper' desserts.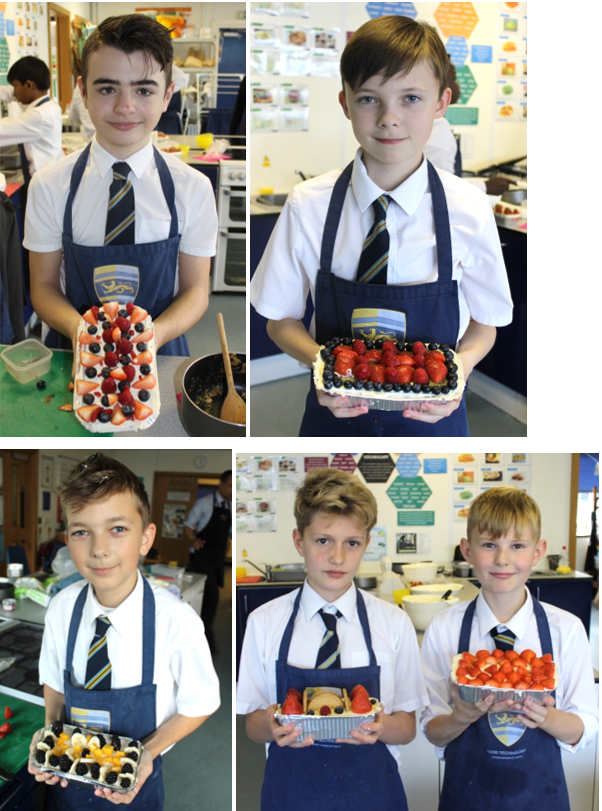 Congratulations to our Y11 football team who have now progressed through to the quarter finals of the Kent Club following a 2-1 win against Homewood School with extra time.
Our PTA would like to say a big thank you to all the parents and carers for supporting us over the last three months using easyfundraising – we have raised £77.85! With Black Friday coming up at the end of this month there is the opportunity to raise even more for school projects.
Our Christmas raffle tickets are available on parentpay this year. A big thank you to all those parents and carers who have purchased tickets already - every £1 helps, no matter how big or small, we are incredibly grateful for your support!
Don't forget our fantastic deal on Nordmann fir non-drop Christmas trees that you can pick up on the morning of our Christmas Fair on 30th Nov. As always, all profits directly benefit our students. Please leave your order form with the office.
Cyber Bullying: Please see the letter below from the Kent Police and Crime Commissioner is asking young people to give their views on online safety and cyber bullying. This is an annual survey and therefore of interest in such a rapidly changing environment where young people are often far more exposed and vulnerable than adults.
At Wilmington Grammar School for Boys we pride ourselves in the way we work in partnership to keep young people safe online and we would encourage you to click on the link to see the results of the previous survey and also to encourage your son/daughter to complete this year's questionnaire. There is also a questionnaire for parents, teachers and officials to complete and this will also provide useful information in identifying the differences in response.
Best wishes,
Charlie Guthrie