Blog week ending 4th October
Posted on: 04/10/2019
A huge congratulations to our WG6 students who were awarded Commendation Certificates from the London Institute for Banking and Finance. Our students excelled in the examination, with 17 being presented with a special commendation – four of which were in the top 1% in the country. All students who achieved an A and A* received a scholarship towards studying a degree in finance at the LIBF. Samantha Godden of the LIBF delivered an assembly to Y10-13 to present the certificates and talk about the breadth of career opportunities within the financial sector. For more information please see their website here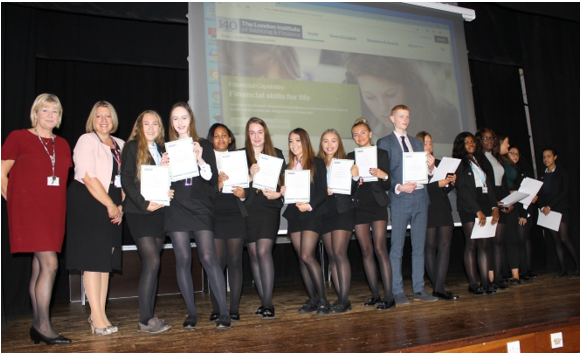 WG6 Chemistry students monitored the rate of reaction between iodine and propanone using the titrimetric method. The experiment and subsequent analysis to determine the order of reaction with respect to iodine contributed towards PAG 9 of the Practical Endorsement aspect of their course.
Our Food Technology Department students have excelled themselves! Delicious aromas have been drifting around school bearing testament to the students' accomplishments. Classes include the following;
Our Y8 students prepared and cooked delicious fajitas during a recent practical lesson. This practical enabled them to put into practice the process of safe handling and storage of meat as well as knife skills in the preparation of vegetables.
Our Y10 GCSE Food Technology students have been incredibly creative during a practical lesson to hone their chopping, paring and carving skills. Students were challenged with creating a fruit display. So many of the finished pieces were sculptural masterpieces!
The same Y10 students then made a fruit based baked recipe of their choosing to incorporate pastry making, baking and creaming skills. As you can see, the standards are extremely high!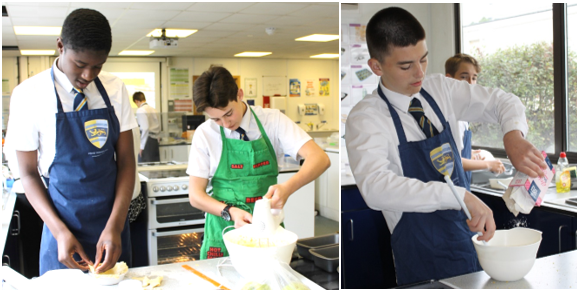 Our WG6 Rugby team played Darrick Wood in a friendly game this week – beating them 54-7. It was a great whole team performance and bodes well for our next game where we meet BETHs in the 2nd round of the Natwest Bowl competition.
Special congratulations to James G who has been selected for the Kent U18s Rugby Team.
Every October our Art Department encourages student to take part in the Inktober challenge and do a drawing every day during the month of October. Students can use the prompts below or come up with their own ideas. It's a really good opportunity to improve their drawing skills. The Art Department have more information.
News from the PTA. Apologies, but due to unforeseen circumstances we have had to cancel the Race Night scheduled for Friday 11 October.
Our PTA offer a Nearly New Uniform Shop and are keen to receive any unwanted items of uniform you may have. All donations of PE kits, jumpers, blazers, ties and lab coats are gratefully received. For more information please see our website page here
The WGSB PTA Lottery – You have to be in it to win it!
Join our school lottery for as little as £12 a year. There is a monthly prize draw to win £50 as well as a special Christmas £100 prize. All monies raised are used to support and fund school projects
The lottery was launched to new Year 7's on induction evening and we have had lots of interest. Due to a delay in the launch to the rest of the school and to allow you extra time to enter, the first draw will take place in November and three months will be drawn (September, October and November).
To enter, please complete the form which can be found on our webpage here and return to the school with cash/cheque. If you would prefer to pay via Standing Order please take the completed mandate form (PART B) to your bank.
Please ensure forms are returned to the school by Friday 11th October 2019.
Open Evening reminder. Our Open Evening is on Thursday 10th October and school will finish at 2.40pm on that day. Arrangements will be made for boys who need to stay in school to catch the bus, which will run at normal time. We will, as usual need lots of helpers and letters have been given out which should be returned to the school no later than Friday 4th October. If you know people who are planning to attend with their children that evening, please could you encourage them to car share as there is likely to be congestion around the school.
Best wishes,
Charlie Guthrie