Blog week ending 27th September
Posted on: 27/09/2019
Open Evening. Our Open Evening is on Thursday 10th October and school will finish at 2.40pm on that day. Arrangements will be made for boys who need to stay in school to catch the bus, which will run at normal time. We will, as usual need lots of helpers and letters have been given out which should be returned to the school no later than Friday 4th October. If you know people who are planning to attend with their children that evening, please could you encourage them to car share as there is likely to be congestion around the school.
Transport. We are aware of ongoing difficulties with some of the bus services and are doing all we can to ensure that your son or daughter can come to school on time and safely. Please continue to let me know where issues are still arising, as well as contacting the company directly and I will continue to represent your views. You can contact me on headteacher@wgsb.co.uk.
Road Safety. Boys who are cycling to school must wear a helmet and must make sure that their bike is in good working order, particularly with brakes and tyres. As we approach the autumn, roads are becoming slippery and they must take extra care. Lights should be fitted and used.
The results of last week's inter-house are in! The Kwik Cricket tournament resulted in a win for Stevenson, congratulations! Also taking place was Virtual Reality computer games, well done to Darwin, who secured first place. All students are invited to join in, there are activities and sporting events for every ability and skill-set! More details on the week's schedule and location can be found from form tutors or Mr Pope.
Y7 Science students have been learning about diffusion - the action of molecules moving from an area of high concentration to an area of lower concentration. In this practical experiment students measured the rate of diffusion by dissolving different sized gel cell cubes in hydrochloric acid. Each group recorded their findings on a chart to determine the class average.
The WG6 Extra Elective Activities Programme is designed to develop the students personal, social and employability skills. The activities are integrated into the broader curriculum with dedicated time every Wednesday afternoon. This scheme is designed to enhance and complement academic success. There is a broad range of activities on offer from volunteering in a local primary school to joining the Biomedical & Bio Chemical Society. Many, such as LAMDA are coached by a professional external provider.
A selection of activities are pictured below; Clubbercise, The football team, music, rugby training and life-drawing classes.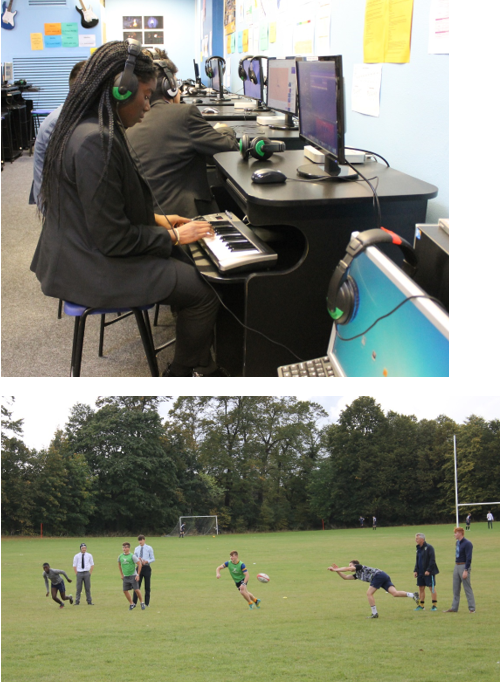 Y12 were invited to a careers talk delivered by Martin Galvin – Digital Director of Group M - who is a volunteer speaker for Founders4School. Martin discussed his careers journey and passed on the benefits of his experience to students, helping to link curriculum subjects to employment and providing an overview of the different routes into this career.
Martin demonstrated the opportunities available in the industry – whether that's work experience, or an apprenticeship, or even standard employment – and advised on how to access them. He explained the skills needed for these opportunities and stressed the importance of creative and mathematical skills; and highlighted what jobs may be available in the future as technological advances are made.
91% of students who attended the careers talk found the talk useful. A quarter of the students say these activities are the thing most likely to help them to consider an apprenticeship, school leaver programme or sponsored degree.
https://uk.linkedin.com/in/martin-galvin-46740b28
To find out more about Group M please click here
Year 9 Physics students are currently studying electricity. To deepen their understanding of the topic, students built a range of electrical circuits and used ammeters to measure the current.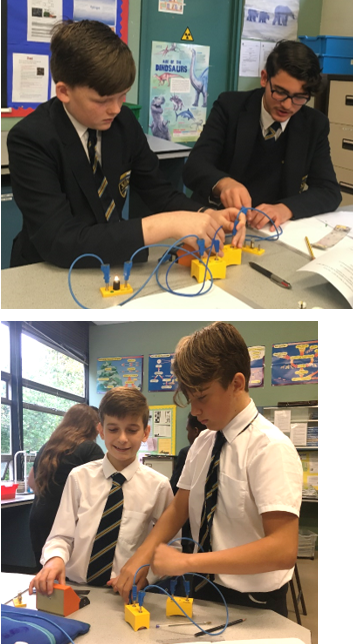 News from the PTA. The WGSB PTA Lottery – You have to be in it to win it!
Join our school lottery for as little as £12 a year. There is a monthly prize draw to win £50 as well as a special Christmas £100 prize. All monies raised are used to support and fund school projects
The lottery was launched to new Year 7's on induction evening and we have had lots of interest. Due to a delay in the launch to the rest of the school and to allow you extra time to enter, the first draw will take place in November and three months will be drawn (September, October and November).
To enter, please complete the form which can be found on our webpage here and return to the school with cash/cheque. If you would prefer to pay via Standing Order please take the completed mandate form (PART B) to your bank.
Please ensure forms are returned to the school by Friday 11th October 2019.
The presentation regarding our forthcoming Iceland Trip can be viewed on our website here
Best wishes,
Charlie Guthrie