Blog week ending 20th September
Posted on: 20/09/2019
Wilmington Grammar School for Boys and WG6 offer our students a huge number of opportunities to gain new skills and experiences outside the normal curriculum. Staff also run a series of subject support sessions both at lunchtime and after school. These sessions are open to all, please do encourage your son/daughter to attend any relevant sessions to support classroom studies and help reinforce learning. Further clubs and societies will be added as they are confirmed, please do refer to our website here for a list of current curriculum support sessions and clubs. The below photos were taken at clubs this week.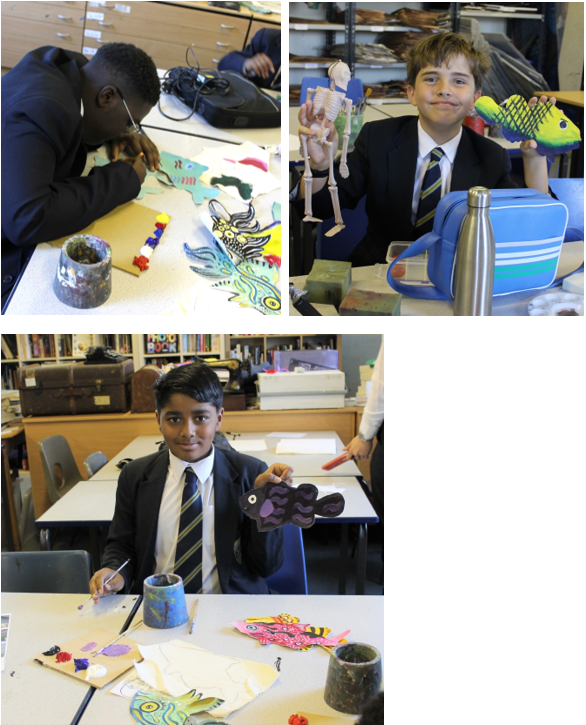 Year 10 Chemistry students are extending their knowledge of formulas and balancing equations. They are learning to write formulas and balance equations by carrying out a practical experiment of a reaction then constructing the balanced equation for that reaction. In this experiment they were using magnesium, hence the use of blue eye protectors.
WG6 Art students travelled to the National Portrait Gallery to see the BP Portrait Awards Exhibition 2019. Y12 students used the visit to explore 'mark-making' (the methods and techniques to apply paint). The Y13 students are working on their personal projects for their A Level portfolio which necessitates a large amount of independent research. As a result, a number focused on fashion and clothing while others explored meanings and messages or expressive use of colour. The exhibition is running until October 20th and is free to visit. More information can be found here
Our Assistant Head Teacher, Mr Smith played Rugby at Twickenham on Saturday, playing in a 7's touch tournament run by O2. His team won their first four games but unfortunately lost in the last game and ended up in 5th place out of 12 teams. Pictured below, Mr Smith meeting Jonny Wilkinson (former England & British Lions player) at the tournament.
"We had a great Q+A session with Jonny Wilkinson who spoke passionately about supporting mental health issues in the young and ensuring that as adults we are able to not only support ourselves in this issue, but be able to support and nurture the young. He spoke passionately about focusing on the things that we can control. Our focus needs to be on the things that are in front of us, that we can control, not the things that have already happened. Jonny used this thought process during his playing career and his personal life, saying it helped him immeasurably. He stated that the greatest players he played against in his time were the players that had developed good mental roots, they knew their limitations and what they were capable of, and nothing could derail them because of it. To say that it was inspiring was an understatement – and relevant to us all." Mr Andy Smith
Kent Police have requested we share the below letter with our school community as part of their National Campaign in conjunction with UK Finance Week.
DSTC are extending an invitation to our school community to attend their forthcoming annual Winter lecture. Speaking this year is Mandy Hickson, a former RAF Pilot. Attendance is free of charge – all are welcome.
Our PTA offer a Nearly New Uniform Shop and are keen to receive any unwanted items of uniform you may have. All donations of PE kits, jumpers, blazers, ties and lab coats are gratefully received. For more information please see our website page here
Best wishes,
Charlie Guthrie